In 2008 when Royal Caribbean revealed plans for their Oasis class ships, one of the features I was most excited about was the two level loft cabins.  Completely out of my price range, I knew I would never actually ever sleep in one, but out of curiosity, I really wanted to see this one-of-a kind suite.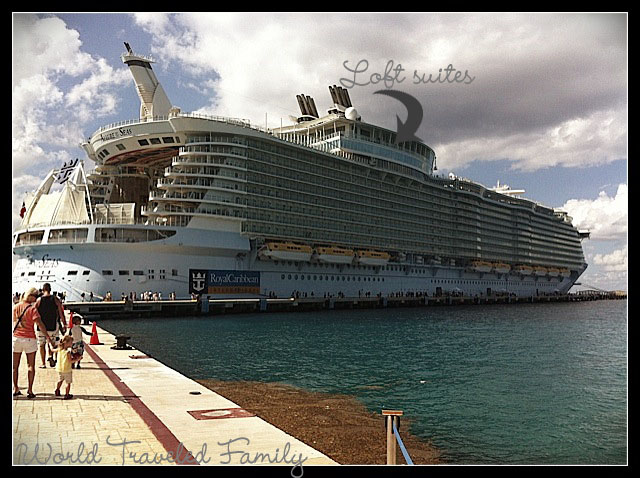 While on Allure of the Seas with my family a few weeks ago, I had the opportunity to check out one of their beautiful Crown Loft suites!
As soon as I entered the cabin, the feeling I got was that of an upscale condo in Manhattan. 540 square feet, this modern cabin was elegantly decorated with contemporary furnishings and a large flat screen television.
Immediately to my right was a bathroom, and a floating staircase with some plants underneath to my left.  Beyond the bathroom there was a desk that appeared to double as a dining table and a spacious living room.  For families looking to sleep 4, the couch pulls out to make room for 2 additional guests.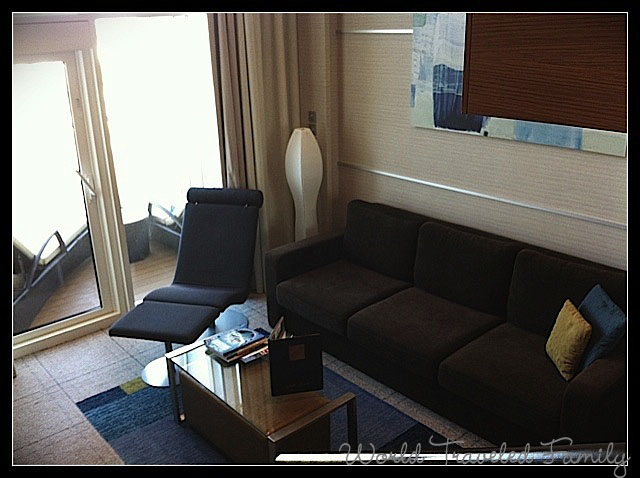 Located at the back of the ship, the Crown Loft Suite I toured overlooked the sports court.  The balcony was a good size( 98 sq. ft.) and equipped with 2 sun loungers.  Twenty-five in total, there are 3 categories of loft suites on Allure of the seas; Sky Loft(700 sq. ft) and Crown Loft(as seen) and the 'mack daddy' Royal Loft Suite,(1,599.3 sq. ft., balcony 874 sq. ft.) which occupies the back corner of the 17th floor.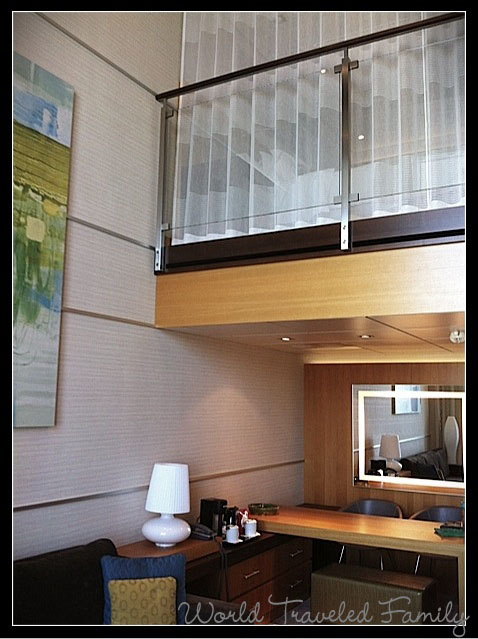 Upstairs the bedroom overlooks the whole cabin and is surrounded by a glass railing.  Cruisers who would like a bit of privacy can pull the curtains.  Also upstairs is a sitting area to do make-up, a second bathroom complete with a double shower and a closet.
While walking through the loft cabin it was easy to forget you are on a ship.  Unique to anything else on the market this two level suite is spacious, elegant and perfect for vacationers who don't want to give up the comforts of home while away.
Priced at about $7,600/couple or $10,000 for a family of 4 for a week(rough estimate prices may vary depending on date), the Crown Loft suite is not a cabin that is within most budgets.  But it must be a luxury that some families are budgeting for because they were all booked during our voyage.
It is worth noting that there are some great perks that come with the cabin.  Suite occupants get priority check-in, complimentary Concierge Club service, reserved prime seating in the main theater for entertainment shows (where available), priority tender tickets on select cruises and VIP pool deck seating, where available. Royal also offers their suite guests full breakfast, lunch and dinner dining room service for in-room dining, complimentary luggage valet service, luxury spa bathrobes for use onboard, complimentary pressing service on formal night and priority departure with exclusive suite departure lounge featuring continental breakfast.
For more information on the suites offered by Royal Caribbean please visit their site.
---