With just under three months to go before Quantum of the Seas welcomes vacationers, Royal Caribbean has started to reveal more details about this revolutionary cruise boat.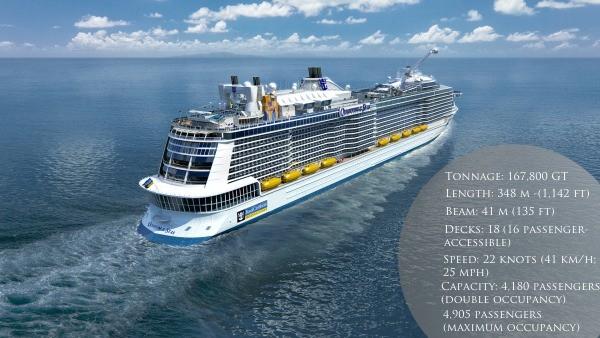 There's no denying that Royal Caribbean has broken the mold in many ways when designing this ship.  Well known for leading the industry with their onboard amenities, Royal will be taking the cruise experience to the next level by introducing 'sky diving' at sea, bumper cars and the North Star – a pod that will allow guests to pivot above the water for an incredible view of the ship and the island they are docked at.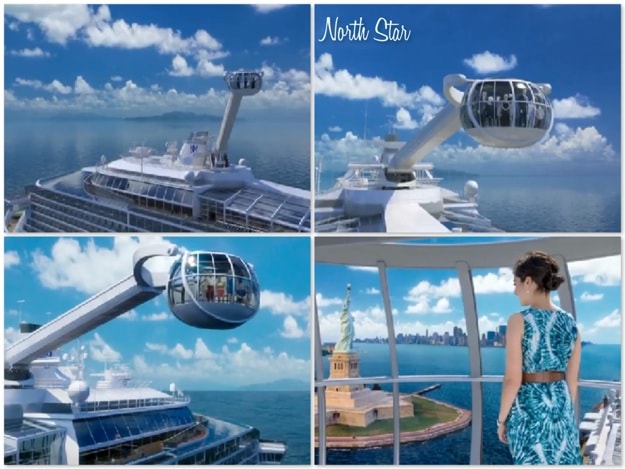 This past week the cruise line announced that they will put in place RFID WOWbands, an optional onboard identification system than can be used instead of/or in conjunction with the SeaPass card.  Just like the bands we have seen at Disney, the WowBand will allow you to make on-board purchases, access staterooms and access the Royal iQ, an app that gives cruisers the option to manage details during the vacation, including a convenient calendar that provides at-a-glance views of their program.  The WowBands will be offered for an additional $2 and are water proof so you can wear them throughout your entire cruise.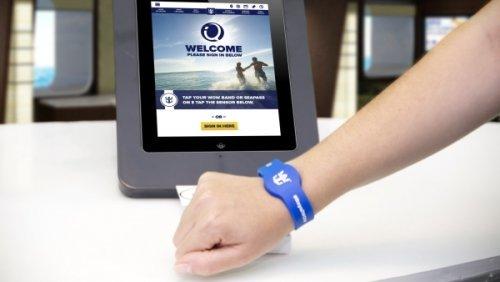 As cool as this sounds it is just beginning of the incredible technological advancements Royal is planning for their guests.
SMART Check-in will allow guests to generate boarding documents online, upload their own ID photo, and receive digital boarding confirmation.  By the time they arrive at the cruise terminal for departure, Royal Caribbean guests can go from "sidewalk to ship" in 10 minutes with no check-in counter, no forms to fill out and no lines to stand in.
Guests will be able to track luggage in real-time on their smartphones.  Luggage will be tagged curbside with RFID technology at drop-off, and guests can monitor their bags' progress through key points en route to the stateroom.  On departure, the process is reversed.
Quantum's onboard Wifi network will operate with unprecedented bandwidth using satellites launched by tech partner O3b Networks.  With speeds that match fast broadband connections onshore, guests can be online 24/7, no matter what personal device they bring onboard.  Guests can watch streaming video, check email, share images on social media and enjoy face-to-face video conversations – even in the middle of the ocean.
"Even when they are getting away from it all on vacation, people want to be able to connect," said Lutoff-Perlo.  "Our satellite network will make things possible at sea that could never have been done before, and will make all the difference in the way guests share their Royal Caribbean experience."
Aside from the seaplex complex, we haven't been given many details about the kid's areas around the ship. There are rumors that the ship will have a water slide inside the H2O zone, but they have yet to be confirmed by the cruise line.
On Monday, however, Royal showed how the family cabins will be configured.  This will perfect for multi-generational vacationers who are looking to stay together while on board without having to book large suites.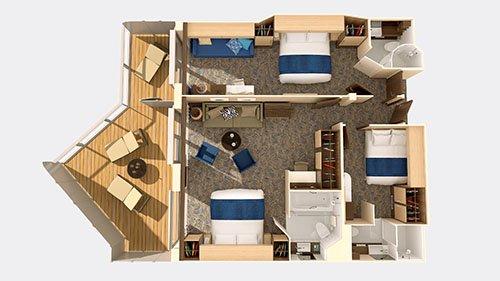 With this category of staterooms, you will get 3 bedrooms, 3 bathrooms and a balcony for everyone to enjoy.  In total, you will get 575 square feet of space inside and 216 square feet of balcony.
From images that have been shared the ship looks to be coming along quite nicely.  As part of their 99 days to Quantum countdown  they will be sharing new details every day.
We look forward to keeping you up-to-date on the new spaces and experiences you can expect on board!