If you are flying WestJet in the near future you may have special guest joining you!
WestJet, WestJet Vacations and Walt Disney Parks & Resorts (Canada) today revealed their most exciting adventure yet — a custom-painted Boeing Next-Generation 737-800 series aircraft featuring Mickey Mouse in his most famous role, Sorcerer Mickey.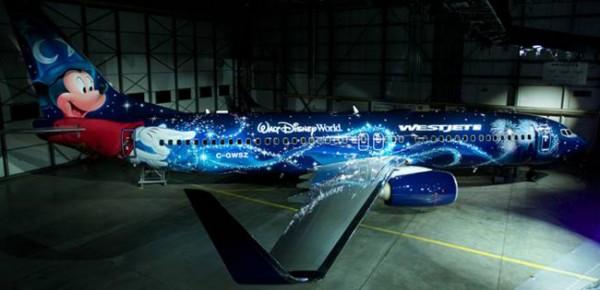 "We are very proud of our work with Disney and everything we've done together over the years to enrich the lives of our guests," said Gregg Saretsky, WestJet President and CEO. "With the Magic Plane, we are soaring to new heights, offering guests of all ages the chance to share the skies with one of the world's most beloved and iconic figures. We also look forward to having fun with our guests on the ground as they see the Magic Plane flying over their communities and at airports across our expanding network."

"Bringing this vision to life has been a true collaboration between our companies and it's so exciting to see the final result — the aircraft is absolutely beautiful," said Marlie Morrison, Managing Director, Marketing & Sales, The Walt Disney Company (Canada) Ltd. "WestJetters are the first point of contact for many of our Walt Disney World guests embarking on their memorable family vacation.  We have a great appreciation for WestJet, which shares a similar culture in bringing guests an exceptional experience from beginning to end."
Known in the social media world as the #magicplane, the aircraft will perform its inaugural flight on December 3, 2013, from Calgary to Orlando, Florida, home of Walt Disney World Resort. Following the flight, the Magic Plane will fly throughout WestJet's domestic, trans-border and international network.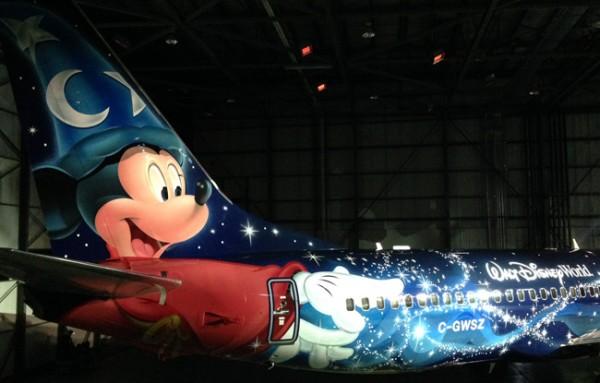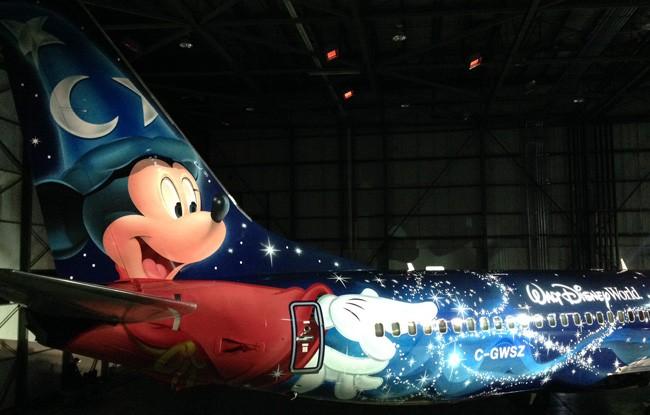 In addition to the magic on the plane's exterior, there is a bit of magic on the inside of this aircraft too.  Regardless of where they are travelling, guests on the Magic Plane will receive cookies in the shape of Disney characters.
WestJet has also installed custom antimacassars on the seats so there is more than enough pixie dust for everyone!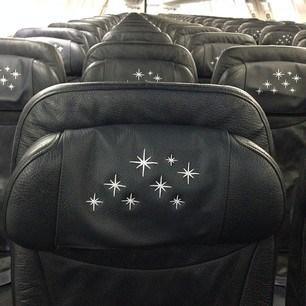 Fun facts about the Magic Plane
The two sides of the aircraft are mirror images of each other in all aspects but one. We'll leave it to our guests to determine what that is!
There are a total of 36 different paint colours on the aircraft.
It took a team of 26 people 24 days working around the clock to paint the Magic Plane.
The painting crew consumed more than 150 doughnuts over the 24 days.
The painting crew consisted of people from four countries, five states, two provinces and 12 cities.
The cookies that will be served on board are a special treat in the shape of Disney characters.
Over the next five years, the Magic Plane will fly more than 400,000 guests a total of nearly eight million kilometres.
Amazing!