Cruising is about food. No? Yes! Well for me it is. In fact that is how I got into cruising. I had done one too many bad all-inclusive vacations where the beach was beautiful, the place was nice but the food was horrible. I'm lookin at you Cuba!
Tired of going hungry on vacation, my mom suggested we try a cruise and I was hooked. Not just because of the tropical locales, but the outstanding food that I had heard would arrive at every meal. Breakfast, lunch, dinner and everything in between, we found there were often a large number of choices for hungry cruisers on most lines.
There are few moments when I will turn down a good meal, snack or appetizer.   And during our recent cruise on Freedom of the Seas, I went in with my heart and stomach wide open. This is not the time to diet folks.
Being the second largest cruise ship on the water – Freedom of the Seas steps it up a notch with their specialty restaurants, various dining areas and cafes. I loved every moment and may have gained a pound or two….  But it was all for research.  right?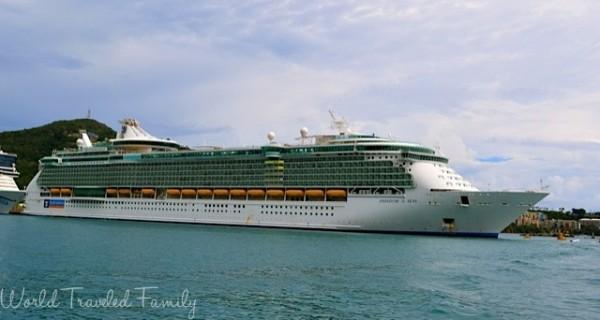 Let's start at the top of the ship!  The most popular destination for diners is the Windjammer. Day and night this place is packed. And for good reason – they have a vast selection, that works well for cruisers with all dietary preferences. At breakfast every station is stocked with all of the staples – bacon, sausage(turkey and pork), homefries, eggs, pancakes and waffles. Hungry vacationers can also grab some fresh fruit, oatmeal, baked beans, sliced meats, cereal and freshly baked pastries.. It's all here and very plentiful!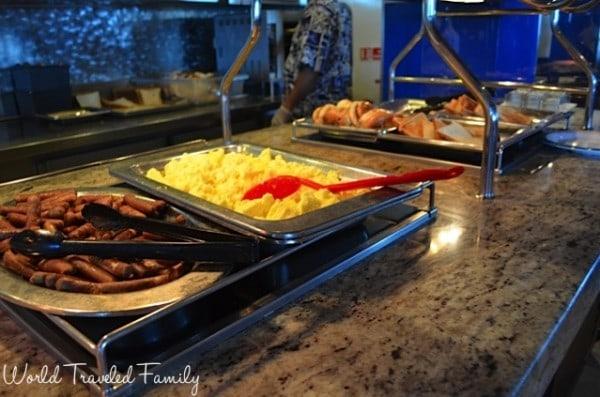 At lunch the kitchen cooks up fish, burgers, hotdogs, carved meats and 3 or 4 varieties of pizza. Mixed in you will find rice, steamed vegetables, mashed potatoes, roasted chicken and daily specialties.
For tea time(3-5pm), cruisers coming back on the ship from a day on the island or just some time by the pool can nosh on tacos, burgers, sandwiches, fresh salads, cakes and warm cobbler with a sweet cream sauce. This was one of my favorite mid day spots. We loved the DIY taco bar, which is complete with a beef chili mixture, hard shells, taco chips, salsa, Guacamole and all the fixins.
Come back for dinner and you will find more hearty choices like stews, paella, pasta dishes, more carved meat, fresh breads, a full salad bar, a cheese table and a large variety of sweets.  There are also staples like fries, burgers, hot dogs, mac & cheese, pizza and grilled chicken.
Jade, the Asian restaurant which is essentially an extension of the Windjammer, serves up stir frys, sushi, won ton soup, fried rice, General Tso's chicken, Sweet and Sour Pork, sushi, Japanese egg drop soup and Shanghai Noodles.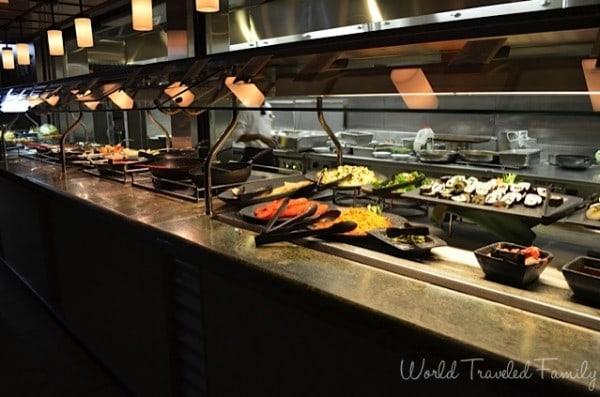 Specialty
There are so many places to eat on Freedom of the seas but Johnny Rockets was one of our first stops!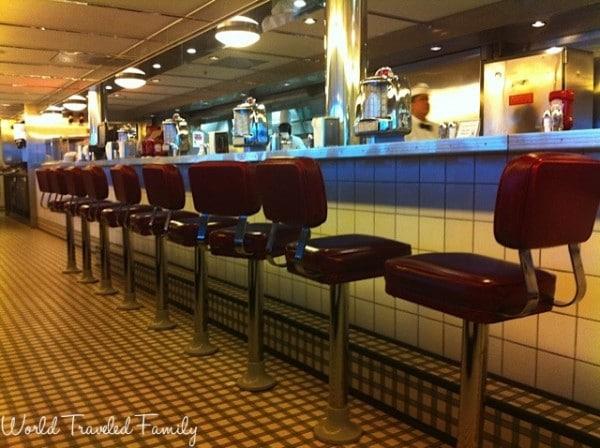 We visited twice for a late lunch and once for evening shakes.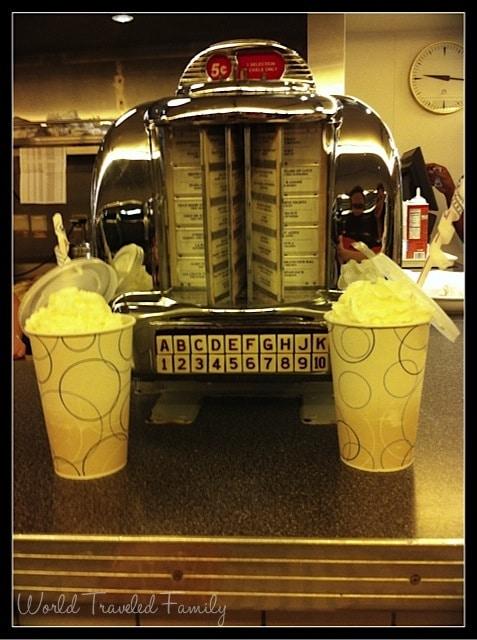 Just like on land, this at sea diner offers burgers, dogs and loaded fries.  For $4.95 guests(shakes & floats are additional) can choose from a long list of Johnny Rocket's signature items including some dessert at the end.  My favorite is the smokehouse burger and root beer float. My husband loves their chicken club.  We both shared the chili fries and onion rings.  We didn't have room for dessert but saw other diners having apple pie.
Portofinos is Royal's Italian Specialty restaurant.   During this cruise we had the opportunity to dine there and it was wonderful!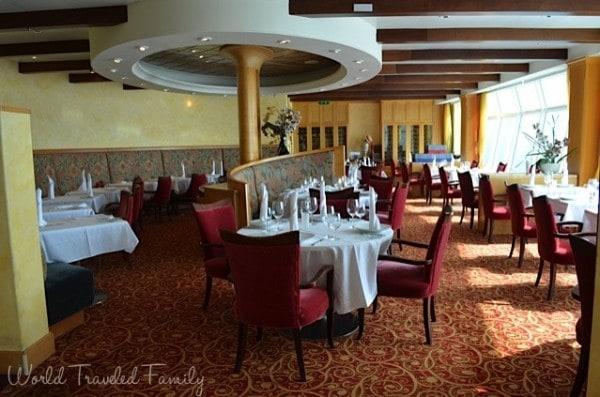 Our dinner started off with Proscuitto in Insalata, an antipasto plate and Carpaccio di Manza, thinly sliced beef tenderloin  with parmesan shaving and artichoke paste. My husband and I both had the beef and it literally melted in our mouths.  It was the best we had ever had.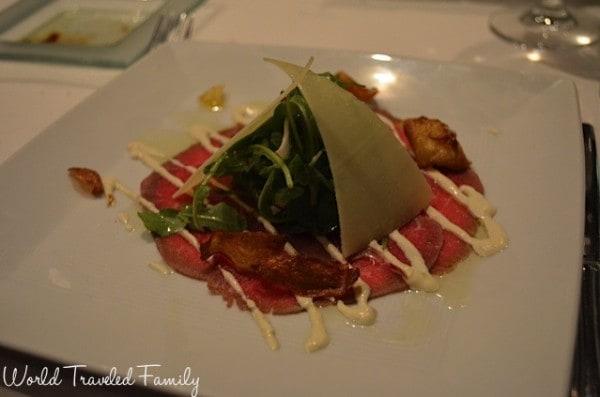 For dinner my husband and oldest son had the Filetto di Manzo (the beef tenderloin), while my youngest and I both had the Spiedino di Mare, a 'skewer' of Maine lobster, gamberoni, scallops and salmon.  It comes on a skewer, as the name suggests, and the host slides everything off on to your plate before removing the shell from the lobster.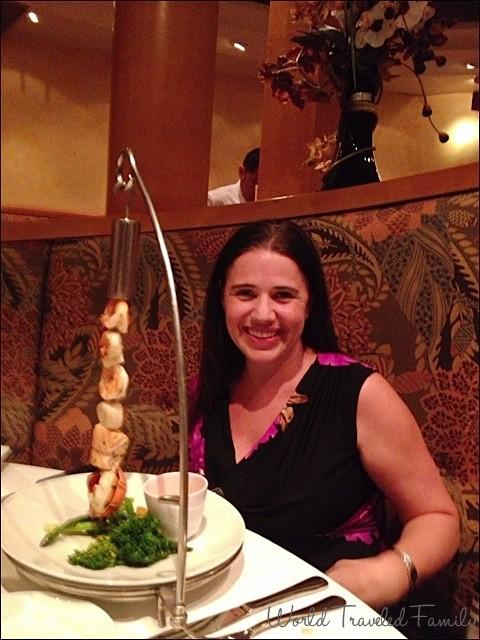 Another hit – especially with our little one who doesn't get lobster very often.
For dessert we were recommended the Dolcetti Alla Portofino, a sample plate, which I had along with a chocolate mousse cake.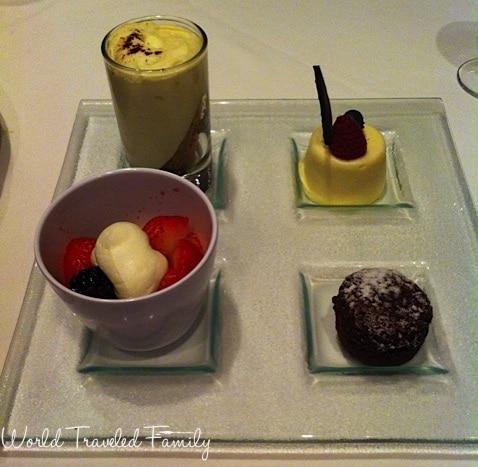 Chops Grille Steakhouse – We didn't have the pleasure of dining at Chops while on this cruise but a couple we met at one of the shows had just come from there and only had great things to say about their experience.  For an additional $30 per person guests  can choose from Filet Mignon (7 & 10oz pieces), Alaskan Halibut, Veal chop, an 18oz Porterhouse, 12oz Striploin or a Chops-style Mixed grill that includes a combination of a grilled lamb chop, apple-chicken sausage, veal tournedos, bacon, bubble & squeak and veal reduction..  On the side you can add double whipped potatoes, sautéed broccolini,  crimini mushrooms and leeks, green beans with Dijon mustard sabayon and feta cheese crumble or roasted potatoes with prosciutto and parmesan.    For starters they offer Dungeness Crab and Shrimp Cake, a smoked duck salad, Asian- Inspired Spicy Tuna, Warm Goat Cheese and Basil Souffle, Oyster Duet and Cheese and Onion soup.
The Dining Room
The dining room on board Freedom of the Seas is a 3 story emporium located at the back of ship between decks 3 and 5.  Open for breakfast and dinner every day, the dining room also serves lunch when the ship is at sea.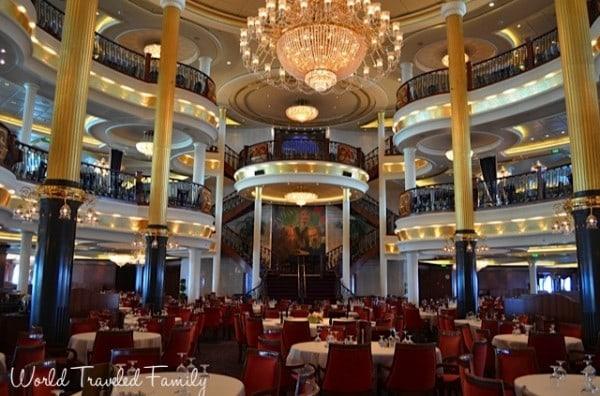 From 8-10am on sea days and 7:30-9:30am on port days the dining room serves a variety of cold and warm cereals, pancakes, French toast, omelets, eggs Benedict, and a full American breakfast plate. Cruisers can choose to order from the menu or serve themselves from a station that is set up in the middle of the room. The best part about breakfast is that guests are seated together as they arrive so this is a great way to get to know your fellow cruisers.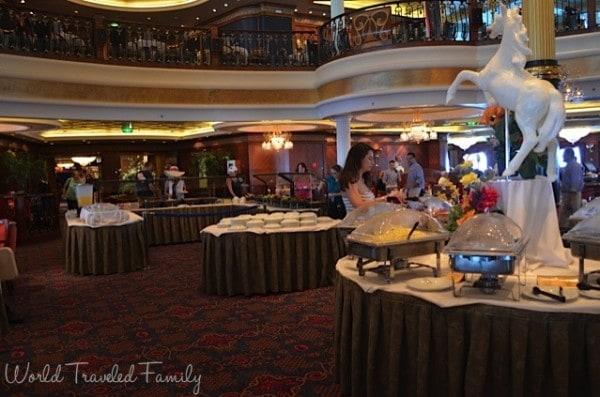 On our third morning we booked the character breakfast and were welcomed with a large plate of chocolate pastries and a kid friendly menu that included some very sweet selections like chocolate chip pancakes and Belgian waffles with a chocolate caramel sauce topping.  If you are looking for more nutritious options, they have a smoked salmon plate, omelets, oatmeal, cream of wheat, a scrambled egg breakfast and also a seasonal fruit bowl with yoghurt and granola.  The character breakfast is complimentary but needs to be booked before the morning of the event to ensure there is space available.  My kids were thrilled to party with Shrek, Fiona and Puss in Boots.  This was definitely a highlight for us!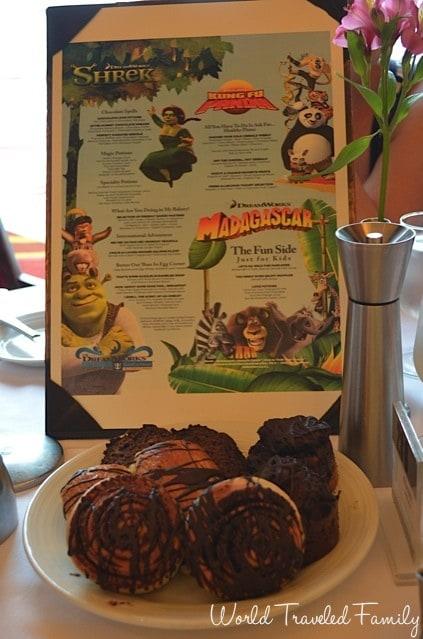 During the days at sea you can also have Lunch in the dining room from 11:45am – 1pm.  They serve fish, burgers, Quiche, pitas, Risotto, enchiladas and a signature pasta.  For desert you can choose from warm crepes, homemade cakes, strudel, flan or a selection of ice creams or sorbet.
Dinner in the dining room is my favorite meal of the day.  Cruisers can chose between traditional, assigned-seating dining during two sittings (5:30 and 8 p.m.) and My Time Dining, where you pick a preferred mealtime (anytime between 5:30 and 9:30 p.m.).
There is always a large variety of choices and unique combinations.  It's like being able to go out for dinner every night! Throughout the week diners can choose from the daily changing menu or from a static menu that offers Caesar salad, Escargots, Shrimp Cocktail, Linguine pomodoro, Angus Beef Sliders, a broiled filet of Atlantic Cod, marinated grilled chicken breast and an aged handcut Manhattan strip steak every night. If you have cruised with Royal in the past you will notice signature dishes that have been on the menu for years like the roast duck with braised red cabbage, Tom Turkey, Filet mignon, Prime Rib of Beef and, of course, the Seafood Platter.   For dessert there was always a large selection of cakes, tartes, souffles, mousses, ice creams and sorbets.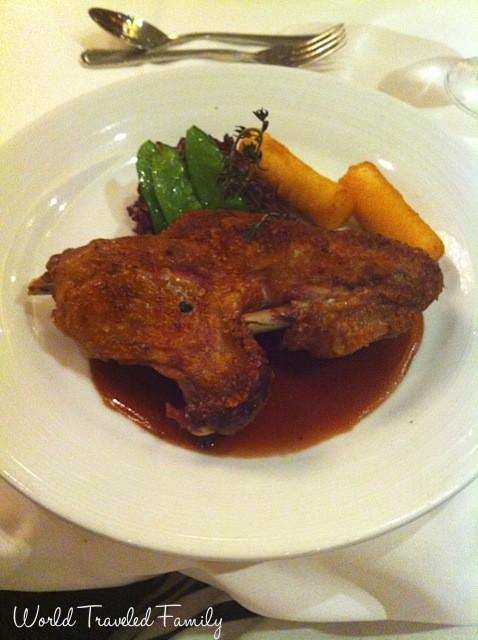 Casual Dining
In the Royal Promenade you can dine, drink and people watch until your heart is content. There are a lot of options for cruisers just looking for a quick snack or fast meal.
The cafe in the Royal Promenade is the perfect spot to relax, have a treat and drink some Joe. They sell Starbucks and also have complimentary regular and decaf coffee, tea and hot chocolate all day long. If you are hungry there is a large variety of sandwiches and baked goods. Open 24 hours a day the cafe is always a busy spot and stocked with great snacks.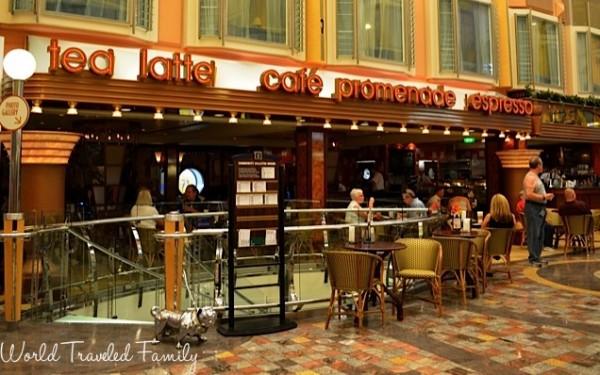 Added as part of the rejuvenation in March of 2011, the Cupcake Cupboard is the perfect place to satisfy your sweet tooth.  Created to look like a small town mom and pop bakery, the Cupcake Cupboard rotates 30 different varieties of baked treats through the shop weekly.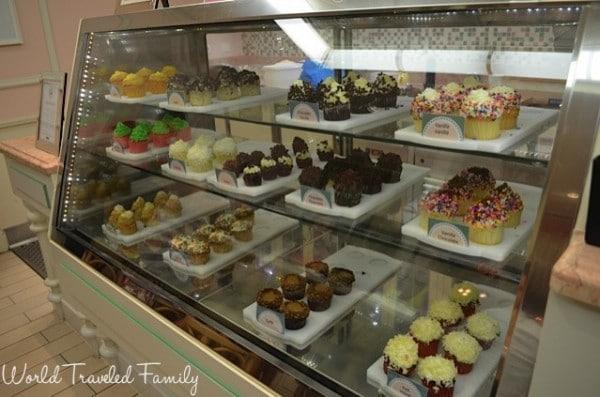 When we visited the display was stocked with lemon, coconut, oreo, a pink & green cupcake called the Fiona, carrot cake, turtles, red velvet, vanilla, double chocolate and chocolate/vanilla.  Mini cupcakes retail for $1.50 and full size ones $2.75($14.95/6, $28.95/12).  We took part in the cupcake decorating class during one of our days at seas and the kids loved making their own creations.  Everything was laid out and ready to go when we arrived and the staff was very patient while teaching 10 little ones how to create their monkeys!  The one below was made by my 4 year old.  The class is $15 for kids 11 and under, $22 for anyone 12+.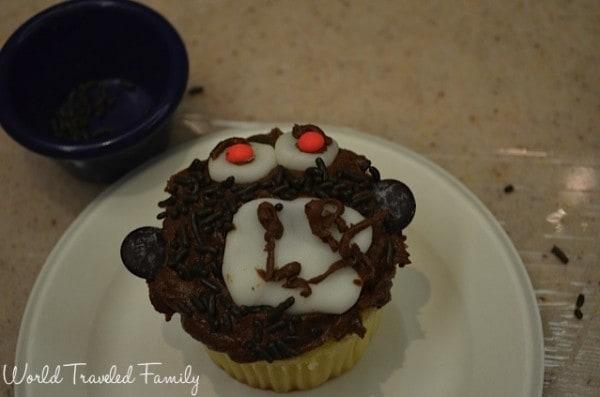 Located right next to the Cupcake Cupboard and across from the cafe, Ben & Jerry's serves up 17 of their most popular flavors(+ 2 types of sorbet) including Cherries Garcia, Phish food, mint chocolate chunk, chocolate chip cookie dough and Chunky Monkey in freshly made waffle cones or bowls.  Cups and sugar cones are s – $2.50, m- $3.25, l- $4.00, and waffle cones are s – $3.25, m- $4.00, l -$4.75.  They also make shakes for $4.50 and sundaes for $4.25(caramel and hot fudge), $5.25 for a waffle cone sundae.
Sorrentos, the ship's authentic New York pizzeria serves pizza  from 11am – 3am every day.  This was our favorite late night spot.  After we picked the kids up from Adventure Ocean we would head to Sorrentos for a quick snack.  Always fresh, the kids loved the selection and also that they could just grab pizza whenever they wanted.  Regardless of when you visit there is always 3 or 4 different types of pizza from vegetarian to meat lovers, desserts and some Italian meats and salads.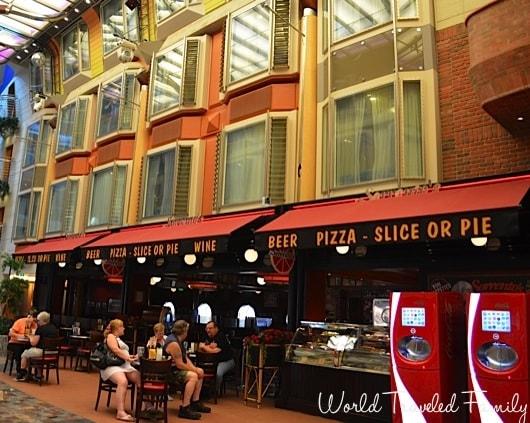 Vintages has over 100 varieties of wine by the glass including up to 36 different types you can taste from the enomatic wine system. While most glasses will run you between $7-36 the ship does stock the fancy stuff! Their most expensive bottle is a $1966 French Bordeaux. They also have an Australian Shiraz which is priced at $1750. But don't be worried that this place is too rich for your taste the average bottles starts at $27 and if you arrive between 5-8pm they serve guests complimentary Cheese plates.
Across the way, the Irish pub, Bull and Bear stocks over 40 beers from around the world including Harp lager from Ireland, Hoegaarden from Belgium, 2 non alcoholic options; buckler and O'Douls. They don't serve food, but they have live entertainment and a very funny bartender.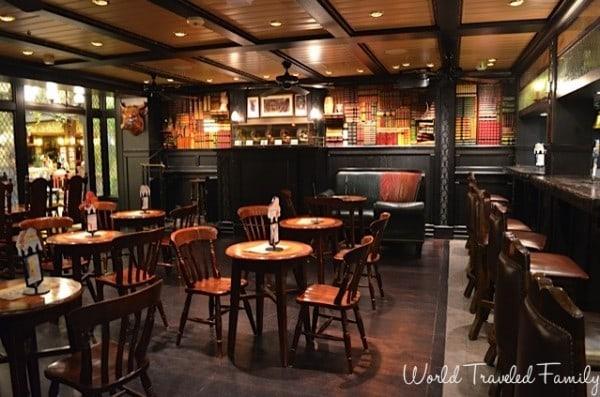 Room Service
What would a vacation be without room service? A fail! Not for our family. We love room service and Royal Caribbean makes it very easy to do. Just turn on your TV, pull up the menu and order away. One night after taking in some of the ship's shows we decided to watch a movie and have a late night feast. I pulled up the menu and in just few short minutes some spinach and artichoke dip, pizza, 2 fruit platters, a steak sandwich and cheesecake were on their way to our cabin. While I was there I decided to also get our order in for breakfast the next morning. It was just as easy and I was thankful I did it when the attendant knocked on our door at 9am. If you are less technical you can just fill out the slip the stateroom attendant leaves on the back of your door for morning room service and hang it on your handle. Room service is complimentary except between midnight and 5 a.m., when a $3.95 service charge applies.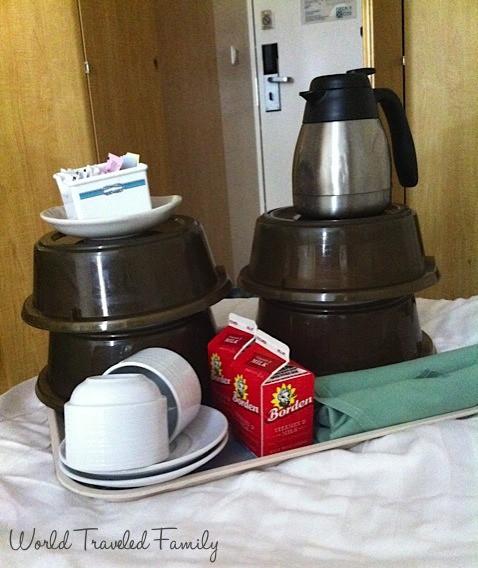 Royal capped off our week with a food festival in the promenade on the last day. From one end to the other there was staff manning stations that were stocked with fresh apple pie, baked breads, fresh cheeses, roast beef sandwiches, pastries and even chocolate dipped strawberries!!  The whole Promenade was decorated with ice carvings and cheese sculptures(below).  Yes the horse, pirate and eagle are created from cheese!
Marlon Bandol the same man who carved an eagle out of a chunk of Ice in 12 minutes on our second day was demonstrating his incredible fruit carving skills.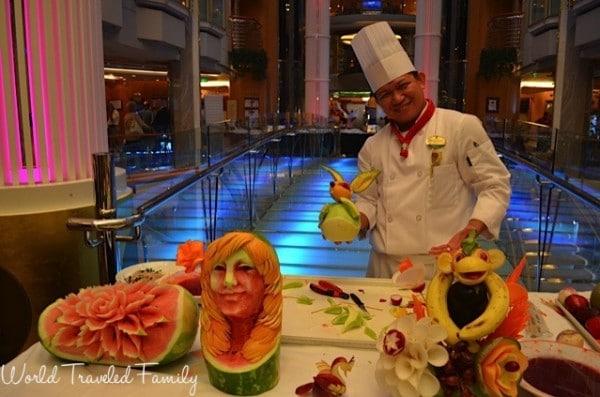 One of the ships room attendants was also giving towel folding lessons while the ship's band played music in the background.  It was a nice way to end the week.
Overall I will give Royal Caribbean an A+ for food.  There was always so much available and they really do take such good care of you. As you can see from the images above, we were well fed for the 7 days we called Freedom of the Seas our home.
For the whole ship review please visit our sister site Growing Your Baby.  To read more about what Royal offers for vacationing families please visit our run down here.