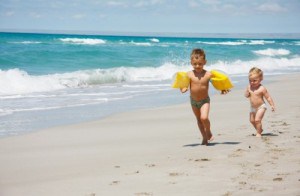 Anyone who's done it will tell you; travelling with infants and young children can be challenging.  TOTSY, an invitation only site designed to provide the best possible deals on essentials for parents, infants and children, has partnered with family travel expert Deb Geigis Berry, to compile a list of 10 tips to help parents smooth out the bumps in the road to a happy family vacation.
1.       Don't worry too much about shelling out for expensive venues, everyday of your trip.  Your children want quality time and that can be found at beaches, parks and playgrounds, just as easily as at a pricey amusement park.
2.       Do some research ahead of time, to find out about any free community events that will be taking place in your destination city, during your stay.  This is the time of year for free concerts and festivals.  A local event may turn out to be the highlight of your trip.
3.       Even if a location touts itself to be "family friendly," phone ahead to ensure that they have the amenities you'll need, i.e. cribs, high-chairs, etc.  Always have a selection of toys with suction cup bases, to keep little ones occupied in restaurants and other, more mature establishments.
4.       A stockpile of toys is essential when traveling with babies and toddlers, but some of them can be noisy.  Some are down-right obnoxious!  Make sure each toy passes the 'mommy/daddy irritability test' before you pack it for the trip.
5.       I've said this for a long time and the experts have just confirmed it.  Don't bring your child's most important toys on vacation.  The loss of a favourite stuffy or blanky could cause long term devastation.  Bring along some less important substitutes and bear in mind that your child is likely to accumulate new toys over the course of his travels.
6.       Keep a variety of toys accessible, especially in the car.  There's nothing worse than being caught in a traffic jam and realising the toys are locked in the trunk.  When things start to get hairy, you need to be able to distract, distract, distract.
7.       At this point, I'm the last person left on Earth who doesn't have a smart phone.  If you have one, the experts say, use it to entertain your children.  Load it up with apps that will entertain your baby, like animal pictures with sounds or flashcards with shapes and colors.  Keep you device safe, in your child's hands, by using a durable case and neck strap.
8.       Trim dollars from your travel budget and avoid mammoth restaurant portions by packing picnics for the road.  Make sure to store foods safely or stick to imperishables.  Keep a waterproof blanket on hand, in case your al fresco experience is soggy.
9.       Plan activities that will keep kids moving.  Cycling, hiking (with baby in a carrier) or a spin on a merry-go-round are all activities that should keep kids calm and happy.
10.   Introduce your kids to some new animals by visiting an animal park, fish hatchery or by taking a nature walk.  Any new local will have loads of new sites to take in and animals are usually a hit with kids.
A little research, before you arrive at your destination, will turn up all sorts of cool and affordable options.  Keep your eyes peeled once you're there, too.  You never know what you'll discover when you're traveling with kids. – Jen R, Staff Writer