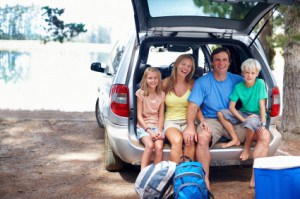 Summer is just around the corner and vacation planning is in full swing.  A recent survey conducted by Orbitz found that despite the still sluggish economy and the stratospheric price of gas, most families are forging ahead with their summer vacation plans, this year.
Parents can't afford to throw caution to the wind, however.  Most families (60 %) are looking to keep their holiday budget under the $1,500 ceiling, while a further 14 percent are willing to open the skylight and venture up to $2,000.
The jaw-dropping serge in gas prices has affected the cost of both road trips and airfare, though the average hotel rate, in certain major markets, has come down slightly.
Overall, it's going to cost a little more to travel this year but 81 percent of survey respondents are making vacation plans anyway.
"Even with gas prices skyrocketing, Americans still see summer travel as a necessity, especially for families that may have cut back in the past few years due to the economy," said Marita Hudson Thomas, Orbitz Travel Insider.
Maintaining a reasonable travel budget, involves carefully selecting your destination.  Domestic travel is often an affordable option.  As a result, Cancun, Mexico is the only destination outside the United States to breach the Top Ten Summer Destinations 2011 list.
The list includes:
1.       Orlando, Florida
2.       Las Vegas, Nevada
3.       Seattle, Washington
4.       Los Angeles, California
5.       Denver, Colorado
6.       New York, New York
7.       San Francisco, California
8.       Chicago, Illinois
9.       Cancun, Mexico
10.   Boston, Massachusetts
One sure fire way to save on the cost of travel is to take fewer people along.  Interestingly, 70 percent of respondents had no qualms about leaving their kids behind to take an adults only vacation.  Women (71%) were even more likely than men (67%) to shake off the guilt of travelling without their children.  Why not?  Parents need a break too.
All-in-all, one thing is obvious.  Americans feel they need to recharge their batteries and, this summer, they're going to do it, one way or another. – Jen R, Staff Writer