Ah, the Disney Dream…how I long to be back on board.
A couple weeks ago we took a family vacation for a 3-night cruise aboard Disney's newest cruise ship, the Disney Dream.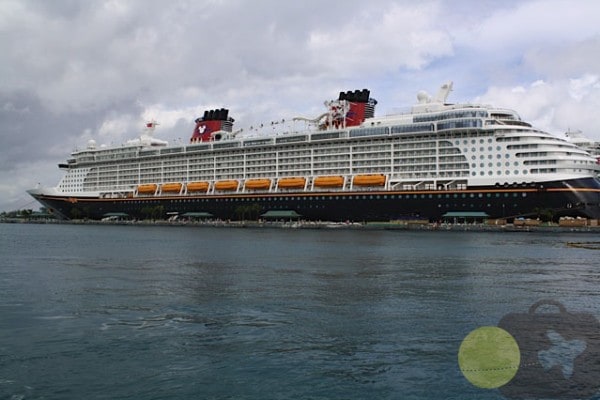 The first question I had asked of those who have sailed Disney before me, is "Is it really worth the extra money to make your cruise a Disney cruise?" My answer is a resounding "YES".  Disney has thought of every detail on this ship.  The details never failed to astound me.
Before we even left home, part of the experience included (up to two) Enchanted Phone calls, where you could choose a Disney character to call your child to get them excited about their upcoming cruise.  I opted not to utilize this, only because our schedule was a mess and I couldn't be sure we would be home at the time of the call.
Everything was organized online with Disney.  Port activities, Spa reservations, upscale adult dining at Remy or Palo – all could be reserved prior to ever leaving the comfort of home.  We registered the kids for the Oceaneers Club and away we went.
As we boarded the ship, we were asked our family name and then were formally announced on the microphone, welcoming the family aboard "Ladies and gentlemen, I am pleased to welcome the Arneill Family" aboard.  I think the kids were too in awe to even have noticed our names.  Immediately a crew member took us aside to direct us to our stateroom, where our luggage awaited us.
Granted, I have only one past cruising experience to compare this to, but the differences were night and day.  On one hand, I found the layout of the ship similar to my past experience, in that the lobby Atrium had the same feel as our first cruise – but with a distinct Disney flare.  The staircase placement was beside the elevators, with access doors to the staterooms, but I imagine most ships have the same 'basic' layout, aside from dining area/shopping/activity placement.
Since we were cruising with two small children, we spent a little extra and booked a Deluxe Family Oceanview Stateroom with Verandah, which boasted 299 sq. ft.  It was furnished with one queen bed, a convertible single bed, an upper berth pull-down bed and a single wall pull-down bed.  It could sleep a family of five!  The space we had was comparable to a small hotel room, rather than the tight-quartered inside cabin I had experienced before.  And then there was the verandah, with two chairs and a table and an awesome view of everything – all seen through a clear plexi-glass type rail so even the kids had a view!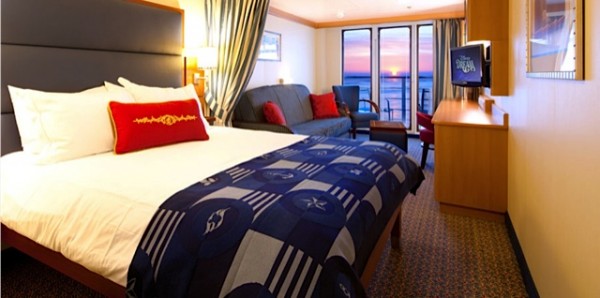 There was ample storage space.  We unpacked all of our suitcases and still had empty drawers.  The drawers themselves caught my eye.  They were slow-close, so they didn't have to be slammed shut.  All that was needed was a gentle push and it would close slowly on its own – very nice touch.
The bathrooms were my favorite part of the stateroom.  Yes, I said bathrooms (plural).  Disney has created 2 separate spaces, a sink and toilet, and a sink and shower/round tub.  Both had ample storage for toiletries, etc.  This allowed one person to use the 'facilities' while someone else was showering next door.  The shower was heaven.  Not only was the shower base/tub deep enough to bath the kids, but there is a seat off to the side, where you could sit and shave (for example).  The shower itself had a handheld hose, with which you could hose down the kids.  [By the way, that is my biggest pet-peeve about hotels – their tubs don't make it easy to wash small kids]. In addition to the hose, there was also a shower 'head' mounted to the ceiling, where the water actually rained down on you.  I loved it!  I wanted to spend my whole time in there, standing under the rain….And for the record, the shampoo/conditioner and lotion provided by Disney was incredible too.  I must not be the only one who thinks so, because they sell full-size products in the gift shop.
But alas, we had to leave our room and check out the rest of the ship.  We went to find lunch and discovered a massive buffet in Cabanas.  They had everything from kid friendly counters with pizza, chicken fingers & fries, to hot roast beef carving and seafood.  It was all self-serve, so you could pick and choose and try whatever tickled your fancy.
The main deck is where we found the pools.  And in Disney fashion, they were shaped like Disney characters.  Mickey's Pool is a children's pool shaped like Mickey Mouse and designed for young kids with a maximum depth of 2 ft.  Mickey's Pool has a twisty water slide for kids between the ages of 4 and 14. Unfortunately for us, they must be at least 3' 2" tall (and no more than 5' 4", so no adults).  This was a particular problem for us, because our youngest is the most adventurous and they wouldn't allow her on the slide.  She was VERY upset.
However, there is also Nemo's Reef for children under 8.  It is an awesome little (1,500 sq.ft.) splash pad area, specifically for little ones.  And it did have its own little slide down the back of Mr. Ray (from Nemo, of course).  The area is shaded from the sun, surrounded by a glass enclosure and featured a soft deck surface. It was very colourful, with many characters from Finding Nemo and tons of fun for both of our kids.
Donald's Pool (maximum depth of 5 ft ) is designed for both parents and kids and has Donald Duck on its floor. This is where you find relaxing deck chairs for sunbathing (not that I ever found time for that!).
There is also an Adults Only pool (for guests over 18), but we didn't get a chance to enjoy that solitude either.  Quiet Cove is conveniently attached to the Cove Bar for cocktails and beverages and situated in an elegant and soothing environment (including romantic moonlit evenings).  It offers a 4 ft deep plunge pool and a 6" deep sunbathing pool with built-in loungers.  Nearby, you can soak in a hot tub while overlooking a view of the ocean.
Dining on the Dream features a dining room rotation, where each night your family is assigned to one of the 3 dining rooms.  This way you get to enjoy all three varying atmospheres aboard.  Your servers rotate with you, so you get to know them and have consistent service for your entire cruising experience.
The first night we dined at Enchanted Garden.  It had a 'Pixie Hollow' type feel to me.  It was full of vines and apparently inspired by the gardens of Versailles.  It had really cool glass flower light fixtures that opened and closed like blooming flowers and the lighting changed in the ceiling from daylight to sunset and then to evening stars.
Our second night was the Royal Palace; a very formal-type dining experience. It was a quite ornate dining room serving French-inspired continental cuisine.  It had marble floors, an elaborate chandelier and hand-painted portraits of many Disney princesses, which my daughter loved.
Despite the formality of the dining room that evening, our second night was also Pirate Night (Argh!).  I was amazed at how many passengers actually came to dinner dressed as pirates!  And I am not only speaking of the kids, although there were some really cute ones.  There were entire families dressed to the hilt in pirate hats and swash-buckling boots!
Our third night was the Animator's Palatte, which was in our opinion by far the best food and atmosphere.  The scenery kept the kids engaged and the animation was outstanding.  The décor was animated.  I don't know what else to say it.  What you would have thought to be a picture on the wall, was something else entirely the next time you looked up.
The best feature is when all of these "screens" turn into a big fish tank.  Not only do the Finding Nemo characters swim around (and you can actually follow them from window to window), but Crusher (the turtle dude) comes up to your table and talks to you.  It is a truly interactive experience.  He picks someone at the table to speak directly to, ask questions and provide spontaneous responses.  VERY cool.  There was always something to watch.  And the food was great too!
The kids club on board was amazing.  Unfortunately, we didn't get much use from it, as our son only wanted to go if Mom and Dad could come too.  But it was a very cool place.  Completely Disney themed.  Every room a different film (Andy's Room from Toy Story, Pixie Hollow, etc.)  Everything a child could ask for.  And the parents too.  Kids could stay and play to their content.  They would even get fed if they stayed through meal-time.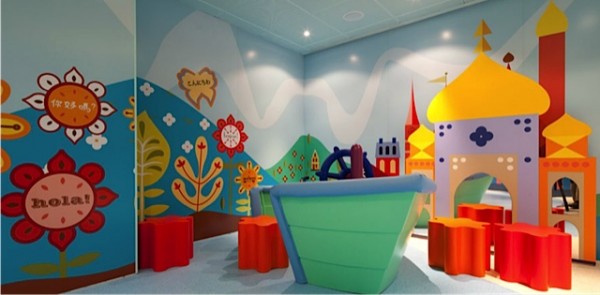 But safety was the most impressive.  The kids actually wore a gps tracker on their wrists, so staff could locate them as specifically as which room they were playing in.  Parents were equipped with wave phones, so in case of emergency, staff could call or page us back to the Oceaneers Club.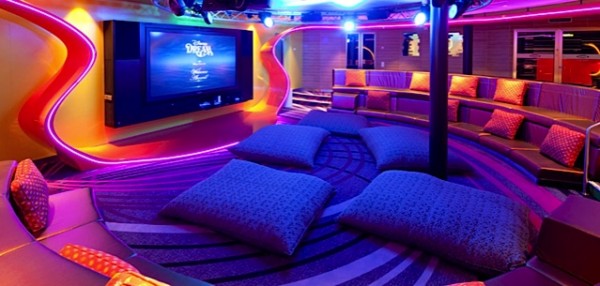 I could go on.  There is just too much to say.  So many things for kids of different ages that we saw other families enjoying.  One thing is clear.  3 days is NOT enough time to thoroughly enjoy this vessel!
Lastly, I have one more comment.  Leave the kids at home! (just kidding)  There really IS something for everyone of every age on board.  This cruise could have just as easily been a romantic getaway for two.  Although Disney is a child's dream, the Disney Dream is NOT just for children.  Whether parents or grandparents, or a getaway for two, this ship will be enjoyed!  I can't wait to go back again! Or perhaps, I may try the new Disney Fantasy in March 2012.