El Capitan, Bridalveil Fall, Half Dome, Tioga Pass, these are landmarks within a landmark; exclamation points in the wild, galloping beauty of Yosemite National Park.
Yet, marvel abounds everywhere in Yosemite, in both big ways and small.  For the next few days, the park will have the focus of many of the world's most enthusiastic nature and travel photographers.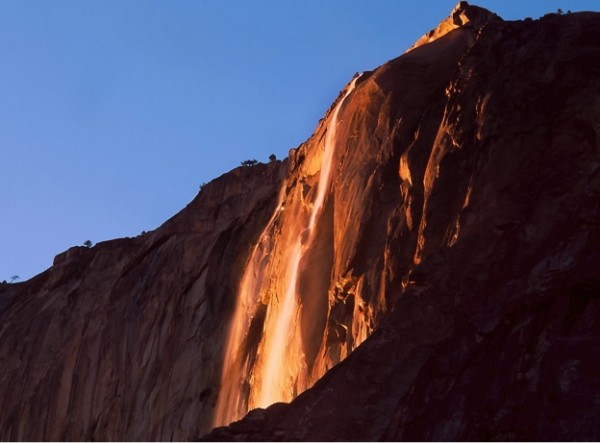 Shutterbugs are gathering to photograph a slender, unpretentious fall of water known as Horsetail.  For only two weeks in mid to late February, when the conditions are just right, the sun set makes the water glow orange like lava draining from a fissure in the granite.
This spectacle is so rare and so fleeting, for a long time it was barely known.  A strict set of conditions needs to be met.  If the season hasn't produced enough rain or snow melt there won't be sufficient water to feed the fall and the often stormy February sky has to be clear just as the sun is producing its lowest angle of light.  At that angle, the light reflects off the granite behind the fall, to produce a liquid sunset.
Once the stage is set, for two brief minutes, the horsetail becomes a blazing fire-fall, and then it is extinguished again.
Renowned Yosemite photographer Ansel Adams immortalised the Horsetail, but in his ubiquitous medium of black and white.  No fire-fall in his pictures.  Come on Ansel!
The Horsetail was first captured in its full colour glory by acclaimed nature photographer Galen Rowell, in 1973.  Since then, others have been trying to recreate the magic caught by his lens.  The internet has enlarged the community of tripod toters massively in recent years.
To see Horsetail Fall turn to lava, you'll need to be in Yosemite during the two week period ending February 24th.  Rendezvous at the El Capitan picnic area before sunset.  The paparazzi meet there and then vie for position.  Alternatively, just look for the gaggle of tripods and you'll know you're on the right track.
You are looking for a vantage point from which you can see the eastern summit of El Cap.  Spilling from the top of this massive rock, Horsetail Fall boasts the longest freefall of any of Yosemite's waterfalls.
It pours over the side of El Capitan to strike the granite 1,500 feet below and then flows over for a further 500 foot drop.
"Horsetail is so uniquely situated that I don't know of any other waterfall on earth that gets that kind of light," say Michael Fraye, photo instructor with the park's Ansel Adams Gallery.
Yosemite is a diva, and she's used to glamorous photo shoots.  The lava show at Horsetail Fall is just a little something extra she tosses in for those who are paying attention.  Enjoy– Jen R, Staff Writer