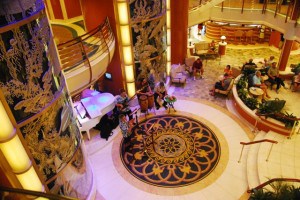 Even though my husband and I have been cruising for 10 years, sailing with kids adds a different level of challenges.
From the planning, to the packing and the execution, every time we add another child to our family – each trip gets more difficult, especially when the airlines charge so much for baggage.
We love to cruise because of the value offered in the vacation. Food, Entertainment and lots of great destinations make this our favourite way to travel. And like many who have been here before us – we are addicted to cruising!
For our trip this year we decided to do the Caribbean Princess, sailing out of San Juan visiting St. Thomas, Tortola, St. Lucia, Antigua and Barbados. For us, Princess Cruise Lines have been a reliable line that has delivered good food, comfortable accommodations and lots of fun at a good price.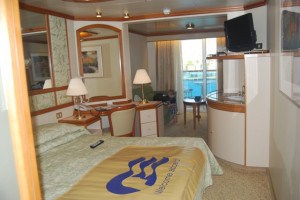 When choosing our cabin this year, I figured a mini-suite would be the best bet. For just a few hundred extra dollars this cabin offers 100sq ft more living space than a standard balcony cabin, a bigger balcony and a bathtub, which is a must for our boys. We also got an extra TV, a couch and some additional storage space.
Once on board we were happy with our choice and so were our boys. Even though this cabin was much smaller than the hotel room we had been staying at prior to our vacation, it was still quite roomy and comfortable.
One thing I like about cruising is the pleasant staff that awaits you when your arrive. Everywhere we went there was always someone waiting to help if you are lost or needed something. This is especially helpful when you are traveling with kids. Having a waiter on the Lido deck help with getting a highchair, drinks or even condiments was like having an extra family member along for the trip.
Like all cruiselines, Princess tidies your room in the morning and then again before bed. This was especially convenient as we would always mess the room up after returning from port and loved that it was clean again after we returned from dinner.
For a week we called the Caribbean Princess home. Here is what we thought: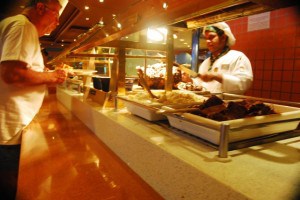 One of my favorite reasons for cruising is the food and it was available somewhere 24 hours a day on our ship. Starting at 4am Princess offers pastries and beverages in the Cafe Caribe, with full breakfast service starting a 6am just across the hall in the Horizon Court. From this point on the buffet toggles back and forth between the two areas for 24 hour coverage. For those who are looking for more of a formal meal service, the dining room does breakfast(7am – 9am, lunch(noon – 1:30), tea(3:30 – 4:30) and dinner (5:30 – 10pm) everyday. We had our best luck with the kids in the Horizon court where we could get them their food immediately. Even though our waiter tried to speed up our service, dinner in the Palm dining room averaged about 90 minutes which didn't go well with our 1-year-old.
Regardless of where we chose to eat, it was nice to see that Princess caters to those with all dietary needs. Vegetarian choices are clearly market in the menu and diabetic options, available at every meal.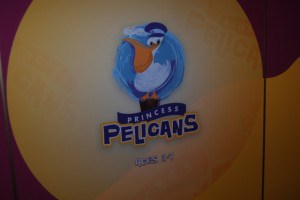 Something that was new for us this year was the Pelican Club. Because my son was not toilet trained when we cruised last time, he was not eligible for the kids club. As soon as we boarded the ship a newsletter was waiting in our cabin outlining all of the activities planned at the Pelican Club. Because my son has special needs I was skeptical about leaving him with staff who didn't know him or how to deal with his quirky personality traits. After he saw the room he was really excited to participate so we signed him up and were pleasantly surprised by his experience. When we arrived each night to drop him off the staff welcomed him by name and took him over to get started with the evenings activities. He talked about the kids club all day and couldn't wait to go each night. When there, the group did arts and crafts, played games, watched movies and even had a dance party. Each night he would appear at the door with a new toy or craft that he had made that night. This was definitely a bright light in the cruise for him as it was his time to play and act crazy.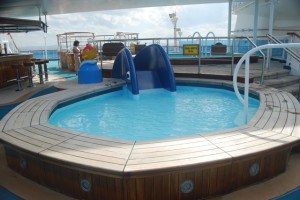 Princess doesn't really have a lot to do on board for kids so it was nice for us that he liked participating in the Pelican Club. When touring around we found that outdoor facilities for kids are sparse and the kids pool a bit small. Located on the 17th floor at the back of the ship, this 10ft x 10ft swimming space almost feels like an after thought. Underneath it, one flight of stairs down, is another tiny pool, a space to ride bikes and a spot for older kids to play ping pong. All very simple, nothing elaborate. And while this is fine for little kids, older kids may be bored with the lack of outdoor activities.
Professional entertainment on board varied from full stage productions in the Princess Theater to artists singing their favorite Billy Joel or Elton John song in various lounges around the ship. Our favorite area was the Piazza. Every night there would be a variety of performers, like contortionists, illusionists, pianists and a steel drum band entertaining the crowds of passengers milling about the shops and bars. One night we were happy to come upon a hypnotist, who had the audience believing that they were on Jerry Springer and a comedian from Comedy Central. On previous trips we would have caught every show onboard, but traveling with the boys tends to split us apart – having one watch the show, while the other puts the two to bed.
To help with this Princess does offer babysitting services for a fee. While this is something we wouldn't do, there were many families onboard that took advantage of this service.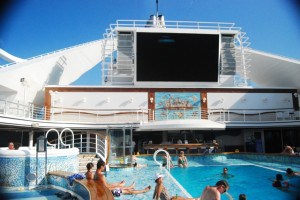 One attraction that was a hit with the whole family was the Movies Under The Stars. Princess has mounted a massive movie screen over the main pool that shows newish movies from 10am to midnight everyday. Flicks like Transformers 2, Star Trek, Night at the Museum 2 and Shopaholic could be enjoyed after dinner or while taking a dip in the pool. In the evening, Princess even puts special covers over their deckchairs and offers popcorn to those who would like to enjoy a snack and a movie 'Under The Stars'.
Another new experience for us was using the on board laundromat. Halfway through our trip I realized that a lot of the boys clothes were dirty, including the very important 'blankie'. When I attempted to send some off to be cleaned by the ship's dry cleaners I was told that I had missed the deadline and would have to wait until the following day. So I packaged everything up and headed 4 rooms down the hall to the laundromat. What a great room – especially for moms who don't want to bring back a suitcase full of dirty clothes! For your convenience Princess has installed a detergent/softener sheet dispenser and for just $1.00/box.
Overall our trip was nice. While traveling with kids is challenging, being a board a ship that has so much to offer made things a lot easier.
I would recommend this ship for families looking to see the Caribbean without breaking the bank. To get your pick of cabin, book early. Even though we booked this trip in July most of the bigger suites were already taken.
Pros:
very friendly staff
great food
wonderful itinerary
organized
nicely priced
Cons:
slow, expensive internet
not enough outdoor kids amenities (in need of a splash pad or some water area that has more to do)
If you are looking to budget your trip out, here is what we did on each island along with their costs.
St. Thomas – In St. Thomas we visited Coki Beach and Coral World. Coki beach is a beautiful swim/snorkel spot that is often overlooked by many. This crystal clear beach is calm (on most days), and the snorkeling is great. Coral World is nice, but somewhat expensive. $19/adults and $10/kids (3-12). The taxi ride(25minutes) was $10/per person/way, $5 for my oldest son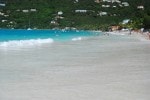 Tortola – In Tortola we visited Cane Garden Beach. This beach was pretty, but a bit rough for the kids the day we were in port. We purchased the taxi off the ship and Chairs were $5ea from the beach vendor when we arrived. Taxi ride is 20-25 minutes $6/per person/way. Have a your camera ready – it's a nice drive! The Market set-up at the beach offers some nice shopping.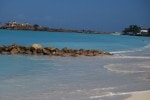 Antigua – In Antigua we visited Runaway Bay. Our Taxi driver dropped us off at the Lobster Shack, which used to be a hotel that didn't re-open after the last hurricane hit the island. This small beach was nice because there is a break wall that keeps the water relatively calm. We liked that there weren't many people on this beach and that the 'Lobster Shack' offered a nice menu for a reasonable price. Chairs $5 umbrella $10 taxi ride was about 10 minutes $3/person/way(kids were free)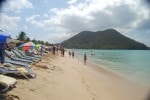 St. Lucia – In St. Lucia we went to Reduit Beach. This is the main beach and it was packed. While the water was nice the sand was a bit rocky leading into the water. Sand shoes are recommended here for sure. Chairs $5 umbrella $10 The taxi ride was about 10 minutes $8/per person return(kids free)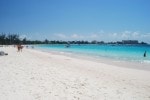 Barbados – A new beach for us in Barbados was the Boatyard. We had heard a lot of great things about this beach and decided to give it a try. Admission is $10/per person , but it includes a welcome beverage, a chair with an umbrella, the use of the non-motorized motorsports and our cab ride back to the ship. I highly recommend this beach. It was clean, the water was clear and the atmosphere was great. Cab ride was $3/per person( kids free)