Introduced in 2006, the Freedom of the Seas was the largest passenger ship ever built from 2006 until construction of the Oasis Class ships in late 2009.  It's layout is very similar to the Voyager class ships with the addition of the H20 Zone, the Flowrider, 2 Cantilevered whirlpools and a few new shops in the Promenade. A couple years ago we sailed on Adventure so we found this ship easy to navigate.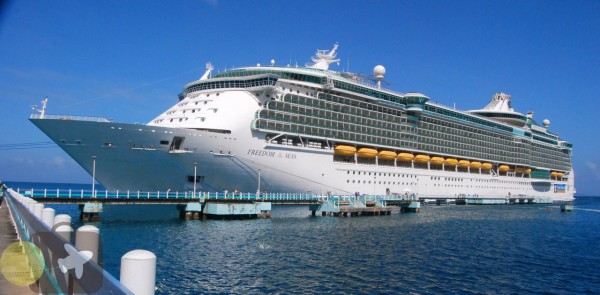 Its wealth of amenities for vacationers of all ages makes it one of the most popular cruise ships in the water.  For us, the combination of itinerary, sailing location and kid's programs made it the best option.
Because our growing family needs a lot of room we chose the Junior Suite.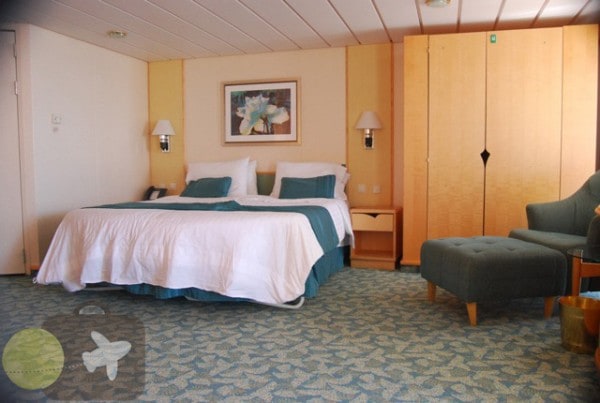 When I booked just a couple weeks out, we were offered a special needs cabin, which turned out to be a blessing.  Not only was it more spacious than a regular Junior suite, but it added a bigger balcony and a bunk room for the kids.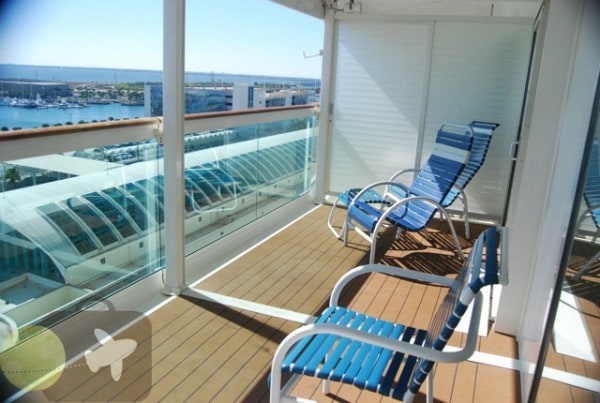 I highly recommend this suite for cruising families.  It may not be possible to get the special needs or handicap cabin, but JS is a good size for a family of 4 with younger kids that like to run around.
Our cabin(1328) came equipped with a queen sized bed, a pull-out couch and a separate room with bunk beds, a dresser and a cupboard.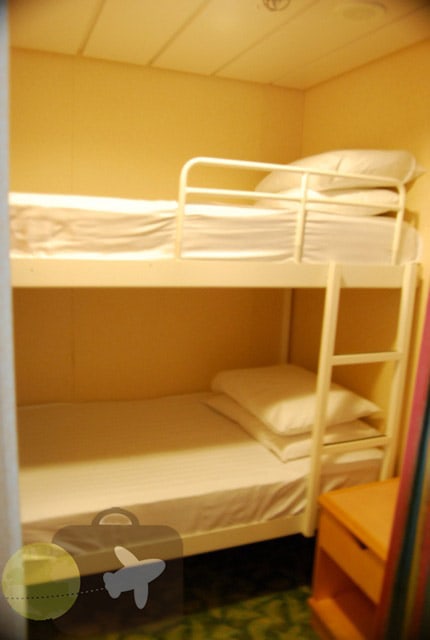 Because it was designed to be wheelchair accessible, there was easily an extra 10 feet between the bed and the far wall, which served as a play area for my two.  The balcony was equally as spacious and ran the length of our cabin.  The only thing we missed was a bathtub.  The bathroom was a good size and nicely appointed but only had a roll in shower.  This turned out to be fine because the boys were both able to run around the shower area as opposed to a regular cabin that has a very small showering cube.
The H20 zone is one of the main reasons why I booked this cruise.  This water wonderland is the perfect way to spend a sunny afternoon as the ship heads to the next port.  If your child is toilet trained and not in swimmi's there is a wealth of water play options for them.  In the main area 10 colourful statues spray water out of their heads, shoulders, and arms to create a cool splash pad that everyone will love.  Off to the side there are 2 kid sized jacuzzi's, a bigger pool (3.5ft deep) for better swimmers and a 5ft pool under the waterfalls at the back.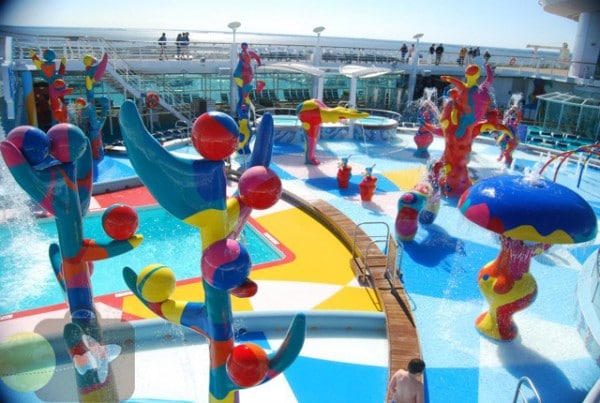 For little cruisers who are still in trainers, Royal has a created 10 x 10 pool below the kids pool that is just for them  Note:  Little ones in a swim diaper are not allowed in the main swim area and this is monitored closely by pool staff.
For adults and older kids, Royal has added a surfing simulator at the back of the boat.  The Flowrider was high on my husband's  to-do list while onboard because some of our friends, who had previously sailed on Freedom and Oasis, had recommended it.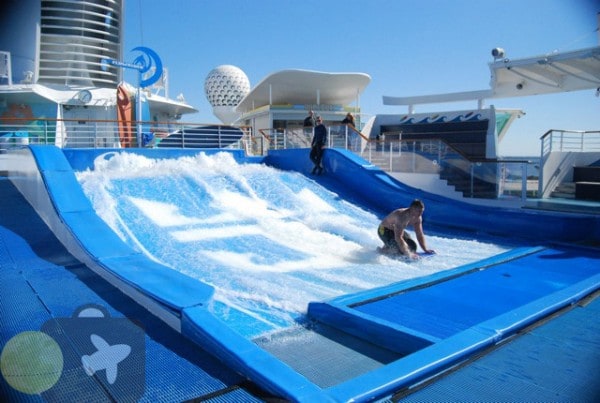 He finally got up the courage to try it out on our last day at sea and loved it!  The staff was great to help him get his balance and then let him do his 'thing', which turned out to be him standing for a couple seconds, falling and then being taken away by the 'flow'.  Pretty funny!  He could have done this all day and would have had the weather been better.
Like with all of Royal's fleet, the food onboard Freedom is plentiful.  From morning till night and every minute in between, there is food to be had somewhere on the ship.
Royal has outdone themselves with their gorgeous 3-tiered restaurant.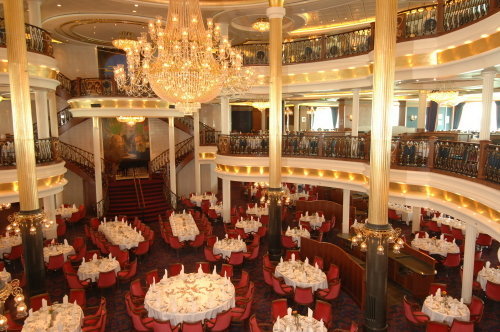 Located at the back of the ship between decks 3 and 5, The Isaac, Leonardo, and Galileo restaurants offer an elegant end to the day.  Before we had kids we loved to go to the dining room for lunch and dinner.  Now, it is a bit more tricky and on this cruise we found ourselves eating in the Windjammer more than on previous vacations.  And while I missed the formal dinners and nicely presented appetizers, the kids loved the quick service and selection the Lido had to offer. The staff was just as eager to help and the atmosphere is very casual.  We also liked the Asian buffet Jade at the back of the Windjammer.  At night they would serve stir fry dishes, sushi, tempura and a selection of desserts.
During a walk one night we came across Johnny Rockets and stopped in to have some milkshakes.  This diner has been done so well that you will forget that you are on a cruise ship.  While there is a cover charge of $4/pp, Johnny Rockets offers a good menu for cruisers looking for something different.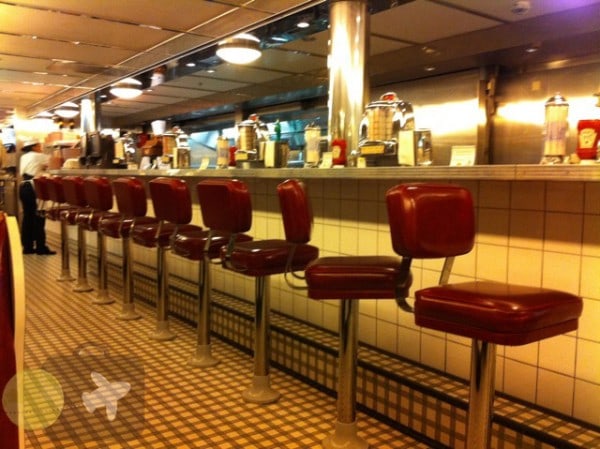 Passengers who would like a more intimate evening can chose the Portofino Restaurant for seafood($20/pp fee) or Chops Grille($25/pp fee) for a high quality steak, both located on deck 11 outside of the Windjammer.  Had we of been traveling with grandparents we would have taken advantage of one of these restaurants.  Both of the menus offered matched those of a high-end establishment, something we miss visiting now that we are busy with 2!
To help you get some time away together Royal offers a list of Kid's programs.  Little cruisers will enjoy spending a couple hours meeting new friends at Adventure Ocean.  For kids 3-5, The Aquanaunts program has themed play days, shows and activities.  The morning session runs from 9am – 11am, lunch noon – 2pm(extra charge $7.95/child), afternoon session 2pm – 5pm, evening session 6:45pm – 10pm and the late night party zone – 10pm – 2am($6/hour per child).  Explorers who are aged 6-8 have their own space that features workstations for arts and crafts, while Voyagers, kids aged 9-11, have lots of play options like group scavenger hunts, themed nights and dance parties.
Parents with cruisers under 3 won't be able to leave them with the staff, but have the opportunity to participate in the Aqua Babies & Tots program.  From 6-36 months of age, parents and babies are invited to participate in the at sea program developed by Fisher-Price exclusively for Royal Caribbean International.  These activities are hosted by Royal's youth staff and a parent must accompany their child during play time.  While we have participated in this program on previous cruises with Royal, we didn't take our youngest to meet his fellow cruisers.  Royal also has a 'toy bank' that parents are able to borrow from to keep their little ones occupied while in their cabin.
The Promenade
This impressive shopping area is both the centre of the ship and the centre of the action.  Everything you need is here or just a staircase away.  After the boat has sailed, cruisers can peruse the daily sales at the shops, enjoy a cup of joe or sit back and enjoy the entertainment.  Each night there is a Caribbean band, live Dj or performers to keep you entertained and even a Circus at Sea during the last day on board. The Promenade is 4 stories high and is lined with cabins that overlook the action.  This was my favorite part of the ship.  Every night we would bring the boys down to the cafe for hot chocolate and cookies and sit and listen to the music.  Just like a mall, there is also a barber shop, pizzeria, a pub, Wine Bar, Build your own bear shop and many shops.
Even if you are not in the Promenade, there is no shortage of activities on board Freedom.  In fact there are so many it's not possible to do it all.  Everything from scrabble to Wii challenges, passenger game shows to Karaoke.
Photos
Like with every cruise ship, Royal's photographers were everywhere capturing our family's best moments.  For us, our cruise is a favourite way to get the yearly family shot and I plan for this before we leave home.  Every night (except the last) the ship's photographers have many areas set up all over the boat with different backgrounds.  There is no stress, no sitting fee – you just walk up, pose and get you picture taken. Somehow the magic of the vacation manages to get my boys to be friends long enough to get a picture together and one with us to keep me happy for another year. Prices aren't so bad $20 for an 8 x 10 and $10 or $15 for photos that are taken of your family as you leave the ship each day.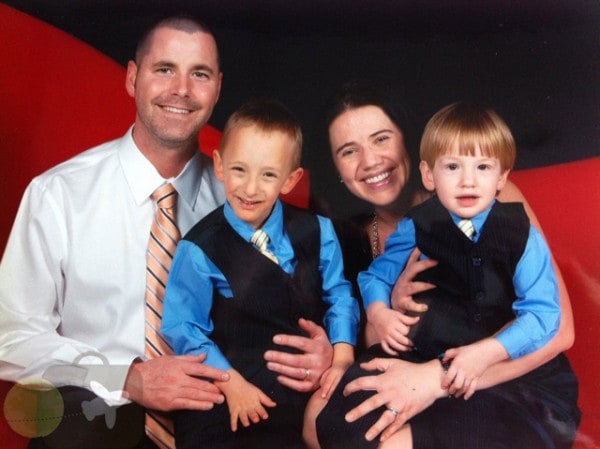 Internet on board is fast but pricey. Packages start at .58/minute for 60 minutes and go as low as .30/minute for 500 minutes.  One thing that I would change is that passengers be able to purchase more minutes at .30 if they have already gone over their allowance and have already spent $150.  Freedom has in cabin wi-fi which is very convenient as it can be used on the balcony.
On our 7 day voyage, the Freedom sailed to 4 ports; Labadee Haiti, Ocho Rios Jamaica, Grand Cayman and Cozumel Mexico.  With the exception of Haiti, we had been to all of these ports many times on previous cruises.  We were scheduled to visit Fallmouth but the port wasn't complete when we boarded the ship.
Ocho Rios Jamaica – The big attractions in Ocho Rios is Dunns River Falls and snorkeling tours.  During previous trips to this port we have climbed the Falls and it is a great trip to do but not with kids.  After consulting a couple staff members on board who were from Jamaica we decided to just walk to the beach that was located right in front of the boat.  It was clean, convenient and perfectly priced at just 2.50 per adult and 1.25 per child.  The water was calm, it wasn't too busy and there weren't a lot of canvassers looking to sell goods.  As a bonus we were able to get a beautiful shot of the ship while the kids played in the water.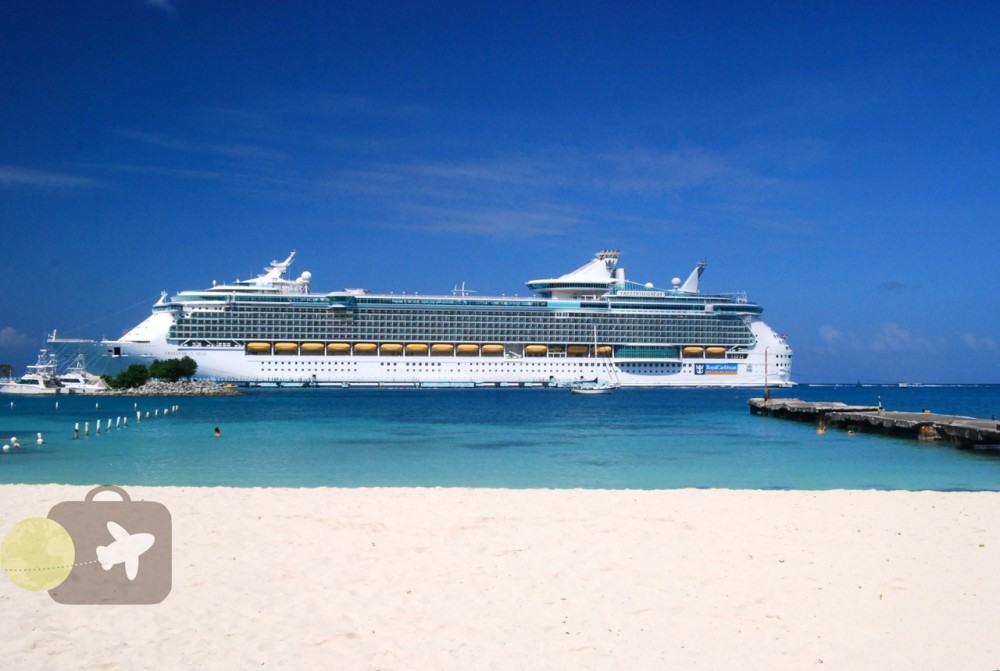 Note: Do not purchase any shells from the locals as the ship will take them from you when you board.  Additionally, security was very tight getting back onto the ship.
Grand Cayman  – The big attraction in Cayman is the scuba diving, snorkeling and of course – Stingray City!  This sandbar, which is located many miles from shore is one of the best ways we've experienced to get close to these massive portobello mushrooms. As soon as your boat docks, they come over to greet you to eat the food you have hopefully brought with you.  You can purchase this trip through the ship or off the dock for a fraction of the price from local vendors.  While I highly recommend this excursion, it's not one that you should do with young children.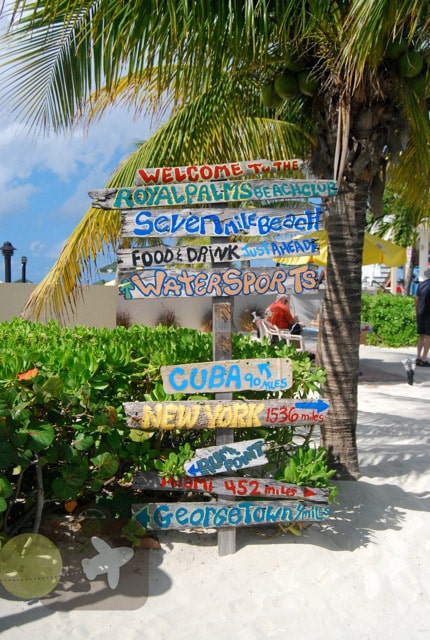 On this trip, we opted to enjoy a nice day on 7-mile beach.  For $4/per person (kids are free) we hopped into a taxi and headed to Royal Palm Beach Club.  While it's free to use the beach, the chairs will set you back $10 each plus $10 more if you want an umbrella.
For those who like to shop, Cayman offers everything including jewelry, gifts, duty free liquor and their famous rum cake.
Cayman is still one of the last tender ports so if you book excursions make sure that you leave lots of time to catch the last ferry to the ship.
Cozumel – My husband and I have been to Cozumel many times and it is beautiful.  For this trip we decided to just shop on the pier and then enjoy the ship's waterpark with the boys.  The shopping just off the boat was nice and there were many bars and swim areas had we have brought our bathing suits.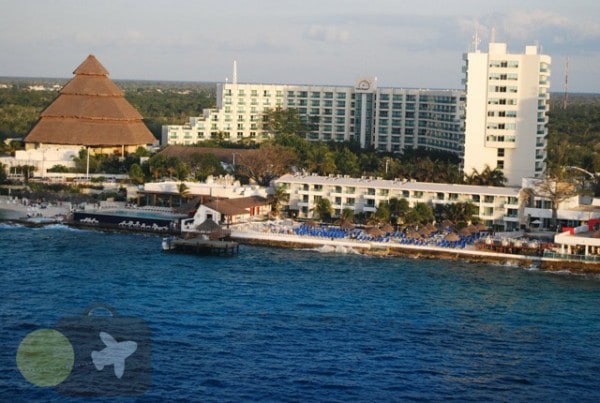 For those who like to snorkel, Cozumel offers lots of tours and lots to see.  The incredibly clear water makes it easy for the sun to penetrate deeper and this allows corals to grow at deeper depths.
Chankanaab National Park, which isn't far($10 cab ride) offers, a dolphin interaction, equipment for snorkeling and scuba diving, a hammock area for relaxing, a children's playground, and a beach area.  It is $10 but worth it if your family likes to do different activities.  Also keep your camera close as there are massive Iguanas everywhere just waiting for you to take their picture!
During past visits we rented scooters and explored the island.  Cozumel now has 3 cruise ship piers and Royal docks at the third one, which is a distance from town.  If you are going to go off on your own, make sure you leave plenty of time to return.  This ship will leave without you if your are late and not on one of their excursions.
Our family had a blast on board Freedom of the Seas.  Royal Caribbean is one of our favorite lines because they offer something for everyone.  Plus, of all the lines we have cruised, we think their food is some of the best we've had.  I highly recommend this ship as it had a great itinerary, lots do and a great staff supporting it.