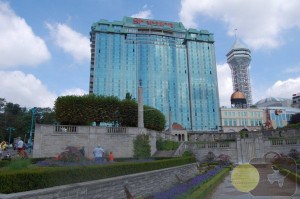 Because we just added a member to the family recently, we haven't had a chance to get away in a while.  Now that life has slowed down a bit I wanted to find somewhere that we could go that wouldn't be far, but would have a few key attractions that we could all do as a family.  I also needed to find a family-friendly hotel that was in close proximity to fun-filled attractions, had clean rooms with comfortable beds and a restaurant that has lots of options (we are vegetarian). Recommended by some friends, the Sheraton on the Falls fit the bill for our recent Niagara Falls weekend getaway.
Sheraton on the Falls is situated within North America's largest hotel and entertainment complex, The Falls Avenue Resort, and includes indoor access to many family-friendly entertainment, shopping and eating facilities.  You could stay indoors for your entire vacation if the weather didn't cooperate using the indoor connections to make your way around and still see the Falls from the floor-to-ceiling windows in your room.  I am sure, however, that the kids will enjoy the excitement of the strip and the exhilarating sights and sounds of the rushing waters of the Canada and U.S. falls each only minutes from the hotel.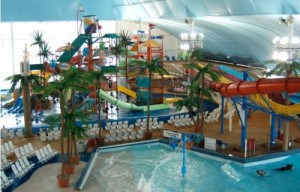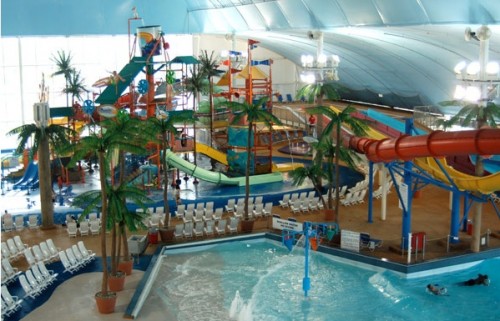 The Entertainment
The main entertainment attraction for most families is the Fallsview Indoor Waterpark, Niagara's newest and largest of its kind featuring three acres of splashing fun for all ages.  Boasting six storey high waterslides, an enormous wave pool, a 1,000 gallon tipping bucket, indoor beaches, a dry play area for younger children, adult only Jacuzzi's and a Tiny Tots Splash Pad, you will find something for every family member to enjoy.
Be sure to check out Adventure City for Wild Safari mini put, Traffic Slam bumper cars, a funhouse and arcade style games.  And if you need to take a break from all the walking head to the iWerks 4-D theatre located in the MGM Studios Plaza.  For the adults there is the casino and nightclubs as well.
Sheraton on the Falls features both a heated indoor and heated outdoor pool (be sure to check the hours as we found it to be adult only swim from 8am till 10 am).
If you are looking to venture outside the complex there is an assortment  of fun-themed attractions like wax museums and haunted houses to name a couple along the strip.
Dining
The hotel offers a Starbucks and Piano Bar/Lounge on the main floor as well as Niagara's premier fallsview dining option, the Fallsview Restaurant, featuring an 80-foot breakfast, lunch and dinner buffet.  Kids 12 and under eat free at the breakfast buffet with the purchase of an adult meal.  We found the wait staff to be extremely friendly and great with children which is always a plus when you have messy eaters that get bored easily.   They seated us at a window with a view of the Falls and brought the kids drinks immediately along with our coffees.  The food options were endless and included made-to-order stations for waffles and omelettes.
Other restaurants within the complex include:  The Rainbow Room by Massimo Capra, Rainforest Cafe, Hard Rock Cafe, Planet Hollywood, Perkins Restaurant & Bakery, Denny's, Terrace Food Court (Pizza Hut, KFC, and Taco Bell)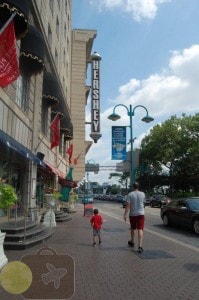 Shopping
There are plenty of souvenir shops near the hotel, but if you really want to see your child's eyes light up be sure to head to The Hershey Store located inside the complex.  You are greeted by an enormous Hershey Bar and a Hershey Kiss character at the entrance and the most marvellous aroma of sweet freshly made chocolate fills the store.  Sample one of the delicious Hershey fudge flavours, a chocolate dipped strawberry, warm cookies or a thick signature Hershey milkshake.  There is an indoor waterfall, retro decorations and every possible Hershey brand treat or gift for sale.
Connected to the store is the Always Refreshing Soda Shop in 1950's diner style. Enjoy a hot dog, an ice cream float or pick up some Coca-Cola memorabilia while listening to oldies songs.
Rooms
The Sheraton on the Falls has 670 rooms from traditional guestrooms to breathtaking suites.  We chose a room with two queen Sweet Sleeper beds and a floor-to-ceiling window wall offering a view of both the American and Canadian Falls.  Our room included a fireplace, 37-inch flat screen TV, pullout sofa bed and in-room Starbucks coffee and teas.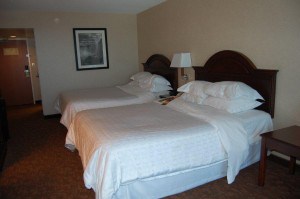 As soon as we checked in both our boys headed straight to the window where they sat on the floor playing and watching the waterfalls.  It was a great way to keep them occupied while unpacking, organizing and getting ready for dinner.  The best surprise was that at 10pm while in our pyjamas we could watch the fireworks show over the Falls from our room (be prepared it is really loud!).
The room was modern, clean, extremely spacious and I (mommy) loved the extras like the complimentary herbal teas, shower puff, luxurious body products and mouthwash.  The beds were a nice place to sink into after a day of walking and sightseeing.
Cribs can be requested at no charge but if you would like a mini refrigerator you need to request one for a rental fee (likely part of their Green Initiatives which we always like to see)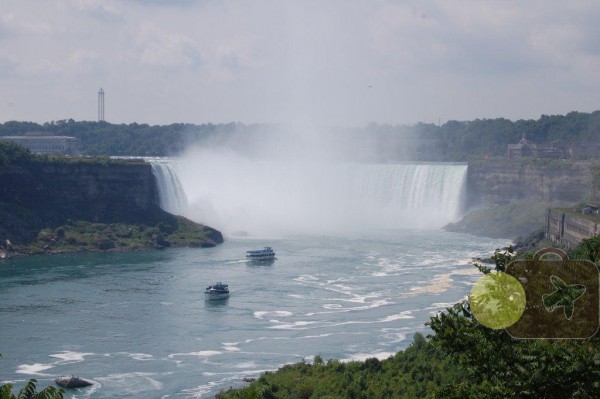 Although Niagara Falls is a popular summer vacation spot for many, autumn is actually one of the best times of the year to go.  Peak tourist season is over so you won't have to deal with the large crowds and line-ups and you can take in some of the best fall foliage views along the Niagara River.  Sheraton on the Falls has many family-friendly getaway packages to ensure you have a great vacation for the best value.
---