I will fully admit that I was once a believer that balloons were a weird way to travel.  My husband always wanted to do one and I really had no interest.  That was until we did a flight over our city a couple years ago.  From start to finish I was impressed.  So when he suggested we do it again, but this time in Vegas – I was game!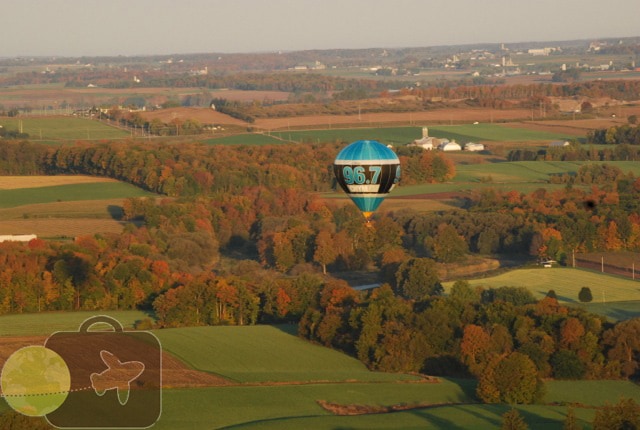 When you think of balloon rides and Vegas you immediately think of yourself in a balloon floating over the strip – right?  Well it doesn't exactly work like that.  Security issues, and the fact that the balloon is 12 stories high,  put the squash on that.  But Vegas is surrounded by mountains and they are the perfect place to float around during an early morning flight.
Here in Ontario you can chose to set sail in the morning or night, but in Las Vegas they only offer morning flights because the winds kick up too much towards the end of the day, which makes navigating the massive airship a little bit challenging.
Our trip started at 6 am at our hotel when our driver, who also happened to be the pilot, picked us up.  A very friendly New Mexico native, we became quick friends and were excited to see where he was going to take us.
After a quick meet up with the rest of group that we would be flying with we headed off to the lot where the rest of the crew was readying the balloons for take off.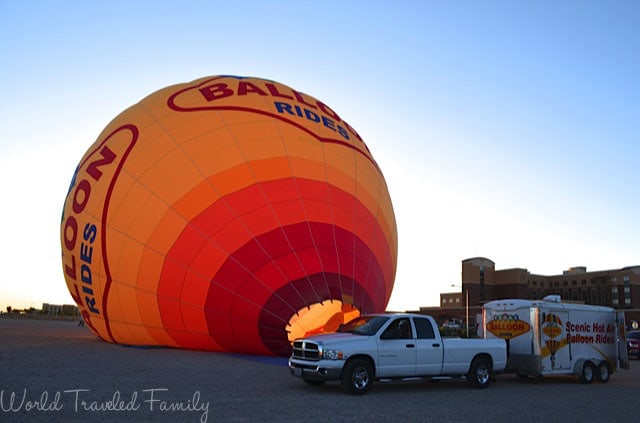 When we arrived one of the balloons was already inflated so the pilot offered everyone the opportunity to get in take some pictures.  It's not everyday that you get to roam around inside one of these massive blimps so we took a bunch of photos.  The balloon staff was also eager to take pictures for us, which we were thankful for!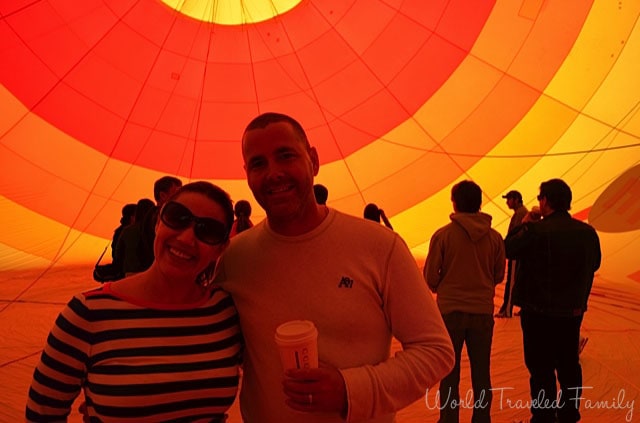 Not long after our balloon was ready to go and everyone jumped in the basket to set sail.  There were 36 of us in total so we split into two groups and headed off.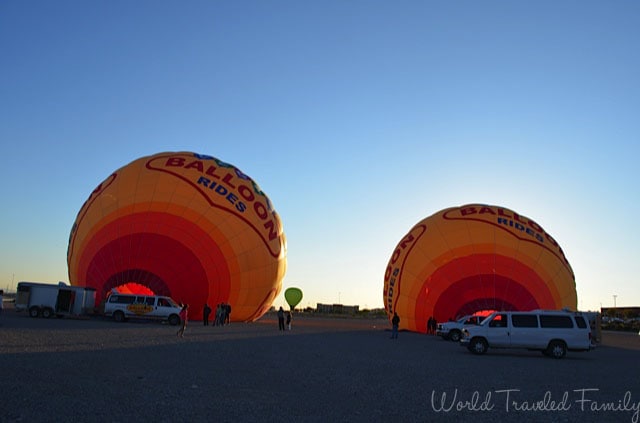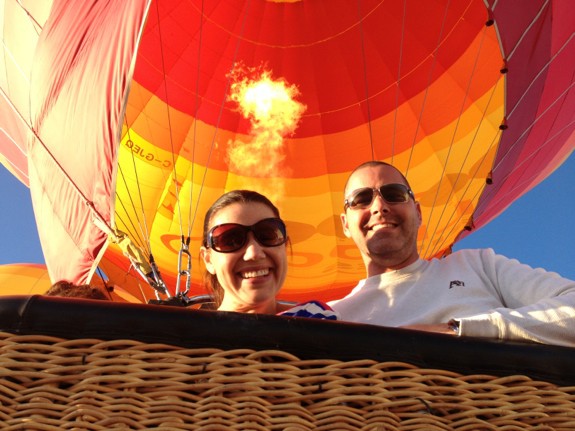 After our last trip I have been asked by friends what it is like to ride in a hot air balloon.  To be completely honest, the ride is very calm and you are literally floating over the city.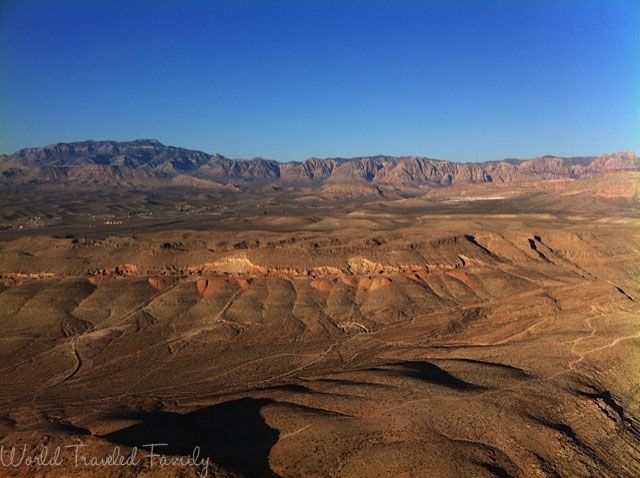 This trip was just as relaxing as our last one and there was lots to see.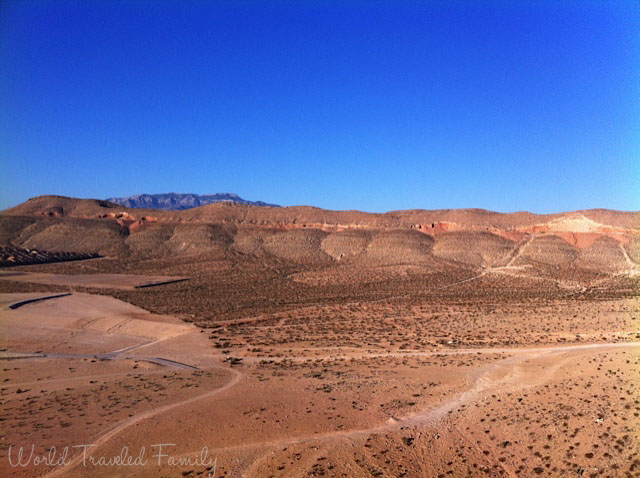 For an hour we floated over the dessert, beside the mountains, residential subdivisions and even a water park.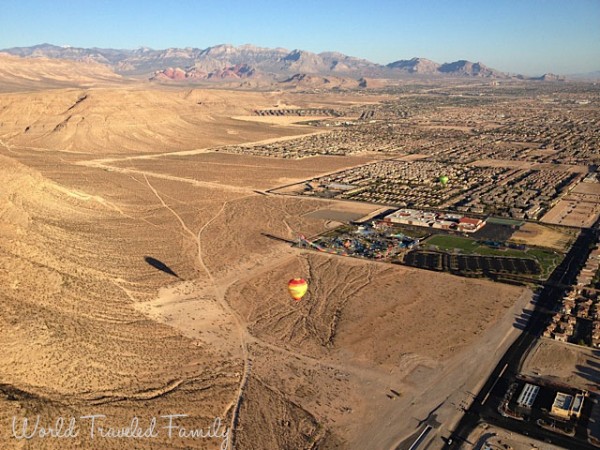 We could see the strip, but it was a little hazy as it was only 7am…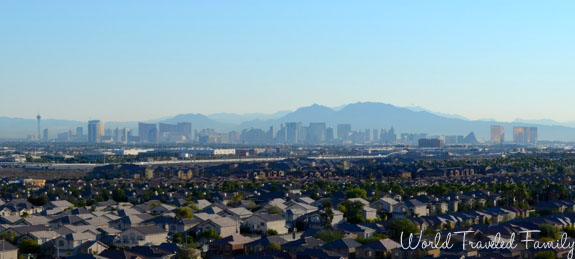 Once we found a nice spot to land we joined the other balloon in our group and also another local flyer.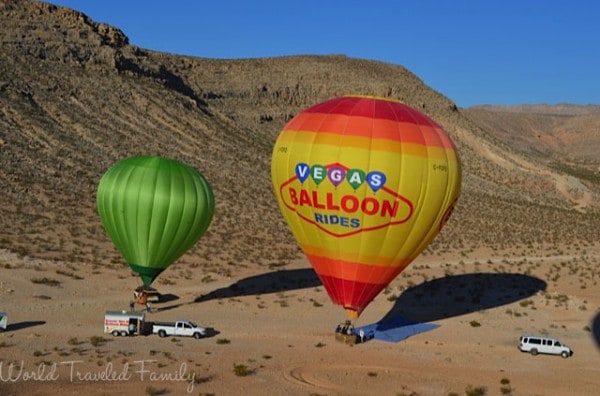 Then it all hands on deck to get the balloon folded up and back in its bag.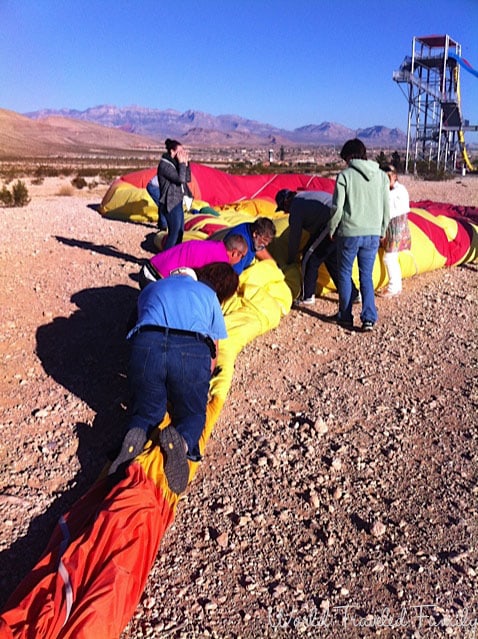 Our trip ended with some mimosas, snacks and nice words from our pilots.  After everything was packed up we signed the visitors log and headed back to our hotel.
In total our excursion was about 3.5 hours.  It's not every day that you start the day flying 4,000 feet above Vegas, but this was definitely a morning we will never forget!
*Worth noting that it's not recommended for kids under 10 to fly in a commercial hot air balloon.
If you are visiting Las Vegas I highly recommend going up in the hot air balloon.  For more information please visit their site vegasballoonrides.com