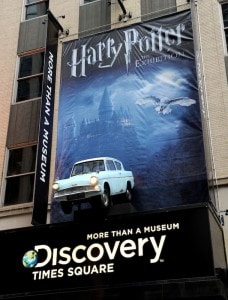 If you are planning a trip to NYC this Summer, you may want to add Harry Potter: The Exhibition at Discovery Times Square to your list of must-do's!
The magic of Harry Potter swoops into New York City early with a special "sneak peek" weekend for Harry Potter: The Exhibition at Discovery Times Square on Friday, April 1 through Sunday, April 3.
In partnership with Warner Bros. Consumer Products, Global Experience Specialists, Inc. (GES) created the 14,000-square-foot experiential exhibition, where visitors will be able to visit dramatic displays inspired by the Hogwarts™ film sets and see the amazing craftsmanship behind authentic costumes and props from the films.  Original artifacts from Harry Potter and the Deathly Hallows – Part 1 and the highly anticipated finale, Harry Potter and the Deathly Hallows- Part 2, will be on display along with hundreds of original props and costumes from all of the previous Harry Potter films.
"This very special sneak peek provides Harry Potter fans with the opportunity to experience the magic of the exhibition prior to the official opening," said Eddie Newquist, chief creative officer for GES.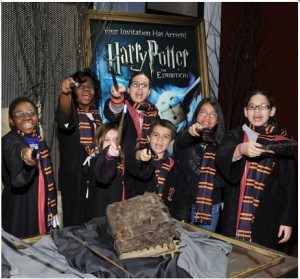 Harry Potter: The Exhibition offers fans a firsthand view of hundreds of authentic artifacts displayed in settings inspired by the film sets—including the Great Hall, Hagrid's hut, the Gryffindor™ common room—and more.
General public admission to Harry Potter: The Exhibition is $25 for adults; $22.50 for seniors (65 and over) and $19.50 for children (4-12); children under 4 years of age are free.
This is the exhibition's final North American destination before traveling internationally.   The grand opening is slated for Tuesday, April 5 and the exhibit will run through September 5, 2011.
Tickets for this magical exhibit are available now and can be purchased online at DiscoveryTS.com, at the Discovery Times Square box office (226 West 44th Street) or by calling (866) 987-9692.