Ghouls and goblins lurk in the shadows, spectres walk the night and eerie chills prickle the skin; Halloween is fast approaching.
It's time for scary costumes, trick-or-treaters and ghost stories that leave us sleepless. But for some, it isn't enough to merely listen to these ghostly tales, they want to experience them.
A chilling narrative, requires an appropriately haunted setting, and I know just the place. Allow me to guide you through the white knuckle journey to discover Harpers Scary…I mean Harpers Ferry, West Virginia.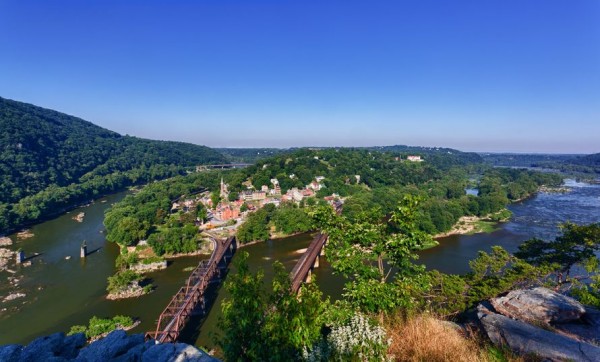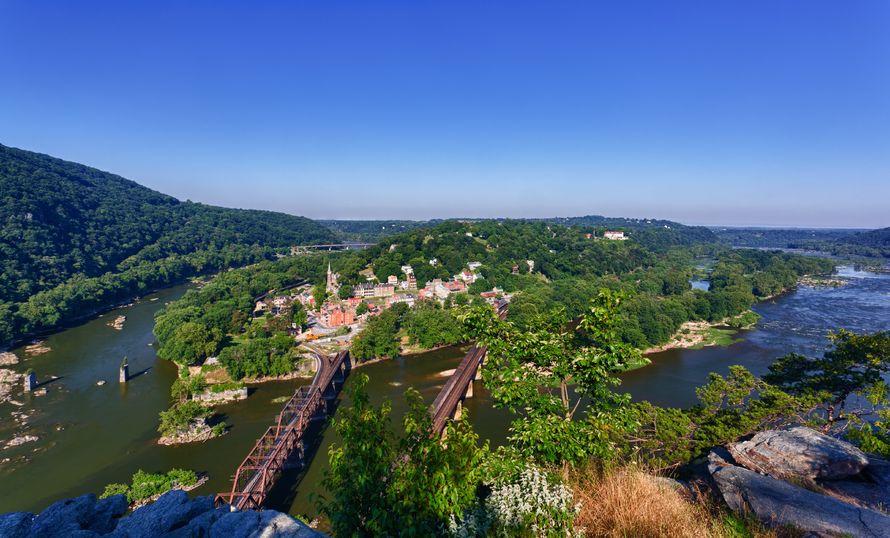 Harpers Ferry is a meeting place, in many ways. It sits at the confluence of the Shenandoah and the Potomac rivers. It is the intersection that connects Virginia, West Virginia, and Maryland. The town's modern vitality and historic importance make it an easy marriage of past and present. And, some would say, it is one of the best places in the United States, for the living to come face to face with the dead.
The area has a reputation for paranormal activity, in part, because it has been settled since about 1750 and has set the stage for a number of influential historic events. Perhaps most significantly, this is where John Brown's raid took place in 1859.
John Brown was an abolitionist and the first white man to use violence in an attempt to end slavery. The raiders hoped to insight an armed slave revolt by seizing control of the United States Arsenal at Harpers Ferry.
The raid was unsuccessful and John Brown was executed for treason against the commonwealth of Virginia on December 2nd. The day he climbed the gallows steps, he wrote,
"I John Brown, am now quite certain that the crimes of this guilty land will never be purged away; but with blood. I had, as I now think vainly, flattered myself that without very much bloodshed; it might be done."
The raiders attempt at Harpers Ferry instigated a rapid increase in militarization, in the south, and ultimately, it was one of the impetuses that spurred the Civil War.
The John Brown Wax Museum is located at 168 High St, in a building that was standing during the raid. It isn't haunted, as far as I know, but the wax effigies are eerily lifelike, especially the animated ones; and the scenes depict the events with, sometimes gruesome truth. I think all three of us found the place unnerving, when we visited.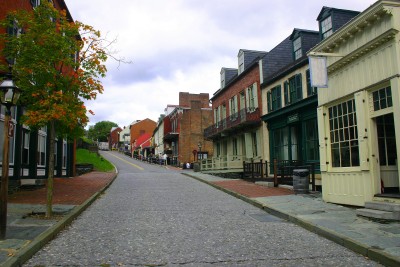 The museum embraces its spooky qualities. Saturday, October 29th from 8 until midnight, they are hosting A John Brown Wax Museum Halloween. Visitors will tour the museum in low-light for added creep-factor and take in a concert on the gallows stage for only $5.
John Brown's execution was witnessed by John Wilkes Booth, who would go on to assassinate Abraham Lincoln. Booth was a regular visitor to Harpers Ferry and would rent a room at a cottage just outside the town. That house came to be known as The Booth House but has been resurrected, in recent years, as The Haunted Cottage.
The Haunted Cottage is a paranormal research and training facility and is open to visits from the public. It is, apparently, haunted.
It is believed to have been used as a make-shift hospital during the Civil War and many of the wounded likely succumbed to their injuries in the house. It stands, more or less, on one of the battlefield sites.
There are a number of presences roaming the nearly 200-year-old house. Odd things occur with some regularity. Shadowy apparitions, things being thrown, moaning…you know, odd.
You can tour the house, they conduct séances and the very brave can spend the night. Good luck with that. We just did a walk through and that was good enough for me. It is, at the very least, a really creepy old house.
Now, that battlefield I was talking about – you can sleep there too, if you want. That's where we stayed, during our visit. It is now the KOA Harpers Ferry Civil War Battlefield.
The original civil war battlements still span the campground. The spirits of fallen soldiers are said to walk these battlements by night. I didn't see them, but others say they have.
Even without a ghost sighting, it was still a very nice campground with a great big swimming pool and a bouncy pillow!
With all of Harpers Ferry's history and reputation for spiritual activity; it is little wonder that the town is home to the oldest ghost tour in the United States. Ghost Tours of Harpers Ferry, by "O' Be JoyFull", is an evening romp through the rich anecdotal record of the town, and its inhabitants – both living and deceased.
Whether you're a whole hearted believer or a rabid sceptic, a good ghost tour can be an exciting history lesson. We often gain more insight into a place through stories than through plaques and pages of data.
"O' Be JoyFull" is located at 175 High Street. Tours are conducted Monday through Saturday at 8:00p.m. You'll need a reservation. If you're not up to the hilly walk, you may want to hang back and enjoy Parlour Ghost Stories at the "O' Be JoyFull" Center.
If ghostly encounters are your family's idea of a thrilling vacation, start planning your trip to Harpers Ferry, West Virginia. They're waiting for you. Happy Halloween! Muwaaaahahahaha. – Jen R, Staff Writer