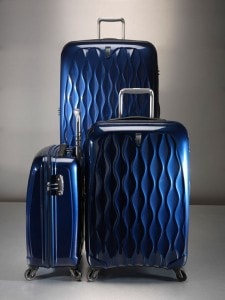 When you are traveling with kids every pound counts where your luggage is concerned. After some unfortunate flights during nasty weather, we have started to switch our luggage over to hard-sided cases. For years it has been long believed that these cases, while much tougher, weighed quite a bit more. Now there is good news!  That appears to be changing.
Antler Luggage's gorgeous Liquis line promises to be both lightweight and tough!
Starting at a mere 4.4lbs, for the Liquis 22″ model($299), the polycarbonate collection includes 3 models; 27″ that weighs 6.6lbs ($349) and also a 33″ case that weighs 8.4lbs ($399).
The bags include travel friendly features such as four smooth-gliding wheels, leather handles and built-in combination locks.