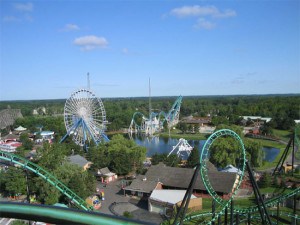 Darien Lake has been around for as long as I can remember, but I've never experienced it before this summer.  I hadn't heard much about it in recent years; I only remembered seeing television commercials from childhood, back when it was a Six Flags theme park.
But this summer my sister-in-law invited me to bring my kids to join her and my niece for a mid-week holiday.  They had found a great deal online (www.godarienlake.com) and we thought it would be fun to get the kids together.  I hadn't thought much of it, until I looked in to the deal myself.
They have a one-night special available on Thursdays or Sundays called "Test Our Beds Package", where you get one night accommodations, pizza dinner, buffet breakfast and tickets to Darien lake for 2 days.  The packages start at $216 +tax.  I brought my Mom, my 4-year old son and my 2 ½ -year old daughter (who was free).  The four of us stayed and played for something like $285 all included.  It was an awesome deal!
Darien Lake is located between Buffalo & Rochester, NY.  I mapped it out and it was only a 2.5 hour drive from our home in Guelph, ON.  So we packed up the car and off we went.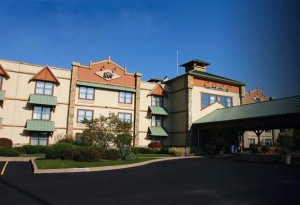 In just over 3 hours (there was a wait at the border) we made it to the hotel, which is right on the property.  Driving up to the gate, I was impressed right from the start.  The person at the gate confirmed my reservation right there in her booth and let me on to the property.  The Lodge on the Lake Hotel from the outside, was very nice.  They have a big bear carving out front (much like Great Wolf Lodge).  It is very esthetically pleasing.  Inside is small and simple – there was a front desk, gift shop and little café.
Check-in wasn't until 3pm and we had arrived early, so there weren't any rooms available yet.  However they 'checked us in' and gave us our park passes and food vouchers.  So we decided to wander around and check the place out.
Out through the back patio doors was the swimming pool and a smaller pool we thought was a hot tub, but turned out to be a wading pool – perfect for my kids!  Beyond the pool was the lake itself.  It was a beautiful little spot, with a campground beyond, off to the left.  And off to the right was the path leading to the theme park.
The park is smaller that Canada's Wonderland, but had more than enough entertainment to keep us busy with two small children.  I was very happy to have brought my stroller.  I was very (pleasantly) surprised that there was an area specific to small children who didn't meet height requirements for regular rides.  'Adventure Isle' had all sorts of rides for little people, from monster trucks to swings to spinning flower pots.  They were all just the right size for my little ones.
My daughter thoroughly enjoyed every ride (I think she went on most). I found it ironic that my daughter, being still 2, was free (to eat, park admission, hotel, etc.), but she was the one who went on all the rides!  My brave little baby.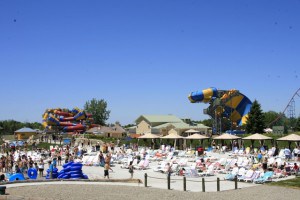 The BEST part of our visit was that there were no lineups!  We had contemplated Canada's Wonderland, but decided our kids were just too small.  I was so happy with Darien Lake, because if my kids wanted to ride, away they went.  Most of the rides ran half full (not the most economic operation), but it was great for children who need instant gratification to keep their attention span.
So the Park itself was great.  The prices inside the Park were more than I would like to have spent ($3.66 for a bottle of water), but you would find that in many tourist attractions.  Then there is the water park, Splash Town – an awesome splash pad for the kids.  (A really easy place to lose a kid – which happened once for about 5 minutes of panic!  But if in doubt, look for a pirate ship, and you'll find a 4-year old boy!)  Water fountains, a pirate ship, climbing, ropes, slides, you name it (really cold water though).
After an afternoon at the park we headed back to the hotel to find there were still no rooms.  Everyone was sitting around waiting for a room to be cleaned.  No one wanted to leave, because they were giving rooms away to whomever is at the desk at the time they are released.  Not a great process.
Once we finally got our room I didn't find it very impressive.  Cleanliness left a lot to be desired.  But it was a place to sleep.  We had 2 queen beds and a pull-out couch, which was great for the kids.  (But I wouldn't put an adult on the pullout.)  There was a fridge too, which is a nice thing to have with kids.  As a bonus the Park allows you to bring in your own food & drinks.  Coolers are actually allowed in the park, so the fridge would come in really handy for keeping your refreshments cold for the next day. (Unfortunately, I hadn't planned ahead).
I am normally not fussy but the beds were lousy and the pillows were horrible.  And the number of flies around was insane – in the park, in the restaurant, and in my room!   It really was just a place to sleep.  Check-out was at 11am.  The front desk actually phoned my room at 10:55 to remind me of that.
But aside from the Hotel, the trip was awesome. Mother Nature did her job.  We couldn't have wished for 2 nicer days (and the weatherman called for thunderstorms).  The location was beautiful.  My Mom and I said we could just sit and stare at the lake for hours and drink a coffee (but alas, you can't do that with kids along).  The Park impressed us.  The waterpark alone would have been worth the trip.  We hadn't been expecting much, and were pleasantly surprised.  The kids had SO much fun.  Even my son, who doesn't like rides, asked when we could come back.
And still, there was so much we didn't get to do.  There was a fireworks show (too late for my kids) that we missed, all choreographed to music.  They had a Sealion performance.  There was a lazy river and huge water slides in the park (we hardly scratched the surface of the splash park).   They had live musical performances throughout the day.  Oh, and Adventure Isle had a little Thomas the Train performance for the kids.  The Park also hosts concerts for the likes of Kid Rock, Toby Keith and Sugarland, to name a few.
Darien Lake apparently opened back in 1955 as a picnic and swimming area
Since then, it has developed into something so much more, yet still a place for families to go and enjoy.  They really do have something for everyone of every age.
Despite my disappointment with the accommodations, I will go again.  Perhaps this time I will try camping.  There are beautiful-looking cabins for rent on the campsite that may be more suitable for our family.