During a recent trip to Washington, DC we had the pleasure of staying at the Embassy Suites hotel on 10th Avenue.
Because we had never been to Washington, I wasn't sure where to start as far as hotels go.  Besides finding something that was relatively close to the National Mall, I was also looking for a property that would be comfortable for our family.  Reasonably priced, and central to the attractions we were looking to visit, the Embassy Suites caught my attention.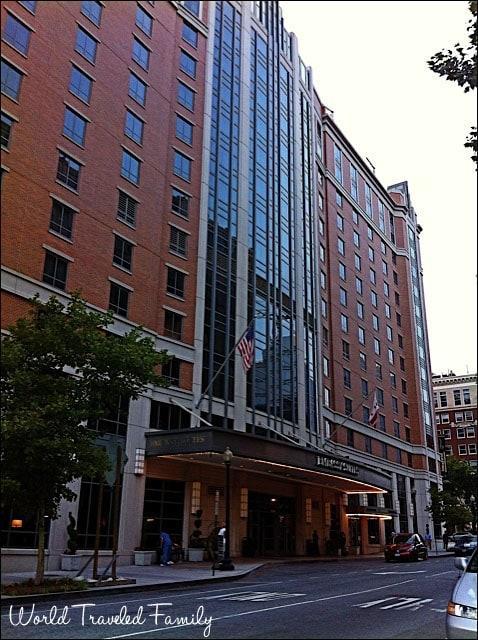 Bigger than most standard hotel rooms, the suites offered by Embassy Suites are perfect for travelling families because they come with a fridge, living room area and a bedroom, which can be configured with one king or two double beds.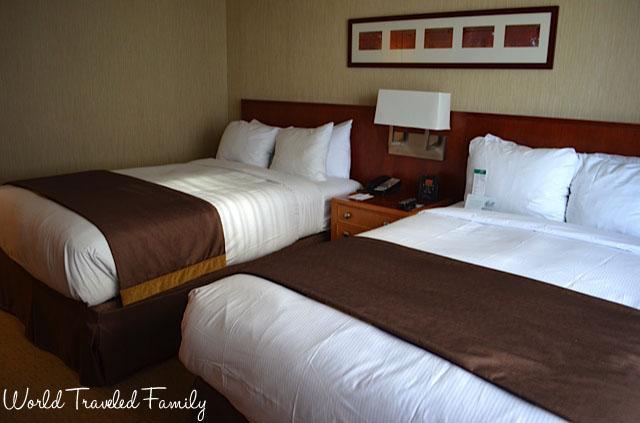 The couch in the living room is also a pull out so our room could have slept a family of 5 or 6.  Our room came with 2 flat screen TVs(1 in living room and 1 in the bedroom), a single serve coffee maker, fridge, microwave, safe and table for 3 to sit at.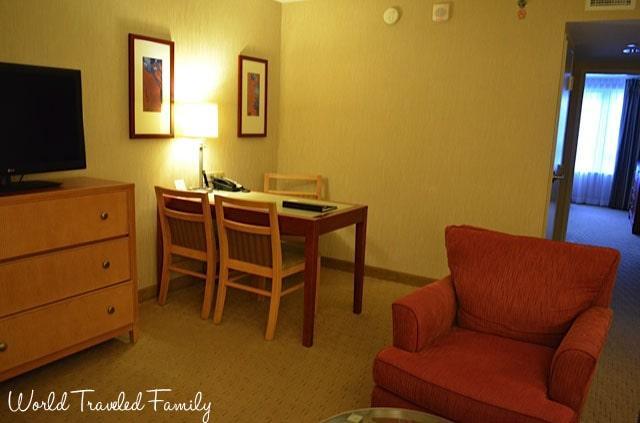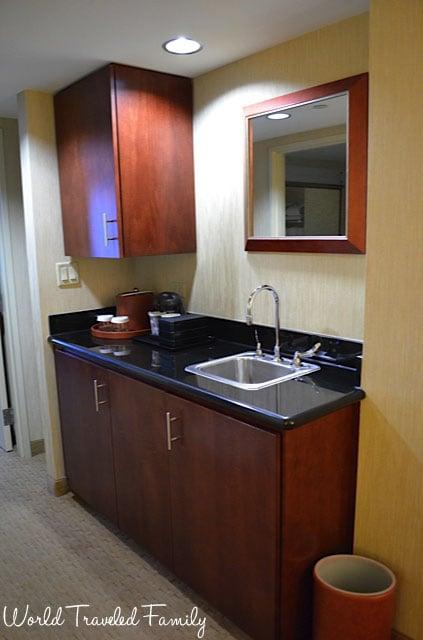 Aside from the rooms, I also loved the additional perks that were offered at the Embassy Suites.  Every morning between 7:30 and 9:30 the hotel puts out quite a complimentary spread for breakfast. Bacon, Eggs,  Sausage, hot/cold cereal, pastries, waffles, fruit and a made to order omelet station. This was the perfect way to start the day and a great savings for our family!
We didn't ever encounter a huge line up, but I did hear guests saying that the crowds during the week were a nice break from the weekend mayhem.  To reduce the congestion I noticed that the hotel set up an extra buffet station in the lobby on Friday morning.
In the evening the hotel also offers a complimentary snack and beverage service in the same dining area.  It's not a huge amount of food, but there is nachos and salsa, chips and bar type snacks to munch on.  We found this nice after coming in from a day of sightseeing.  It was a good bridge between lunch and dinner.
If you are looking to have a real meal the hotel is home to finn & porter.  We had dinner here twice and were happy with the food and the service.  Plus, if parents each order an entree, their kids meals(1 free kid's meal per adult entree)is free.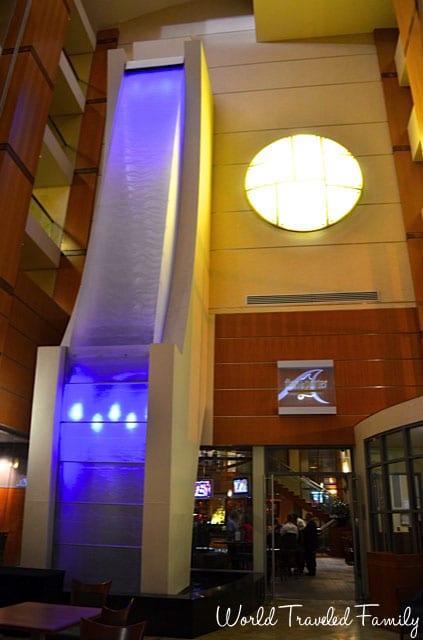 On the second floor, the Embassy Suites has a pool and hot tub.  My kids swam there every night and loved it.  It was warm in Washington while we were visiting so the pool was a welcome cool down spot.
Overall our stay at the Embassy Suites was superb.  It was close(ish) to the National Mall, and 5 or 6  blocks from the White House.  There were lots of dining options around the hotel and the staff was very helpful.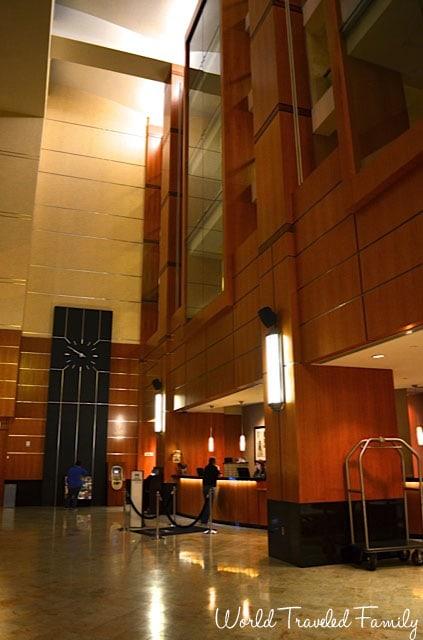 We would return to Washington DC in a heart beat.  There is so much to do here for visitors of all ages.  The kids couldn't get enough of all of the cool sites.   We were also visiting during the Martin Luther King's 'Dream' Speech Anniversary so that was an exciting and important event for us to take them to.
One tip however.  The parking at the Embassy Suites is Valet: $39.00 (+18% tax/night).  We parked right across the street(10th/New York) for $24/day.