A flight from Tampa, Florida headed to Phoenix, Arizona took a scary turn on Tuesday night when a toddler onboard stopped breathing.
As luck would have it two passengers came forward to help, one of them a CPR instructor, to save the 15-month-old little boy, who was reportedly turning purple.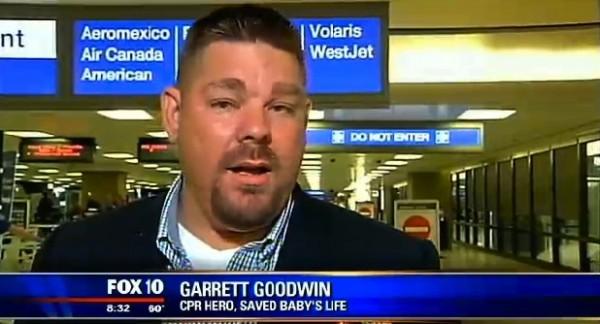 Garrett Goodwin spoke exclusively with FOX 10.
"I did chest compressions, cleared his mouth, gave him some rescue breathing, stimulated him. He came back around."
Just focused on the moment he told the news channel,
"Absolutely you're scared, but your training kicks in. I was at the right place at the right time with the right experienced training and I hope anybody with any amount of training would have done that," said Goodwin.
Other passengers on the flight recounted the scary moment.
"I saw a gentleman rushing towards the front, they needed help and we were told a baby was in distress," said a woman on the flight.

"He ran up, had the baby held in his hand upside down, he was purple," said a man on flight 678.

"They immediately went to work and called for anybody who had medical training. There are people that assisted and we're told there would be an emergency landing and everything went smoothly. Everyone was invested and we heard the baby cry, it was just… it was a teary moment for everyone," said a passenger.

"It was a miracle on Flight 78, god put those folks on the plane and they needed them there to take care of the baby," said a woman on flight 678.
The flight quickly landed at George Bush Intercontinental Airport in Houston before arriving at its original destination in Phoenix about an hour late.   This delay caused many of the passengers to miss their connecting flights but nobody was heard complaining, they were just happy the baby was okay.
The child, whose name is Gary is said to be doing well.