Heart shaped Jacuzzis, casinos, water leaping off a cliff to its death; Niagara Falls can seem like a bit of an adult destination, but the CAA Winter Festival of Lights, on now through January, is all about family fun.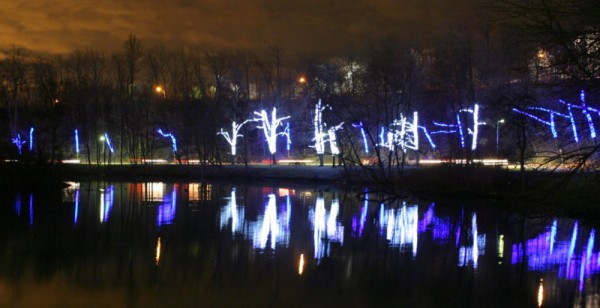 This is a beautiful season to experience the falls. The days are shorter and the festival takes full advantage of the extra evening hours to enhance the drama that is inherent to the spectacle of Niagara Falls.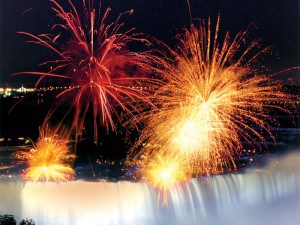 The falls are illuminated with changing colour through the evening and fireworks explode above, every Friday at 6:30 p.m. and 8:00 p.m.
At this time of year, everything surrounding the falls is covered in a slowly accumulated shell of frozen mist; the trees, the buildings, the railings, everything – and that sometimes includes the sidewalk, so tread carefully. They do their best to keep the walkways clear, but it's a bit of a losing battle. Some stairways and walks will be closed off during the winter months. They are not being maintained and are treacherous when covered in snow and ice so respect the signs.
Beautiful as the falls are, there's more to the festival than spotlights and fireworks. Lace up the skates and take a spin around the TD RINK at the Brink. Open December 1 to February 29, this public skating rink is located just steps from the precipice of the Horseshoe Falls. You can't beat the view.
The rink offers Free Skate Mondays, selected weeks only, otherwise tickets are $7 for adults, $6 for children. Skates can be rented for a fee of $5. Tickets and skate rentals can be secured in advance of your visit, on the website.
There are a variety of shows and concerts associated with the Winter Festival of Lights, including, music concerts, stand-up comedy and dinner theatre. Check the Calendar of Events to find entertainment to round out your evening.
But the festival is all about the illuminations and over 120 colourful Christmas light displays are located around the city, predominantly along the Niagara Parkway, the Fallsview Tourist Area and Cummington Square.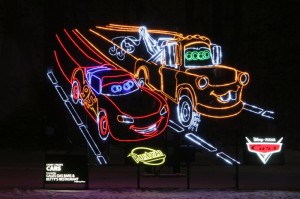 The Enchantment of Disney Display is the most renowned and features many of Disney's best loved classic characters, including the princesses and Mickey Mouse. The kids are sure to be impressed.
Other displays include The Dufferin Island Displays which feature scenes of "The Great Canadian Outdoors," the Winter Wonderland Displays and the World Religions Displays.
There is no charge to view the lights, though a suggested donation of $5-$10 per car is accepted at the exit of the Dufferin Islands.
Niagara Falls, Ontario is more than a summer destination. The falls, in winter, are a spectacle all their own. Come and discover the CAA Winter Festival of Lights for yourself.  It may become a family tradition. – Jen R, Staff Writer
---