Whether you are travelling with twins or two children of different ages, it's important to have the right stroller to get them through the airport and around the sights while you are away on vacation.
Because the average family only has a big vacation once every couple years, its important to bring the right gear from the start.  As a gear fanatic, I spend endless amounts of time looking for the 'perfect stroller' and they are out there you just need to decide which one fits your lifestyle.
We have rounded up our favorite double travel strollers.  Hopefully this will help our traveling parents decide the one that is perfect for their family.
1.  Joovy Caboose Ultralight – Infant seat compatible, this semi compact stroller weighs just 19 pounds and it folds flat for easy travel.  Kids over 2.5 can choose to either ride on the platform at the back or sit on the back bench facing you.  Parents love this stroller because it's so practical.  It is reasonably priced, lightweight and it accommodates kids of many different age combinations.  It also has a good sized storage basket so it stores quite a bit for a day out. Plus! Parents who want the Caboose Ultralight to hold twins or two young children can add the new 'Caboose Too Rear Seat', which converts the tandem to a full double stroller in minutes.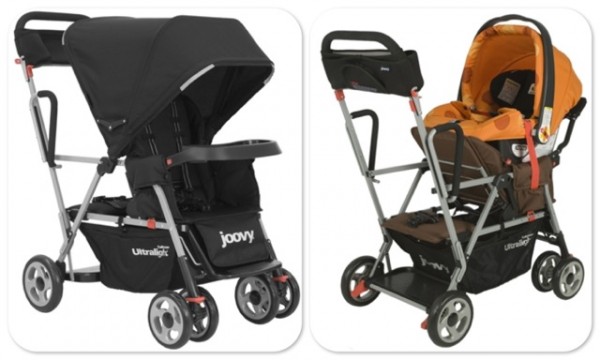 2.  Peg Perego Aria 60/40 – This was my stroller of choice when my boys were young because it was a side by side that accommodated an infant seat(Peg Perego SIP).  It folds flat when not in use, stands on it own and only weighs 18 lbs.  It also has good storage underneath for towels, lifejackets and an extra change of clothes.  The downfall for us closer to the end was that my kids realized that one seat was bigger(hence the 60/40) and they would fight over the 60 side.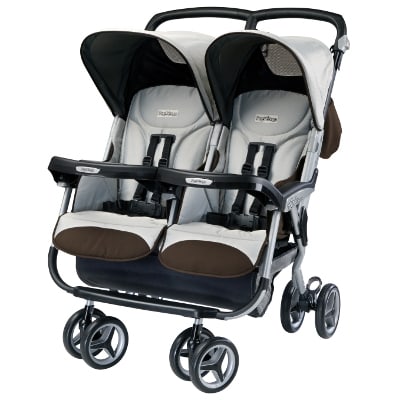 3.  Baby Jogger City Mini Double Stroller – This double is legendary for being one of the best side by sides on the market thanks to some very strong design.  Baby Jogger is well known for its quality and the City Mini double is no exception to this rule.  Priced at $500 this stroller is a splurge, but well worth the money when you consider the comfort, design and luxury features.  It also has a very smooth push and folds in seconds.   Parents traveling with an infant will like that it can accommodate an infant seat on one side and it has a 100lb weight capacity.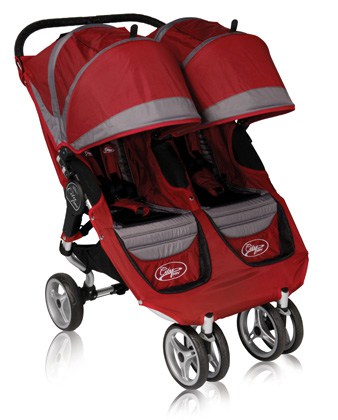 4.  Kinderwagon Hop – Unlike any other stroller on the market, the Kinderwagon Hop has a lightweight umbrella design that holds a second child in the back half of the stroller.  While it is essentially a single 'disguised as a double' the Hop has a longer frame than a 'standard' umbrella, so it is weighted more evenly across the front and back and won't tip even if you have one child riding in the back.  Weighing in at just 21.5 lbs, this stroller is a good option for parents who don't like pushing a wide stroller.  It has two 5-point harnesses and can accommodate a child 3 months+ in the back seat.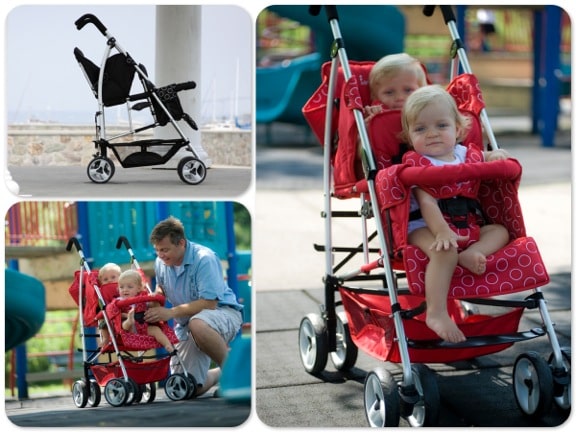 5. Maclaren Twin Techno Stroller – Maclaren is well known for their full line of lightweight travel friendly strollers. Unique to any other lightweight double on the market, the Maclaren Twin Techno was designed for 2 children from birth to 55lbs each (110lb total).  Besides being a stylish looking stroller, it has many features that are beneficial to parents-on-the go.