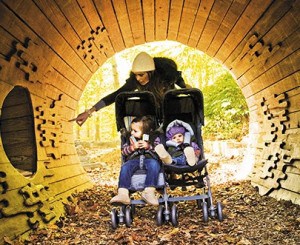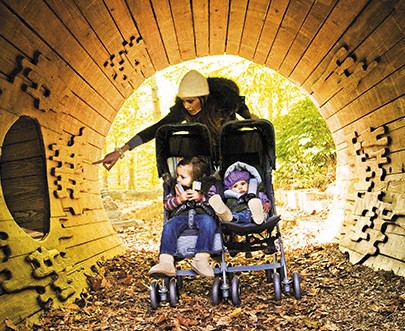 Maclaren is well known for their full line of lightweight travel friendly strollers. Unique to any other lightweight double on the market, the Maclaren Twin Techno was designed for 2 children from birth to 55lbs each (110lb total).  Besides being a stylish looking stroller, it has many features that are beneficial to parents-on-the go.
Out of the box all I needed to do was install the canopies. The Twin Techno double stroller really feels like 2 strollers clipped together. So essentially there are two seats, canopies and individual foot rests that share a single middle frame and 4 centre wheels. When you open the stroller the wheels drop down like a regular umbrella but you need to lock the frame on both seats.
For your child's comfort Maclaren has included head huggers for both seats and a five position recline that allows the seat to sit flat to accommodate a newborn. For safety both seats have 5-point adjustable harnesses that can be set to 3 height positions and despite the fact that both of my boys can open their car seat buckles, neither can undo the Twin Techno's harness latch.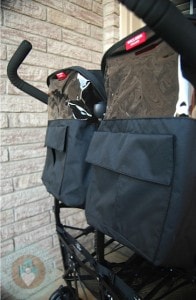 The independent canopies on the Twin Techno are really nice. Built to withstand all of the elements, the waterproof hoods have built-in visors that pop down to shield your child. The back of each canopy has a strip of clear plastic to give you full view of your child at all times and locks at the side to keep it in place. The stroller also comes with a rain shield (with 2 small vents) that securely clips onto the frame to completely cover the whole front of the stroller and, of course, your precious cargo. It does not, however, cover the storage basket at the back so be sure to pack something waterproof on a rainy day.
Storage on the Twin Techno is similar to that of 2 umbrella strollers. Under each seat there is a basket that can hold a medium – large diaper bag folded sideways. I put the diaper bag in one side and my shopping in the other. Both baskets are supported by the frame of the stroller so you don't have to worry about your groceries dragging if you load the basket up. Plus, on the back Maclaren has added a wipes holder and a storage pouch to each canopy for keys, snacks, money and your phone, which is REALLY handy.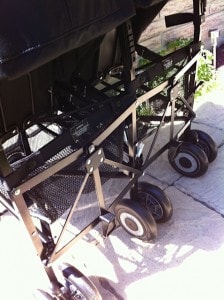 The push on the Twin Techno is really nice. Fully loaded with both boys it is easy to manoeuvre and keeps up with me if I'm trying to get my errands done quickly. Maclaren uses 12 – 6″ wheels on this stroller to give it a nice even push. The 6 front wheels lock for bumpy terrain, while the back six are stationary to allow you to control where the stroller is going easily. While I know that the extra set of wheels in the middle are necessary, I do sometimes kick them while strolling.  Taller parents may find they do this more often.
Just like with all of their strollers, Maclaren uses 2 ergonomic handles to steer the stroller.   While this does make your arms stretch a little more than usual, the handles are turned in enough that it's actually comfortable and if you diaper or beach bag has liner straps, you will still be able to hang it off the back of the stroller.
The brakes are located on the outer 4 wheels and pivot side to side as opposed to the up and down lever that we see on many strollers. I actually like this better. Once you get use to it, it is easy to do with the side of your foot, which eliminates the 'flip-flop' friendly concern.
The fold on the Twin Techno is what truly makes it unique. Even though I expected  it to fold flat like many doubles we have tested, it actually folds like an umbrella and locks on both sides. To get it closed you just need to unlock the latch on the right side and then unfasten. Once both frames are freed, just push the 2 handles together and it will start to fold in and then forward.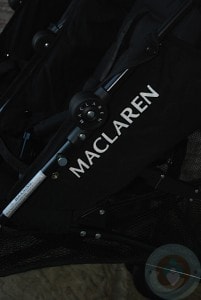 For easy transportation Maclaren has also added a handle to the right side of the stroller. I love the fold on this stroller. It completely eliminates the risk of having to baggage check your double stroller while flying because it's too big to be gate checked. If you didn't count the number of wheels (there are an extra 4) you would just think it was a regular stroller when it's folded, which is impressive.
New for 2011 Maclaren's new frame features a redesigned pivoting hinge that will eliminate any risk of little fingers getting pinched during folding and unfolding.
I really like the Twin Techno .  It is a great stroller that is both durable and easy to maneuver.  If you are looking for a lightweight double stroller that has a nice comfortable push and is easy to use, the Twin Techno is perfect. I would recommend it for resort and amusement park travel, but think it would be too big for a cruise(getting through the door of the cabin or down the narrow hallways) or a trip to the beach.
Specs:
Weight: 12.7 kg (27.9lbs)
Dimensions (Folded) 42″L x 19″H x  16.5″W
Unfolded 29.5″L x 43″H x  26.5″W