San Diego Zoo Wildlife Alliance has started construction on a groundbreaking project at the San Diego Zoo Safari Park. The Denny Sanford Elephant Valley will transform the current elephant environment, creating an immersive and educational experience for visitors of all ages. This project aims to foster understanding, and appreciation for elephants while igniting a passion for wildlife conservation.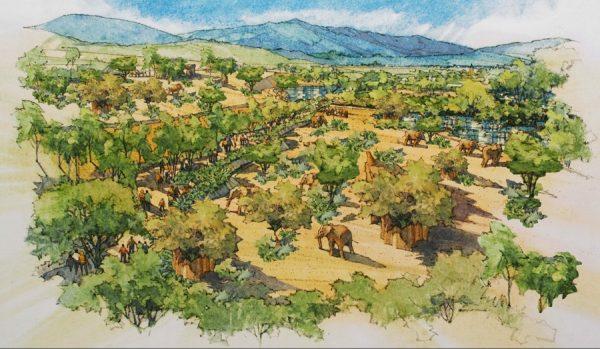 "We are thrilled to announce Denny Sanford Elephant Valley—a first-of-its-kind immersive experience for visitors, to further connect the vital work happening here in San Diego to the collaborative elephant conservation initiatives we support in the field," said Paul A. Baribault, president and chief executive officer, San Diego Zoo Wildlife Alliance. "Elephant Valley could not be achieved without the incredible community, donors, members and allies who support us and make all our conservation work possible with partners around the world."
The centerpiece of Elephant Valley will be a two-story lodge inspired by African safari destinations. Visitors to the zoo will have the opportunity to see elephants in action, surrounded on multiple sides and from an overhead walkway. Education about the essential role of elephants as ecosystem engineers and their social dynamics will be a key focus. The vibrant cultures and local communities where humans and elephants coexist will also be spotlighted.
Elephant Valley will reflect the awe-inspiring sights, sounds, and smells of the African grasslands. Expert horticulturists and arborists have curated the plant life to create an authentic experience. The expansive new habitat will provide enhanced experiences for the elephant herd, replicating the African savanna throughout the year.
Lisa Peterson, Executive Director of San Diego Zoo Safari Park, emphasized the fragility of elephants' future and the importance of wildlife conservation. Elephant Valley aims to inspire curiosity and discovery while creating lifelong memories for visitors of all ages.
Climate change, habitat loss, poaching, and human-wildlife challenges are threatening elephant populations. San Diego Zoo Wildlife Alliance has prioritized elephant conservation and collaborates with various organizations to protect these endangered species. Scientific research conducted in Africa and at the San Diego Zoo and Safari Park helps increase knowledge about elephants and develop effective conservation solutions.
Chief Conservation and Wildlife Health Officer, Nadine Lamberski, highlighted the need for collaboration to find sustainable solutions for elephants and people across Africa. The impact of Elephant Valley on global elephant conservation efforts is eagerly anticipated.
Elephant Valley is made possible by the generous support of thousands of donors, including Denny Sanford, a dedicated supporter of the San Diego Zoo Wildlife Alliance. Sanford has also contributed to other initiatives, such as Wildlife Explorers Basecamp and educational programming for children's hospitals and Ronald McDonald Houses worldwide. The completion of Elephant Valley is expected in 2025.