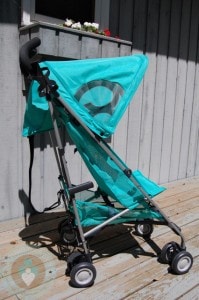 I have been looking for a travel stroller for use at the cottage and for family vacations for a few months now and found exactly what we need in European stroller manufacturer Cybex's Ruby. Part of their Gem line, the Ruby is their simplest stroller, making for an extremely lightweight, yet impressive piece of gear.
There was some assembly required with the Ruby, and after unpacking and reading the manual it took me 20 minutes from start to finish. A little longer than most "pop on the wheels and go strollers", but well worth the time. I had to attach the two handles, pop on four wheels, and attach the Super Canopy and the carry strap. The canopy was tricky to push on and needed a little more force than I was expecting so this is where my time was spent. Now that I know how to do it if I were to set up a second stroller it would likely take under 10 minutes.
The Ruby is equipped with a five-point safety harness with three shoulder harness positions and an adjustable crotch strap allowing for a very custom fit. The buckle and harness straps are of excellent quality and adjust and snap together with ease. The backrest has two positions: an upright and a very slightly reclined position which works great for us because our little man doesn't want to miss a thing.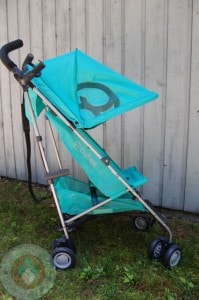 Cybex has baby's comfort and safety in mind when it comes to hot sunny climates. I love that the Super Canopy is rated at 50+ UV protection and covers a large portion of the stroller regularly, but when unzipped it literally covers my 10 month old from head to toe. The canopy not only unzips for full coverage but tilts forward and slides up and down to accommodate a taller child, which is great since it can hold up to 55lbs. For maximum airflow the Ruby has a mesh seat and canopy sides and the back flap can roll up for venting, so my son never gets too hot when we are out on long summer walks. To go along with the summer features this stroller has one of the most flip flop friendly braking systems I have used. The rear brake is attached to the right wheel and you step down on the lower step to lock and on the upper step to unlock.
The push on this stroller is absolutely luxurious and I marvel at the smoothness every time I put my son in it. I love the feel of it on smooth surfaces like those in a shopping mall but am amazed at how well the small 4.7 inch diameter rear suspension wheels do on rougher terrains. We have been through grassy fields, dirt and gravel paths, and up and down hills of all types, and with a simple lock of the front wheels the Ruby travels with ease. The soft foam ergonomic handles are nice and high at 41 inches from the ground so even my 6'6" tall husband can push the Ruby comfortably.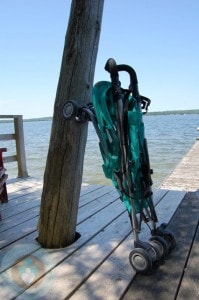 The fold of this stroller is so easy I can do it while holding my baby in one arm. Lift up the release button by pulling up on the carry strap then push down the fold lever. The stroller neatly closes up and automatically locks; at this point you can grab the carry handle with one hand and lift the lightweight 13lb stroller into your trunk or throw the carry strap over your shoulder and be on your way.
For storage the Ruby has a mesh basket which is supported by a crisscross frame underneath to prevent dragging. It is fully accessible from the back and sides and can accommodate a small diaper bag, a purse or some toys and snacks. I find myself hanging extra items on the handles if we are out for longer trips and need more space (just remember to unload before taking out the baby so you don't risk tipping the stroller over).
For being a fairly basic stroller it sure turns heads. Practically every time we have gone out with it I have received comments from other moms, grandparents and tonight a little girl told me how pretty it is. Most people like the high handle bars, the zip open canopy and the vibrant colour of ours – Lagoon. The Ruby also comes in an array of other crisp colours.
I love the ease and fresh design of this stroller so much I find we are taking it out more often than just for vacations. In fact we were planning on leaving it at the cottage for the summer but I find myself sneaking it home each time we pack so I can use it for quick trips around town too. The Ruby is a great flyweight travel stroller that looks great and is truly affordable at $149.
Optional Accessories:
Cup Holder (can attach at child or parent height)
Rain Cover
Infant Car Seat Adapter
Measurements:
Open 32″L x 19.69″W x 41.34″H
Folded 40.55″L x 11.81″W x 13″
Thank you Cybex for sending us a Ruby 2011 for review.