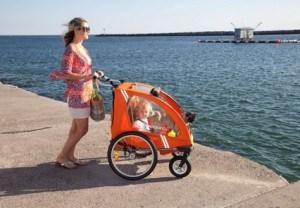 When Joovy introduced their Cocoon stroller in 2010 I was first in line.  During the Summer we visit a lot of amusement parks and zoos and I wanted something that would keep the kids comfy but also hold everything we need for the day out.
When the stroller or pod (as I like to call it) arrived, I was excited to buckle the kids in and get them out. That Summer I used it around our neighbourhood, at the zoo(twice), Canada's Wonderland, Ontario Place, African Lion's Safari and at the park a million times. It was awesome. I had chosen the double model(X2) so each boy had their own harness and space inside the pod. Because they were side by side, they also both had the same view which made them happy.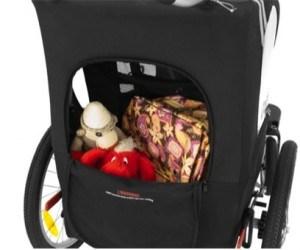 At the back there is a huge space for parents to store anything they need for a day out. This storage compartment is 8″ deep which will easily allow it to hold jackets, lunches and the biggest diaperbag you can get your hands on. There is LOTS of space here. I can stuff everything I need for day to evening when we are out with the boys and not ever feel like I don't have enough room. Plus, the Cocoon has a huge panel on the back that zips up so all of you gear is out of sight.
The stroller itself has two 20″ wheels on the back and pneumatic swivel 8″ front wheels. It also comes with a bike tow hitch and a single jogging wheel that can be attached to the front if you want to take it over rugged terrain. I personally prefer to just use it with the double wheels on the front as I find it pushes the best when configured this way.
I also like that the whole front is mesh. It can be zipped back but I like to keep it closed to keep the kids in.  I also like that there is a plastic cover that fits over the mesh for rainy days.  When we've been caught in the rain, this cover is perfect to keep the kids dry.  To ensure the air circulates through the stroller I open the panel on the back just a bit and it seems to do the trick.
I am often asked which stroller is my favorite for travel, day-to-day and when we head out for family excursions. If I was honest I would have a different answer for each situation. For travel I use a double umbrella, for running errands I have a single with a board on it and for daytripping in the Summer I have the Joovy CocoonX2.
I wouldn't EVER put this stroller on an airplane because it is too big, I don't often bring it to the mall because it doesn't fit through most stores, but when we are headed out for the day it is the best option.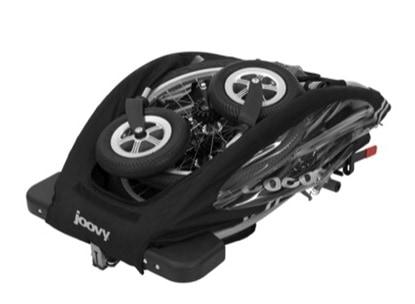 For more information, please read our full review here.