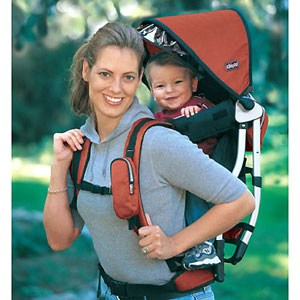 My husband and I have tried to remain active since having our son and so we are always on the hunt for items that will help us maintain a healthy lifestyle while including all the members of our family in the activity. We've been on the hunt for a comfortable baby backpack carrier recently and have come across the Chicco Smart Support Backpack.
The Chicco Smart Support baby backpack is versatile and brings comfort along with many other features that you'll soon discover you can't live without. The moment that you pick up the box you'll realize that the carrier is super light at only 7lbs. Assembly is pretty straight forward and the instruction booklet is easy to follow; simply click a few pieces into place and you're ready to go.
The carrier is free-standing, making it easy to get your child in and out (even if you're alone). The first thing I noticed about this carrier is its plushy cushioned seat which makes it extremely comfortable for your little one. The seat can easily adjust in three positions and the leg openings can expand to accommodate children from just 6 months of age to 40 pounds. The kickstand folds in while you walk, then pops back out when you need to get your child in or out of the seat safely. It also doubles as their footrest.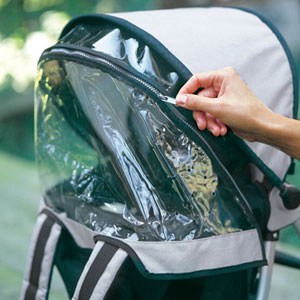 The attached hood protects your baby's sensitive skin from the sun and the zip-quick weather shield keeps the elements at bay. Having taking my son out on a chilly winter day, I found these features extremely useful to keep him shielded from the wind and snow. Other carriers I have don't have a hood or weather shield so I tend to avoid using them in that type of weather.
For your comfort, the Chicco Smart Support Backpack carrier offers padded shoulder and waist straps plus a padded and ventilated back and lumbar support area. This is an especially welcome feature, as it reduces the heat and strain on your back while you walk. As I tend to have poor posture I love the waist strap which helped me to ensure that I wasn't hunched over. If I could change anything about the carrier I'd like to have the ability to tighten the shoulder straps further – even on the tightest setting I felt like it wasn't quite tight enough for my liking.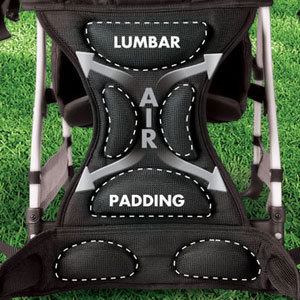 My family likes to travel and we always take a baby carrier on our trips with us. The flat-fold design of the Smart Support Backpack makes storing it in an overhead compartment on a plane or in your car very easy.
This carrier comes with two zippered bags, one of which is on the shoulder straps and sized for a mobile phone. The other, a detachable waistpack, is perfect for your wallet, keys, glasses, snacks, etc.
At a price that seems just a bit lower than similar models, Chicco Smart Support Backpack has it all at a great price.