While looking for something to do on a Friday morning I came across some information on the Canadian Warplane Heritage Museum.  Located about an hour from us in Hamilton, this incredible museum has preserved and maintained, 'a complete collection of aircraft that were flown by Canadians and the Canadian military services from the beginning of World War II to the present'.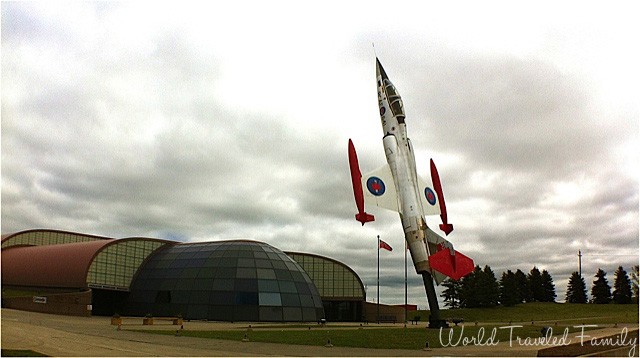 What started from a love of aviation has grown into an impressive collection of showpieces and historical memorabilia.
My son loves mighty machines so I was excited to take him somewhere he could see them up close.
When I arrived I wasn't sure what to expect.  I really only expected to see a few planes, but was pleasantly surprised when I opened to the door to the hanger and there were about 40 full size aircrafts lined up.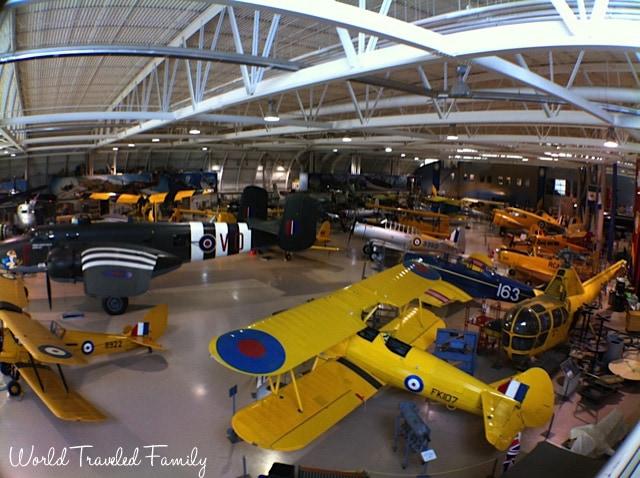 Even more excited was my son, who immediately seeked out the ones that he could 'fly'.  There are a few aircrafts on display that can be sat in but the majority are behind the ropes.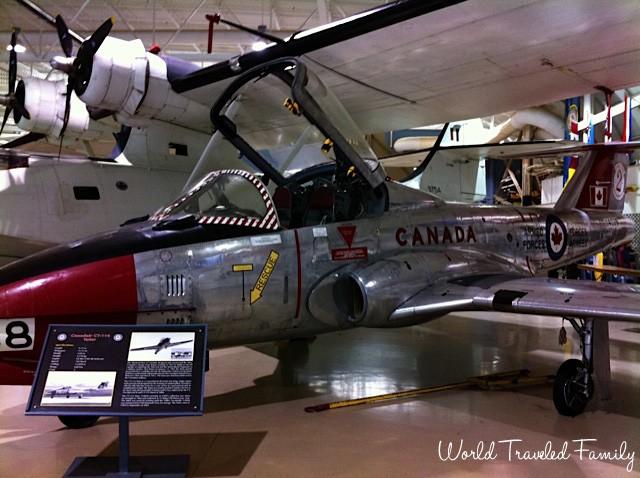 Not all of the aircrafts are shiny and beautiful.  There are also a couple that are still being restored.  This is also neat to see.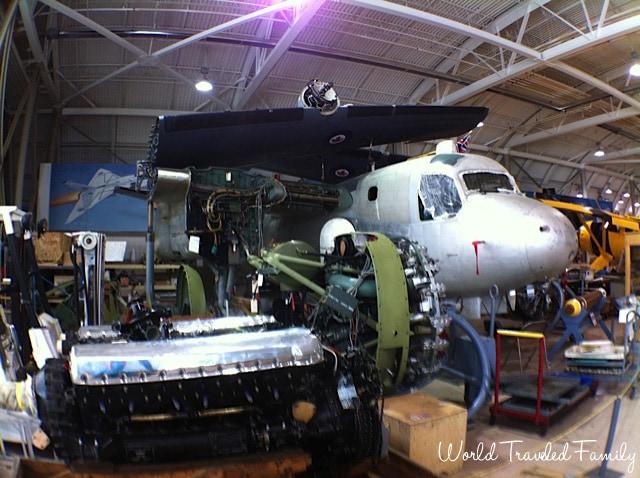 On the day we visited the museum was hosting an event for more than 400 people so some of the aircrafts that would normally be parked on the left side of the hanger were outside.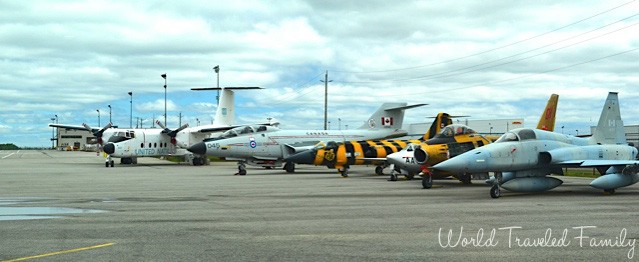 A volunteer told me that we were welcome to go out and check those ones out as well, but that we just needed to be accompanied by a staff member.
Something that is very cool about the Canadian Warplane Heritage Museum is that many of the aircrafts that are on display actually still run.  If you are a member(and 18+) you can upgrade your membership to ride in one for 20 minutes.
Have always wanted to ride in a bomber?  For the price of $575 +HST($125 membership plus a $450 upgrade) it can be arranged!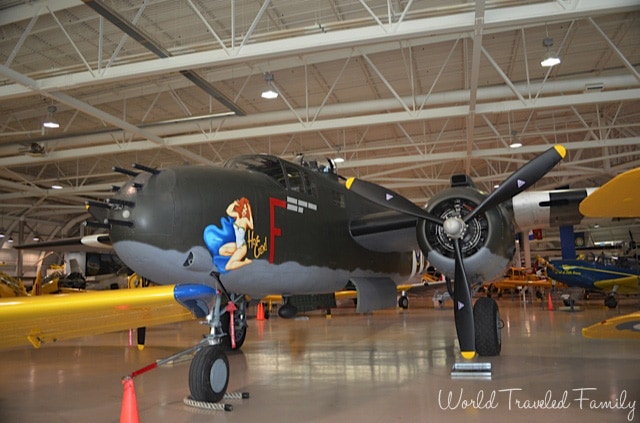 The plane rides actually start much lower at $185($125 membership plus a $60 upgrade) to fly in a Dakota DC3 or the Beech 18 and go up to $2625($125 membership plus a $2500 upgrade) for a flight in the the Avro Lancaster.
The center piece of the left side of the hanger is undoubtedly this black beauty.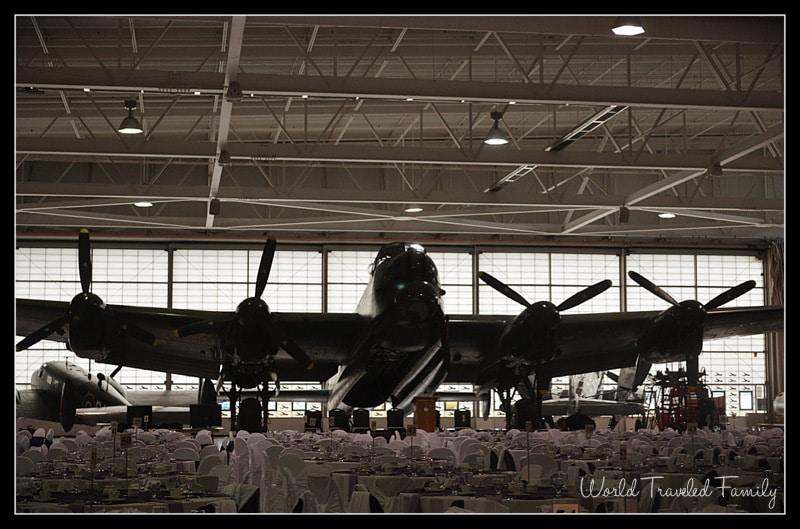 With the support of the Sulley Foundation, the Lancaster was acquired by Canadian Warplane Heritage in 1977.  In 1979 the aircraft was moved to Hamilton via a Chinook helicopter airlift.  It took almost 9 years to restore but the massive plane, which was built in 1945, is in good enough shape that it can be flown regularly.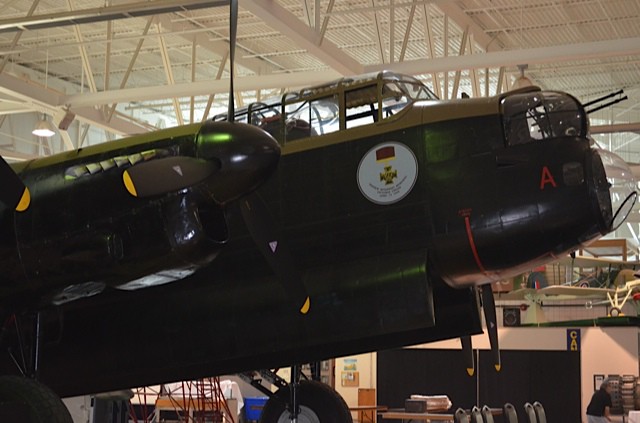 On top of housing a striking vintage aircraft collection, the Canadian Warplane Heritage Museum also has many educational displays for visitors to look through.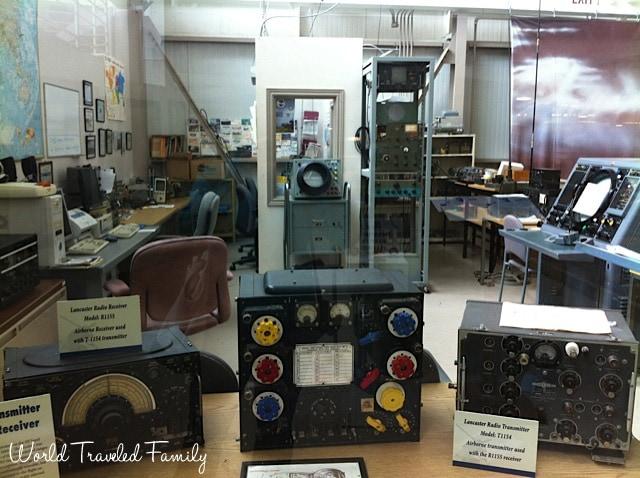 At 4, my son's knowledge of planes is very limited but visiting the museum and touring the exhibits allowed me to broaden his understanding in a very short time.  The volunteers are also a wealth of knowledge and are scattered through out the building to answer any questions you may have.
Plus, if you look carefully you may also see some of the men who flew these planes strolling through the museum as well.  I overheard a gentleman telling his granddaughter stories about his time in the war.  It's nice that they have a place to come and see such incredible pieces of history preserved for generations to come.
I highly recommend visiting the Canadian Warplane Heritage Museum if you are in the Hamilton area.  There is lots to see and lots to learn.  We will definitely be back – likely a few times.
UPDATE:  We visited again a couple weeks ago and made this video of our trip.  Please check it out!