If you are traveling with your pooch this Summer Disney has options for you!  They believe that canine visitors to the Florida Vacation Kingdom deserve a tail-wagging good time as well so guests can treat their special four-legged family member to an experience that will last a lifetime (which in dog years could be a very long time!).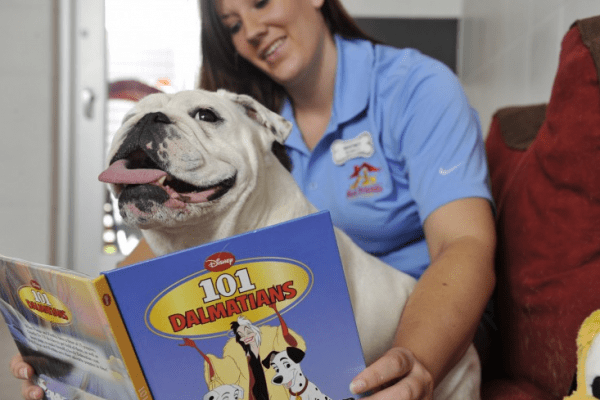 1. Every great day starts with a good night's sleep. Disney's Fort Wilderness Resort & Campground is the only pet-friendly resort at Walt Disney World Resort where guests and pets can rest up before a day of adventures. With site-specific camping loops that welcome pets and premium, full-hookup campsites, guests and their furry buddy will both be happy campers.
2. Hit the trails together!  Families can take their pups to the Waggin' Trails Dog Park at Fort Wilderness, where dogs of all sizes can run and play leash-free during their stay at Walt Disney World Resort. The park is open daily from dawn to dusk, so canine sidekicks may want to visit again in the evening.
3. Playdate!  Best Friends Pet Care at Walt Disney World Resort is a luxury, state-of-the-art pet facility that offers boarding, daycare and grooming for dogs, cats and other family pets in a safe and fun environment. Before venturing to the parks, stop by Best Friends Pet Care and let the pet professionals pamper your pooch for the day.
4.  Spa time!  While you're enjoying a day of park-hopping, your pooch can enjoy a relaxing day of VIP treatment in a beautiful, air-conditioned puppy suite at Best Friends Pet Care at Walt Disney World Resort. VIP grooming packages can be purchased in advance to give your barking buddy a full-day of grooming and relaxation. For pups a bit too playful for a day at the spa, there is plenty of room to run and play at Doggy Day Camp. This fun opportunity gives dogs the chance to enjoy safe, supervised social play with certified Doggy Day Camp counselors, complete with an assortment of toys. Using the facility's complimentary webcam, guests can even check in on their pooch throughout the day!
5. Downtown Disney's Happy Hound is a pet accessory store has something for every dog, including trendy outfits, custom collars and one-of-a-kind squeaky toys.
6. After a long day in the Walt Disney World theme parks, it is time to retrieve your cuddly companion. For some quality playtime before heading back to the resort, visit the Best Friends Pet Care private dog park, or take a pleasant walk around the grounds. What better way to end the perfect day than with quality time with your best pal!
For more information guests can call (877) 4 WDW-PETS or (877) 493-9738.