They say, "It's not camping.  It's Kamping," and I'm inclined to agree.  I've heard people refer to camping as "roughing it," but you only have to stay with KOA once and you'll start to see this past time in a whole new way.
KOA (Kampgrounds of America) is one of the biggest and most well respected chains of vacation parks in North America.  If you're on the hunt for a vacation that is affordable and fun for the whole family, you need look no further.
KOA holds its franchises up to a standard of service that is a cut above.  Their consistent delivery on high expectation has won KOA the trust of discerning campers of all types.  No matter where the road takes you, a stay with KOA will be an enjoyable stop.
So what makes them so special?  Well, they're experts.  The people at KOA probably know more about your vacation needs than you do.  Whether you're setting up a tent or touring the country in a 'motor mansion', they'll show you a good time.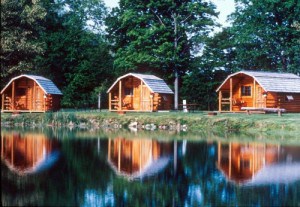 KOA offers good quality, level sites with water and electricity.  The campsites have Wi-Fi and often have cable TV hook-ups.  Sites range in size and layout to cater to specific types of camping, i.e. tents, pop-up trailers, fifth-wheels, etc.  But, you don't need to have a tent or an RV.  You can turn up at a KOA and rent one of their Airstreams or an adorably rustic Kamping Kabin or Kamping Lodge.
The restrooms and showers are always kept clean and well maintained.  If you have a problem with anything, there is usually a staff member within earshot to come and make things right.
If you don't have your own cooking facilities, you can take advantage of the Kamp Kitchen, which many KOAs supply for the use of their guests.
The KOA store is a well stocked resource for last minute food items and camping essentials.  They stock everything you're likely to need and make it easy to dash in and grab hotdog buns, a souvenir picture frame, and the washer you've misplaced, but desperately need, in order to fit your marine hose to the water hook-up.  Compare that to a campground, I stayed in recently, where the store didn't even have milk.
My family has enjoyed every experience we've had with KOA.  That's because family fun is what KOA does best.  Their range of amenities and services ensures that every family member has a great time on holiday.  You'll often find the park outfitted with a playground for toddlers, a playground for big kids, and a playground for the family dog.  There is always a pool and, in cooler climates, it's often heated.  Not to mention the games room, the bike and boat rentals, the community fire pits, the big screen TV in the pavilion, and the fishing pond.  Specific amenities vary by location, but every KOA has something unique to offer.
KOAs are great holiday parks, but they really shine in their ability to cultivate a sense of community with and among their guests.  On our most recent visit with KOA, the staff planned a series of events that kept everybody entertained.
In that single weekend the staff planned and executed a host of fun activities for their Christmas in July celebration, which included decorations throughout the park, breakfast with Santa (which included gifts for the kids), a contest for the best decorated campsite, a carol singing hayride, an ice-cream social, crafts, bingo, a pancake breakfast, and my son's personal favourite, a flashlight candy hunt.  Before we knew it, the weekend was over and we didn't know where the time had gone.
KOA parks are located across North America, near popular sightseeing destinations and major cities, but you don't have to play the tourist, if you don't feel like it.  In fact, you don't have to leave the campground at all; you'll still have a great time.  KOA creates such a relaxed, and friendly atmosphere in their parks, you'll be at ease from the moment you check in.  By the end of your stay, you probably won't see camping as roughing it anymore. – Jen R, Staff Writer
[ad]