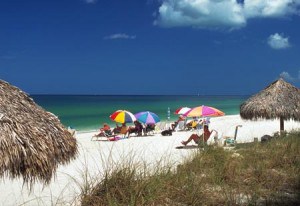 If you are planning to vacation in the U.S. this summer you may want take note of a list that was revealed yesterday by Dr.Beach.  The Professor and Director of the Laboratory for Coastal Research at Florida International University, whos research takes him to beaches around the country and to many parts of the world, has revealed his top 10 U.S. beach picks.
After looking at 50 criteria at the 650 major public recreational beaches in the United States, this year's top pick has been named as Siesta Beach in Sarasota Florida. Named #2 in '10 and '09 & #3 in 08, Siesta Beach 'boasts the finest and whitest sand in the world.'
The beautiful blue-colored water is clean and clear, making it so inviting to bathers and swimmers. The beach is hundreds of yards wide, attracting volleyball players and beachcombers as well as those who just want to find their place in the sun. Waves at Siesta Beach are normally measured in inches and the beach gradually slopes into the Gulf waters, making it a very safe area for children.
Siesta Beach in Sarasota, Florida
Coronado Beach in San Diego, California
Kahanamoku Beach in Waikiki, Oahu, Hawaii
Main Beach in East Hampton, New York
Cape Hatteras in the Outer Banks of North Carolina
St. George Island State Park, Florida panhandle
Beachwalker Park Kiawah Island, South Carolina
Coast Guard Beach in Cape Cod, Massachusetts
Waimanalo Bay Beach Park on Oahu, Hawaii
Cape Florida State Park in Key Biscayne, Florida