When planning a road trip to a large attraction destination, don't underestimate the little spots along the way. This past weekend we found a perfect rest spot that turned out to be a highlight of our weekend.   Just 10 minutes past the Sarnia/Port Huron border our family enjoyed fresh air, playtime and discovered a piece of history at the Fort Gratiot Lighthouse.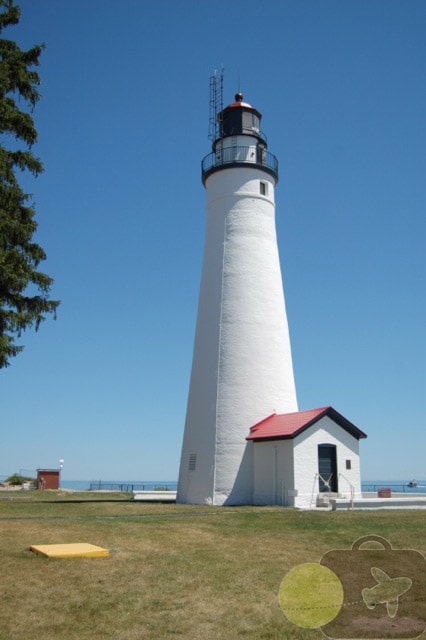 Michigan's oldest lighthouse is stunning at 86 feet tall surrounded by sandy beaches and a magnificent view of the many freight and recreation watercraft travelling between Lake Huron and the St. Clair River.  Our boys age 2 and 6 years loved running around the immense property, looking up at the tall lighthouse and especially watching the boats go by.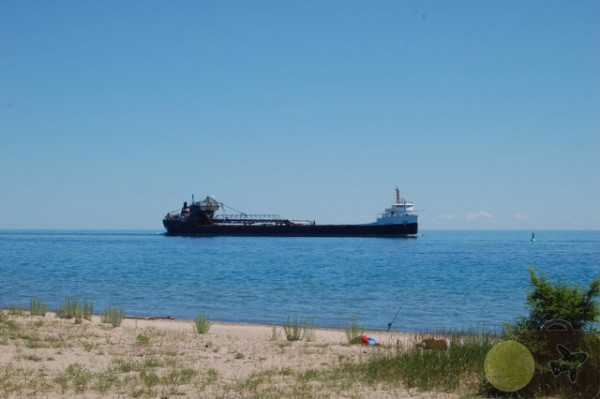 The Fort Gratiot Light and grounds have been closed to the public until very recently.  Now run by the Port Huron Museum, not only can your family walk the grounds at no charge but you can take a guided tour, as well as walk up the lighthouse steps for the low cost of $5.  Make sure to have comfortable closed shoes.  Flip flops and sandals are prohibited up the tower for your safety on the cast iron staircase.  In the fog signal building is a quaint little gift shop to purchase Fort Gratiot souvenirs, lighthouse paraphernalia of all sorts and beach toys for the kids.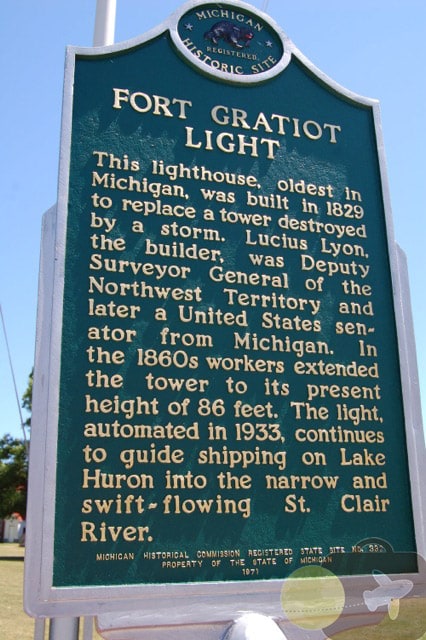 In addition to offering these daytime tours, groups of 20 or more (scouts, camps, and family reunions) can book an "Overnight at the Light" for a guided informative tour, bedtime snack, and a bunk sleep in the newly renovated duplex for $25 per person.
We discovered a great looking beach at the lighthouse and noticed many families playing in the sand, sunbathing and splashing in the water, however I did see that there were signs posted stating "Dangerous undertow current. Enter at own risk" and it is not a lifeguarded beach.  Restrooms and shower off stations are in operation but I think if we were to spend time on the beach I would limit it to building sandcastles and walking along the shore just to get our feet wet to cool off.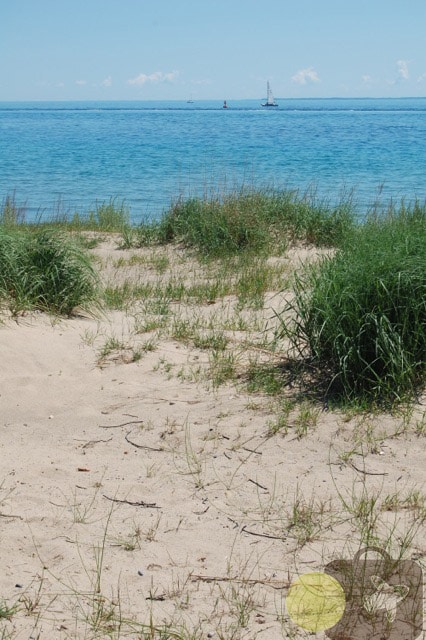 There are picnic tables on the sand and in the grassy park area perfect for a meal or snack break.  Our boys enjoyed the playgrounds by swinging and climbing as a much needed energy burn off after our long drive, and since the other families were on the beach we had the playgrounds all to ourselves.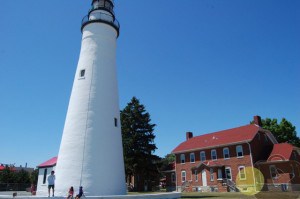 We recommend this beautiful spot for travelers heading from Michigan to Ontario or back looking for somewhere different to stretch their legs than the usual coffee/burger/gas station area.  It is also neat to catch a glimpse of the BluewaterBridge (bridge used to cross the border) from the grounds.
Lighthouse Facts
First Lighthouse built inMichigan(1825)
White Conical Brick
Original Lens – Fourth-order Fresnel
Current Lens – DCB-24 Carlisle & Finch Aerobeacon (green flashing)
Oldest operating lighthouse in Michigan
Open daily 10am – 6pm
Tours and Tower Climbs between 10:30- 5:30 daily
To help with restoration and maintenance of the lighthouse you can adopt a Step or Become a Friend of the Lighthouse.
Call 810-982-0891 ext 110 for detailed information