My go to shoe for every adventure we are heading out for is pediped's Amazon Flex.  Stylish and durable these sandals are perfect for every occasion, while standing up to the beating my boys put them through.  From the park, to the road, to a pile of mud – it's my job to make sure that the shoes I choose for my guys will to whatever they throw at them.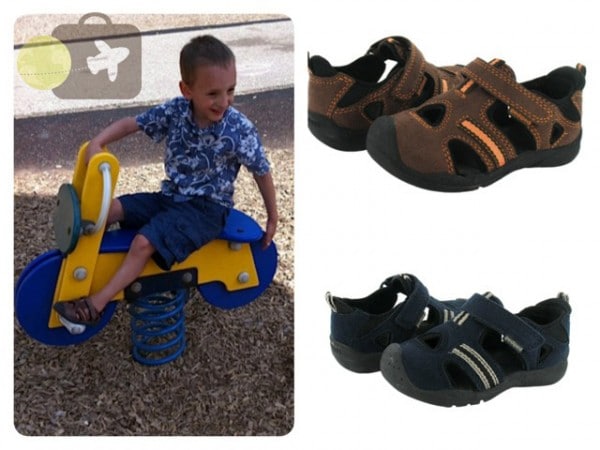 Normally when we vacation I bring a 3 pairs of shoes for each boy, sandals for the beach, watershoes and a pair for going out for dinner. On our last couple trips I have just packed a pair of the Amazon Flex shoes for each of my boys and had them wear them throughout the trip.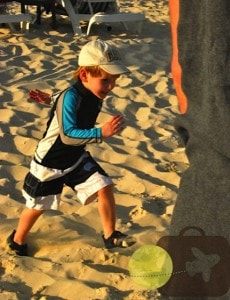 When they are trekking through the sand they don't have to take them off because there are cut outs in the side of the shoes that allows the sand to empty. This also ensures that they have something on their feet if they decide to head into the ocean on a whim. I am really big on wearing watershoes if you are heading into the ocean because I have seen vacationers step on urchins, glass and coral unexpectedly, which can ruin a vacation quickly.
What I like about these shoes is that they can wear them into the water, coat them in the sand on the way out and all I have to do is set them out to dry, shake the sand off and they look as good as new. Brilliant! Pediped says you can throw them in the washing machine but I have never needed to. We are going on our second Summer with both pairs and they look great. My oldest son wears his pair to school everyday and they have minimum wear.
For girls, pediped has created the same great shoe in two neon colors to compliment your child's style.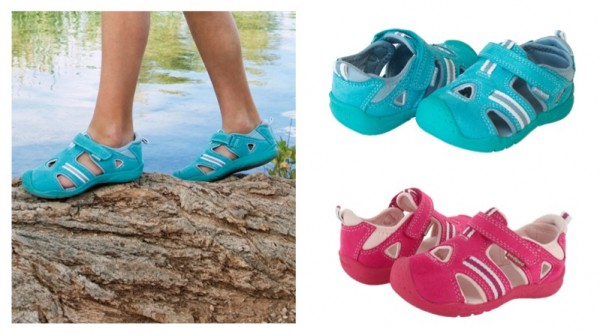 BONUS! Many of Pediped's styles are on sale right now as part of their 'Purchases with Purpose' initiative that was set-up to support children in need.