Universal Orlando Resort made a couple of exciting announcements yesterday, regarding attractions in the park. First up, they are adding a new "Despicable Me" experience and second, there will be a reanimation of The Amazing Adventures of Spider-Man, both to open in 2012.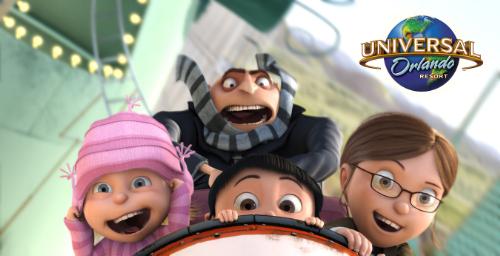 "Despicable Me," released in 2010, was an instant sensation and has cracked the top-ten successful animated American films. With a host of loveable characters and a few we love to hate, the movie endears itself to young and old alike. It is a personal favourite of mine.
The film will be the first Universal animated film, to be developed into a theme park attraction. Guests will become a part of Gru's world as they transform into minions, trained by Gru himself.
The new minions will explore Gru's lair, including his secret lab, before being transported into an interactive minion dance party!
All your favourite characters will be there, Gru, his little girls Margo, Edith and Agnes and loads of hilarious minions.
"The 'Despicable Me' attraction is the latest example of how we tap into pop culture's most compelling stories and turn them into extraordinary theme park entertainment," says Mark Woodbury, president of Universal Creative.
Chris Meledandri, founder of Illumination Entertainment, says, "As we write, design and animate our films at Illumination, it is our singular goal to bring to life endearing and, hopefully, enduring characters. With the creation of next year's 'Despicable Me' attraction at Universal Orlando, audiences will be able to immerse themselves in Gru's world for many years to come."
The Amazing Adventures of Spider-Man, at Universal's Islands of Adventure, is arguably one of the all-time best theme park attractions, in the world.
Well, it is about to get even better! New digital animation, using 4K HD technology, will provide the best resolution available. Guests will see detail they have never experienced before. Flames from Hobgoblin's pumpkins will seem more real, electricity arching through Electro's body will be more jolting, you'll even see the stitching on Spider-Man's gloves. The attraction will be more true to life and more captivating than ever before.
The amped-up experience will take place in towering spaces. The combination of new set enhancements, new Infitec 3D technology, and fresh animation, will take what was already a great attraction to the next level.
Thierry Coup, senior vice president of the Universal Creative Studio says,
"Guests will not believe their eyes when they experience the new Amazing Adventures of Spider-Man. We are talking about a larger-than-life environment and the HD animation will make it even more remarkable than it has been. It will seem brand-new."
– Jen R, Staff Writer