Disneyland Resort held this year's "What's Next" event in a construction site; a very special construction site. They were showing off progress on the future home of Cars Land.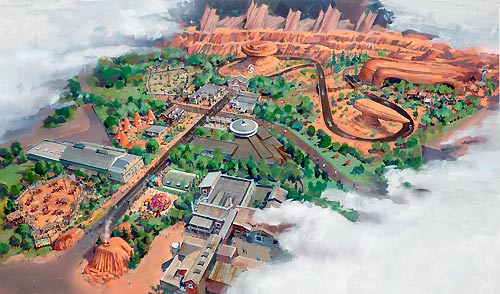 Cars Land, part of a one billion dollar expansion and upgrade to Disney California Adventure, is on track to open in 2012.
The main entrance, to the venue, will take visitors down historic Route 66 and straight into Radiator Springs. Once there, guests will encounter their favourite characters, from the movie, and find that all the downtown landmarks have been recreated. Restaurants, snack-stops and souvenir boutiques, will all be housed behind the familiar façades of Radiator Springs.
Example, Sally's Cozy Cone will host a snack bar offering exclusively "cone" themed treats. How cute is that?
There will be three great attractions in Cars Land, the main one being the high-speed, E-tick ride Radiator Springs Racers. The attraction will last approximately four minutes and will culminate in a race where the rider's car is pitted against another in a fast passed dash to the finish. There are a number of race profiles programmed, so riders can visit the attraction over and over, with a different outcome each time.
All of this will be set amid some spectacular scenery. Cars Land will occupy 12 acres of southwest landscape featuring a six acre, man-made mountain. It is an ongoing 14-month project to build the mountain with an overlapping 12-month project to paint the mountain and give it that signature Painted Desert look.
The entire undertaking will be a sight to behold, when it opens, this time next year. It's definitely something to look forward to. – Jen R, Staff Writer
Insidethemouse.net captured the presentation from the park on video.  It gives us a look into how Cars Land is progressing: