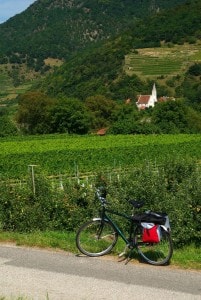 For many of us, a European tour is a long anticipated trip-of-a-lifetime and if not a lifetime, than certainly the hallmark vacation of a youngster's childhood. It is nothing to be sprinted through. Believe me, attempting to scramble through a whole country (even tiny European ones) every day or two, results in a trip that is nothing but frustration, confusion and ultimately, exhaustion.
Accept that you cannot truly experience the whole continent in a couple of years let alone a couple of weeks. By zeroing in on a country or two – an experience or two, that are of particular interest and importance, the trip will be much more enjoyable and significant to your family.  I once tried to tour Western Europe in a week.  It was a blur and way, WAY too intense.  I have since learned to meander, and really take in the sights.
A bicycle tour is a wonderful way to experience a chunk of the continent and it's fun for the whole family.  The Danube Bike Path is the most popular European cycle route for 2011, according to BikeToursDirect, and it's easy to see why it attracts so many travellers.
Beginning in the Black Forest and emptying into the Black Sea, the bike path follows Europe's second longest river, 2,850 km (1,770 miles), through nine countries: Germany, Austria, Slovakia, Hungary, Croatia, Serbia, Romania, Bulgaria and Ukraine.
The path is dedicated to cyclists and is separated from vehicular traffic, along its route, so children can peddle in safety.
The stretch through Germany and Austria is very popular. There are guided tours that will carry you through the length of the ride, with a knowledgeable tour leader and a van following the group, in case someone runs into mechanical or physical difficulties.
Other families may prefer a self-guided tour, so they can go at their own pace. This allows for leisurely stops to experience medieval towns, and long picnics in scenic vineyards. Now that sounds like a European tour to me.
Europe was meant to be savoured from a bicycle seat. And just think, all that exercise means you can enjoy some pretty decadent food, guilt free. – Jen R, Staff Writer