Well known for their practical, lightweight travel gear, Maclaren is set to introduce another stroller that will undoubtedly be popular with traveling parents.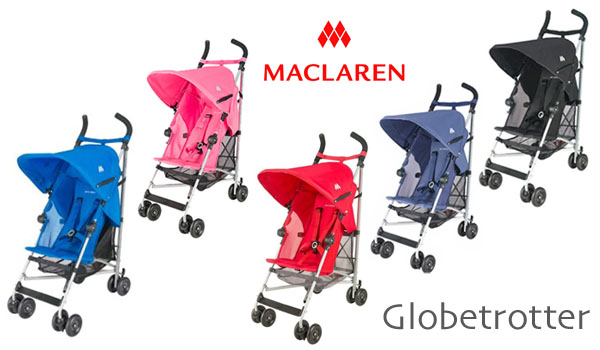 The Globetrotter, the newest addition to the Maclaren line up, weighs just 10.6lbs and will carry your child until they are 55lbs. It is appropriate from ages 6 months and up, has a 5-point safety harness, generous canopy, features lockable, front swivel wheels and foot-operated linked parking brakes. Very similar in design to the company's popular Volo, the Globetrotter also has one feature that traveling parents consider a must – the seat reclines.
We've all been there. Out for the day seeing the sightings and your toddler decides to nap. While my first son could sleep anywhere, my second one was more particular and needed an incline. This is where the Globetrotter is great. It doesn't fold flat, but there is a slight recline to make an afternoon nap a little more comfortable.
When it is released the Globetrotter stroller  will be available in five colors – black, crown blue, scarlet, festival fuscia and prince blue.
In November Maclaren announced they would be moving to one global safety standard, which ensures that all of their buggies will meet or exceed the highest safety standards mandated anywhere in the world. This includes a permanent universal 5-point safety harness, a tether strap, foot operated linked brakes, and a protective head and foot barrier on all from birth models.
We love their collection for travel because they are so compact, easy to push and comfortable for our little travelers. Now with the Global Safety Standards parents around the globe will like that the stroller they purchased in Australia has the same great safety features as the ones in North America or the UK.