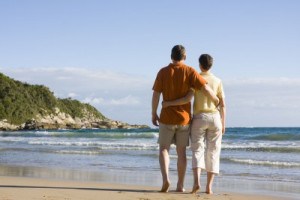 Years ago a friend told me that if you wanted to make sure your marriage stayed healthy you had to vacation once a year with just your spouse and she was right.  Don't get me wrong I enjoy vacationing with my kids, but there is something about heading to the airport with 2 suitcases, no strollers and no extra chaos that is relaxing.
Last weekend my husband and I enjoyed our first parents-only trip(that's not business related) in 6 years.  Before we had our boys we would travel 3 or 4 times a year.  We didn't have any worries, no time constraints and the only person we needed to make arrangements for was the dog.  Now, we take them everywhere we go, but it can be stressful.  Two extra suitcases, 2 strollers (or a double), snacks, games, toys and that is if we are traveling in season.  If we are going somewhere warm in the Winter I need to find Summer clothes, shoes, hats – there is so much to remember that I start packing 2 weeks in advance.
Plus, they come with restrictions – naps times and the inability to be able to partake in some of the cooler excursions that we like to do while away like snorkeling, zip-lining or just spending the day exploring by catamaran.
When we cruised earlier this year we realized that we needed some couple time to be able to enjoy the things that make vacations enjoyable to us.  It's about finding a balance.  You do one vacation where you cater to them and then another that allows you to what you love and everyone is happy.
What I was most looking forward to was being able to enjoy a 2 hour dinner, a full day catamaran trip and lots of beach combing.  Being able to make my own schedule and best of all – spending some uninterrupted time with my husband.
We both work a lot so it was nice to just sit and do nothing without having to worry about where the boys were and if they were staying out of trouble.
Our kid-free trip, however, didn't come without a bit of guilt.  Every time I saw a family with a little one I would say how much fun our 2 would have if they were with us.  Next time my husband would remind me.  This time was just for us and he was right.  The next time we go away we'll be content to just sit on the beach and do activities that are just for them now that we've had our fun in the sun!