Whether you are headed to your parent's house, the cottage or to the Caribbean, there is a certain amount of planning that goes into traveling with a baby. Thankfully those who have come before you have invented some pretty great items that are perfect for parents on-the-go.
I started traveling with my first son when he was just a couple months old and it took me a few trips to put together a good list of must-haves. After you pack an extra outfit, diapers, wipes and a good travel stroller here are a couple other items that will make your outing with baby a bit easier.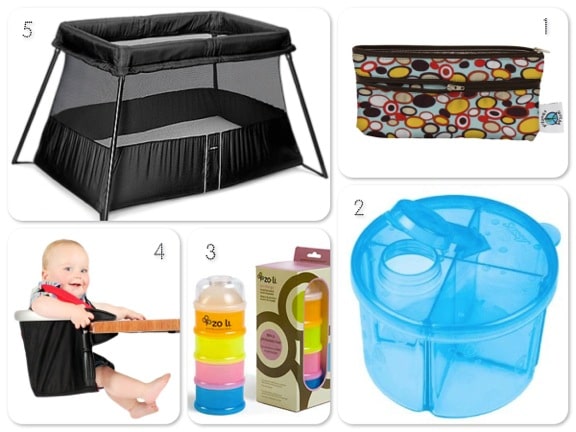 1.  Planet Wise Travel Wet/Dry Bag – Spit happens and so do unexpected poops. I love Planet Wise's Travel Wet/Dry Bag because it is compact with a zipper to allow it to expand and it has a zipper to ensure that your little mess stays somewhat contained. I keep this is in my bag for unexpected messes and also store snacks in it!
2.  Sassy Powder Dispenser -whether you are traveling with dry food or baby formula, this convenient dispenser allows you to portion out a meal to eliminate the guess work at 30,000 ft.
3.  Zoli snack holder -This stacking snack holder is both compact and convenient.  It allows you to carry a variety of options, which will come in handy if you are delayed.
4.  phil&teds lobster highchair – weighing less than 5 pounds, the phil&teds lobster folds to be very compact, comes with it's own case and will attach to almost every table.  But we especially love it because it has it's own food tray, which means that you don't have to worry if you have to stop for a bite somewhere that may not be the cleanest.
5.  Baby Bjorn Travel Light crib – Worried about the hotel crib not being safe or available?  Bring your own!  The Baby Bjorn travel light crib assembles in seconds(literally) and it folds in half.  Not compact enough to go in your suitcase, but definitely small enough to be a piece of checked luggage or to only take up a small area in the back of the trunk for road trips.  Not just for babies, this bed can be used for newborns and up until around the age of three.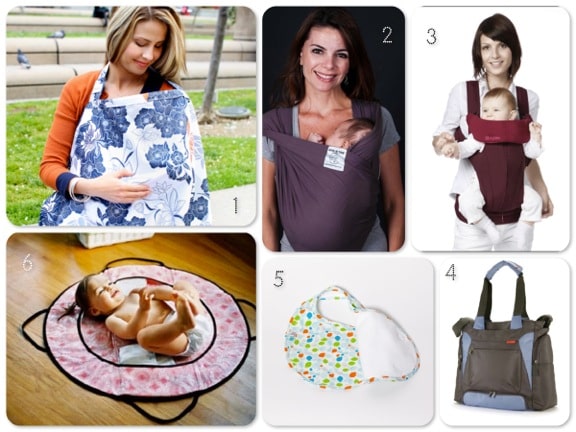 1.  Bebe au Lait Nursing Cover – Whether you are on a plane, in the park or at the beach, this cover will keep your baby covered while they are nursing.  Bebe au Lait's covers are both stylish and functional.  They feature a have curved boning at the collar, which allows you to see your baby while they are feeding and a terry patch in the corner that can be used as a cloth if your baby spits up.  When not in use it can tied to your infant seat to shield your baby from the sun.
2/3 Baby K'tan, Cybex 2.Go Carrier – When my boys were little I would carry them and check the stroller to keep my hands free while getting through the airport. I like the Cybex 2. Go carrier because it allows you to carry your baby in 5 different positions. The Baby K'Tan is nice for smaller babies who need stay close. You can wear your baby in 8 different positions including side carry for little ones (5 months+).
4.  Skip*Hop Bento Bag – This full featured diaper bag has it all – including a insulated Mealtime Kit with Clix containers, which slides into a convenient compartment—keeping food in its own special place. The biggest bag Skip*Hop offers the Bento Bag has fifteen pockets include five mesh pockets, 2 insulated bottle pockets and the afore mentioned mealtime kit compartment. I also like that it hangs neatly on a stroller or it can be worn over the shoulder. Plus if you have this bag, you don't need to worry about having any other snack holders as it comes with 3!
5.  Bebe au Lait's Quib is one of the best bibs we've come across for going out because a. It has magnets that allow it close easily and STAY closed, b. If your child messes the quib has 4 sides that can be used; two with prints and two with terry cloth. I love this Bib!
6.  Patemm Pad – Whenever you leave the house you run the risk of having to change your baby somewhere there is not enough room or a place that is not as clean as you would like it to be. This gorgeous round pad is 28 inches in diameter and it is designed with 4 outside handles allowing you to unfold/fold it with one hand. You can store diapers, wipes, and even a set of clothes in the cleverly-placed inside pockets. When not in use, the patemm® pad folds into a compact carrier without the use of ties, buttton, snaps, or Velcro®.