Heavy snowfall doesn't always elicit cheers from the masses, but substantial late winter precipitation, combined with above average snowpack in the mountains of the North West United States, has signalled good news for outdoor enthusiasts.
Thanks to the deluge of water brought on by the spring melt, tour operators on Idaho's Salmon River are reporting fantastic conditions at the Middle Fork, a popular location for rafting and fly-fishing.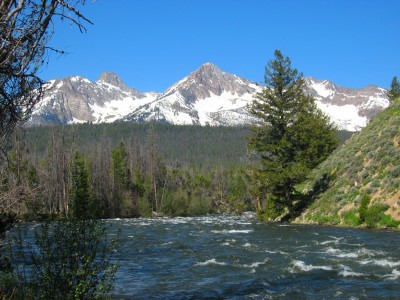 Idaho River Journeys is one such outfitter.  Operator Bob Volpert says, "Our clients come from all over the country and they've gotten pretty savvy about water conditions.  We're bouncing back from the recession and good water conditions will certainly help further our recovery."
The Salmon's Middle Fork is a world renowned hot spot for white water and fly-fishing.  The river goes through phases as the season progresses and these changing conditions attract rafters with different levels of experience.  The highest water culminates in June.  This peak flow translates into some rough rapids, ideal for experienced rafters.  Once the peak has subsided, the Middle Fork evolves into an ideal destination for adventurous families looking for a taste of white water, while also cashing in on the area's scenic hiking and fly-fishing potential.
Guided tours have a typical duration of 5 -6 days or 75-100 miles.  Outfitters like Idaho River Journeys schedule trips every week starting in June and extending through September.
Visitors attracted by the promise of world class rafting, may be pleasantly surprised by the variety of additional highlights some tours incorporate including wine-tastings, individual fly-fishing instruction, and guided hikes.
If your family has been toying with the idea of a white water adventure, this may be the year to take the plunge.  The river is waiting to carry you, dipping and twisting through the mountain landscape.  With this season's ideal conditions, the whole family can be assured of a vibrant encounter with the great outdoors.  – Jen R, Staff Writer