My family and I recently decided to take a family vacation, so we were on the hunt for a great family friendly resort in the sunny south. We have a very active toddler so it was important for us to find a resort that would have lots for him to do which lead us to the Sea Adventure Resort & Waterpark in Cancun, Mexico.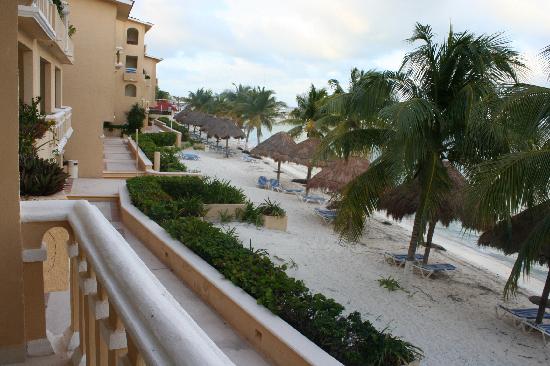 Aside from all the great amenities geared to children one of the reasons we chose the Sea Adventure Resort & Waterpark was the price – it was VERY affordable compared to other resorts – at the time we booked all three of us were able to travel all-inclusive (including flights) for under $2000.00 (tax included)**. How could we say no??
Our flight to Cancun landed around 9pm in the evening; so we didn't arrive at the resort until nearly 10pm. When we checked in we were advised that our room was on the ground floor – which was a little disappointing as I had specifically requested a room on a higher floor. I asked the front desk attendant if we could change rooms to a higher floor and he advised that it wouldn't be possible as rooms on a higher floor were "upgrade" rooms.
Not wanting to argue at the late hour we were escorted to our room. The room its self was VERY large and had a king size bed and a playpen for our son plus it was facing the beach. My husband and I were actually surprised by how big the room was. I had read some reviews prior to our trip where people commented that the rooms were a little dated (which they were) however, they were always very clean.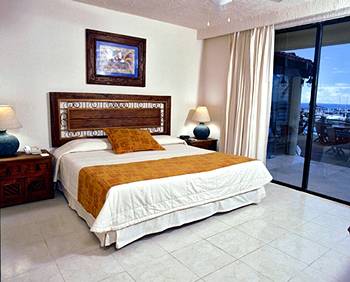 Besides our beds the room featured a large closet, satellite TV (which had a number of English channels), and the bathroom basics (hair dryer, etc). The one thing that was glaringly missing for us was a refrigerator. I couldn't understand why any resort, let alone one that was geared to children, wouldn't have a refrigerator in every room – if you're like me you're probably bring snacks and stock up on drinks for the middle of the night or early mornings, so having a fridge would have been wonderful. Just to clarify I'm not expecting a fully stocked fridge – and empty one would do just fine. I later found out that had we "upgraded" our room we would have had a refrigerator as well as a coffee maker – if we were to go back to this resort I'd upgrade my room just for the extra amenities as well as a room on the higher floor.
Designed in traditional Spanish architecture, this all-inclusive resort is located 3.5 mi from downtown Cancun in Punta Sam; on a white-sand beach facing Isla Mujeres. The Sea Adventure Resort & Waterpark isn't huge with only 160-rooms across two wings that rise three and four stories high. In front of the resort's northern wing is a large marina which my family and I enjoyed visiting every day – walking along the piers and checking out the different boats was entertaining for all of us.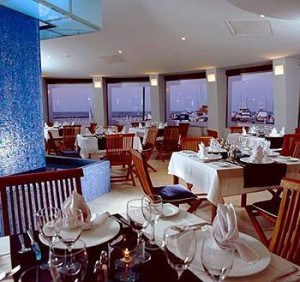 While the resort wasn't as big as others we've been to it certainly met all of our needs. This is an all inclusive resort so all your meals and drinks are included in the price you pay. That being said the resort features the following dining options: 4 restaurants, a swim-up bar, and dinner theater. Of the four restaurants you can choose El Palmar (buffet – open on nights when there isn't a dinner show), La Terraza (outdoor buffet – only open in the afternoon), Oysters (à la carte – reservations required) or the Snack Bar at the Waterpark (open 11:45-17:45). The food at each of the buffets was average and similar to what you'd find at other resorts. We had the opportunity to dine at Oysters à la carte twice during our stay and thought the food there was fantastic, as was the service. If you're looking for bars – this resort features three of them – one at the Waterpark, one at the main pool and one in the lobby. With the resort being geared to kids we noticed that you don't have a ton of people who have consumed too much alcohol running around, and the bars are rarely packed which is nice.
Another unique option for dining is the dinner show – unlike most resorts that have shows for entertainment late in the evening (usually 10pm) the Sea Adventure Resort & Waterpark hosts 3 dinner shows per week. We LOVED the dinner shows for a few reasons, one – they are at dinner time which works well for young children, two – the shows are geared to kids. The week we were there the shows were Peter Pan, Pirates of the Caribbean, and a Michael Jackson Tribute. During all three shows the actors came into the audience through the show which really kept people engaged, for the Pirates show the children were given swords made from balloons prior to the show starting – fun!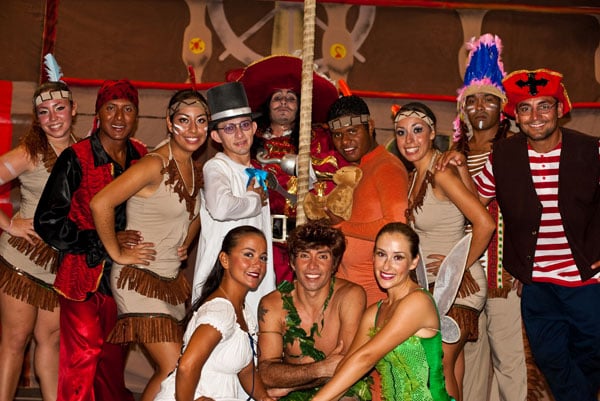 The "main pool" at the resort features a swim up bar and a separate children's pool and a large sun deck that overlooks the beach and waterfront. Prior to leaving on vacation I read some reviews where people complained about the size of the beach front and the amount seaweed on the beach. No, the beach isn't massive; however it was more than sufficient. It had plenty of chairs and beds and we had no problems getting some regardless of the time of day. In the morning, yes there was seaweed on the beach, but there were people cleaning it up as the morning went on. We did find that the north side of the resort, near the marina, had significantly less seaweed so I'd suggest sticking to that side of the beach.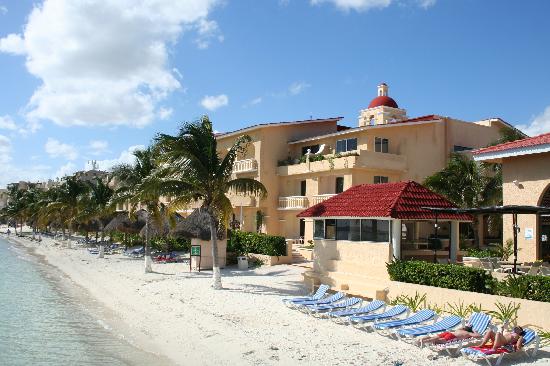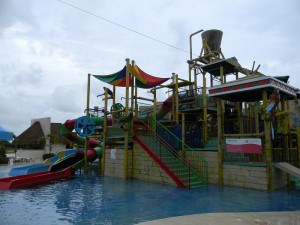 The main reason we booked this resort was the Waterpark. We wanted to have the options of doing more with our son and this feature definitely met our needs! The Waterpark features a 40 foot multi-level structure named the Tree House which provides access to a set of four water slides that, varying in size and amusement characteristics. The main pool (where the slides empty into) and kiddy are shallow (maybe a foot and a half deep) which is ideal for smaller children. There is a separate pool at the Waterpark which is 3ft deep for bigger kids. Decorated with symbolic animals of the region, the Tree House platform also has an enormous bucket of water that dumps 7 feet of water, creating a waterfall. The Waterpark was awesome! We had a blast there every day! While most of the big slides were too large for my son (he's only 2) we did take him down one of the smoother, slower ones a number of times (with us) and both my husband and I used all the slides on our own (so much fun). There was also a toddler area at the Waterpark which featured three much smaller slides that my son could easily use on his own. The Waterpark area also features an 18 hole mini golf course, a soccer field, tennis courts and a basketball court.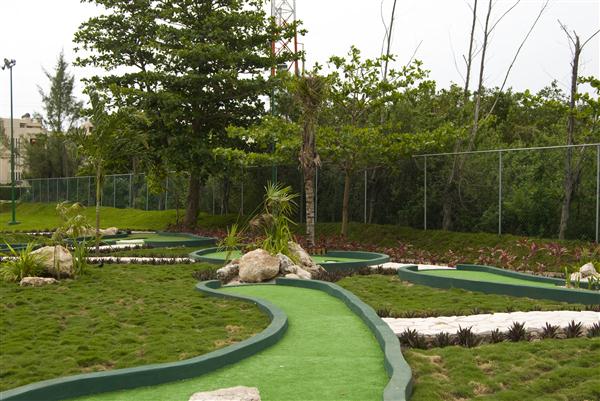 The resort also features a great kids club for kids 3 and up. The staff at the kids club seemed great! They did activities with the kids from boat rides (with parents) and crafts to water balloon fights and pajama parties. While we didn't really use this option we noticed that a number of parents dropped their kids off in the care of kids club and were given a beeper for emergencies should they be required which would give you some extra "adult time".
The majority of on-site recreational activities and facilities are included in your all-inclusive rate, and include basketball, snorkeling, volleyball, soccer, Ping-Pong, archery. The entertainment staff organized daily activities from yoga, aqua aerobics and cooking classes to karaoke and casino night.
We didn't venture off the resort this vacation and I can honestly say that we didn't find ourselves bored once. However, if you do want to go into town you can get there by a quick taxi ride or every day at 11am the resort offers a shuttle (the shuttle is only one way into town).
I do want to mention the check-out – you have to be out of your room by noon – which for people like us who have a toddler who still naps in the afternoon this isn't convenient at all. Our flight out of Cancun wasn't until 10pm so it was important for us to make sure that our son had a proper nap before heading to the airport to try and avoid a totally unruly child. Although the resort was nowhere near full capacity while we were there, we were told that there was no way to extend our check-out time (even though we asked 3 days in advance), nor did they have a hospitality suite that we could take advantage of. This was incredibly frustrating for us, and we found that the front desk staff and the manager both at check-in and departure weren't very understanding or accommodating.
Aside from our check-in and check-out, our vacation was awesome. The Sea Adventure Resort and Waterpark is a great low budget option for families, your kids will have blast at the beach and the Waterpark and you'll walk away with plenty of fantastic memories.
Pros:
• Lots of activities for kids
• Clean, spacious rooms
• Right on the beach
• Easy to get around
Cons:
• Lack of refrigerator in all rooms
• Front desk staff and management weren't very accommodating
• There aren't any elevators
• No room service for food delivery
** Please note that costs will vary based on time of year, dates of travel and departure city.
---