I am a photo-a-holic!  Is that even a word?  It must be because it is what I am.  I take more photos and video than should be humanly allowed. I want to capture every moment… Sadly, the evolution of technology only feeds this little addiction of mine.
Looking to go a little old school we bought our son a Fuji Instax Camera a couple years ago and we love it but the film costs are ridiculous.  It is literally $1 a shot, which is a little much when you consider it's an 8-year-old that is in charge of the camera…
Last year I came across some information on Polaroid's Socialmatic camera.  Until this week release details on this neat camera have been vague, until Polaroid announced at the Consumer Electronics Show in Las Vegas they are set to release the all-in-one device this Fall.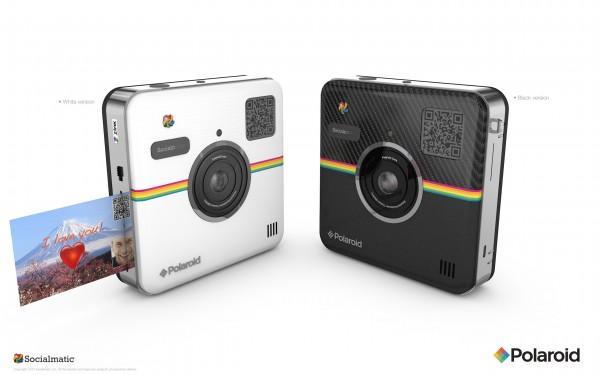 Perfect for photo and social media lovers, the Polaroid Socialmatic is a one stop shop.  Take, share and print with one device.  Genius!  It has been a very long time since I printed off a copy of a picture I took but this would be the perfect way for the kids to document a trip or special event to share with their friends later.

The Polaroid Socialmatic captures pictures worth sharing with the 14 megapixel front or 2 megapixel rear camera.  It uses an Android™-based with a 4.5" touchscreen LCD display for easy navigation and features built in Wi-Fi to let you share to social media in an instant.
If you want an instant copy of your image you can print 2″x3″ photos instantly on ink-free paper with ZINK® Zero Ink®.  This printing technology offers smudge-proof, water resistant and tear resistant photos!
Consumers will be able to save their images to a MicroSD card or to the camera's 4GB of internal storage.
Additional specifications, including pricing, will be available in the coming months.  Last year Engadget reported that the camera would retail for $299.