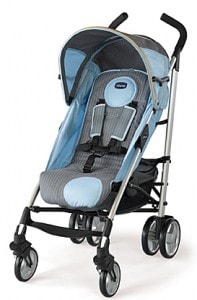 While on vacation recently we saw lots of parents using the Chicco Liteway as their travel stroller.  After testing it out for a couple weeks, I can see why.  Designed for use from birth to 40lbs, the Liteway has some great features that I haven't seen in other strollers.
Out of the box all that was needed to get started was to pop on the front wheels and canopy.  Literally within 5 minutes the stroller was open and ready to go!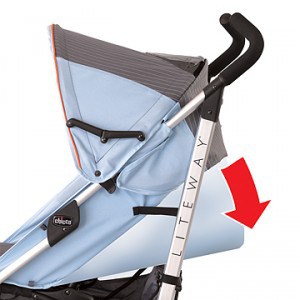 The Liteway offers lots of great features for traveling parents.  For comfort the seat has a padded head disc, an adjustable 5-point harness and 5 height adjustments.  A latch on the back of the stroller allows you to easily adjust the seat to your desired height with the lowest position sitting near to flat for a newborn.  To prevent your little one for breaking free Chicco has designed the middle strap to go over the belt release, which I LOVE.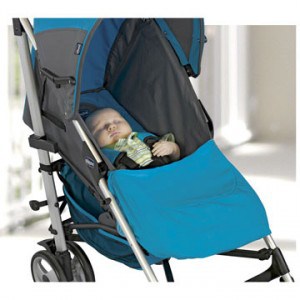 The seat also has a hideaway boot that attaches over the bottom section of the seat to keep your infant protected from the elements when reclined during a stroll.
After installing the canopy I was surprised at it's coverage.  Even though it appeared to be a bit small, it covered most of my son when upright.  When fully reclined it also offers great protection and will cover 3/4 of your child's body.  I also like that a shaded window gives a clear view of what's happening in the stroller without the bright light that comes from a clear panel.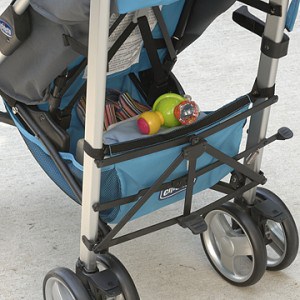 For storage Chicco uses a bag as a basket that can be unsnapped to take with you.  This is great for parents because it can be used 2 ways; traditionally with your gear in the basket or you can put your snacks and extra in the pouch if bad weather hits.  Additionally, It is big enough to hold a medium diaper bag and is fully accessible from the back of the stroller.
Four  7″ wheels at the back and two – 5″ wheels at the front give the Liteway a really nice ride.  This stroller pushes easily and keeps up when I am whipping through the mall. Easy to engage brakes at the back are 'flip-flop friendly' and a good rear suspension smoothes out bumpy rides.
For a travel stroller, the Chicco Liteway offers lots of great full sized features that gives it an edge over it's competition.  It's ability to accommodate a newborn is a great feature for new parents.
If asked, the only change I would make to this stroller is to add a zippered pocket to the back of the canopy for keys or money.  Other than that it is one of our top choices for traveling.  The Liteway has a convenient 3D fold that latches when collapsed and can be carried easily with the side handle.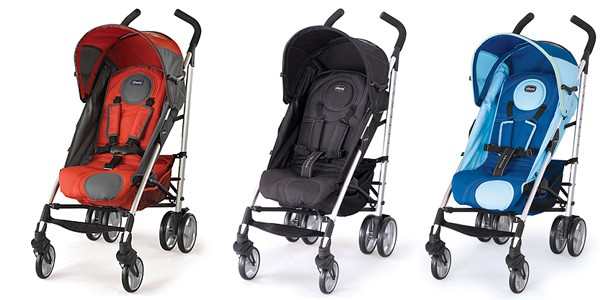 Specs:
Stroller Weight: 17 lbs.
Maximum Child Weight: 40 lbs.
Dimensions: 40.5″ x 19″ x 36 "