Located just outside of Niagara Falls, Safari Niagara is a gem that I hadn't heard of until this Summer.
My boys have loved visiting the Niagara Falls area quite a bit this year.  Looking to see more of the area, we took the advice of one of our readers and headed to the Safari!
Founded in 2002 by the Tykolis family, Safari Niagara is a great destination for children of all ages and abilities to get up close with many species from around the world!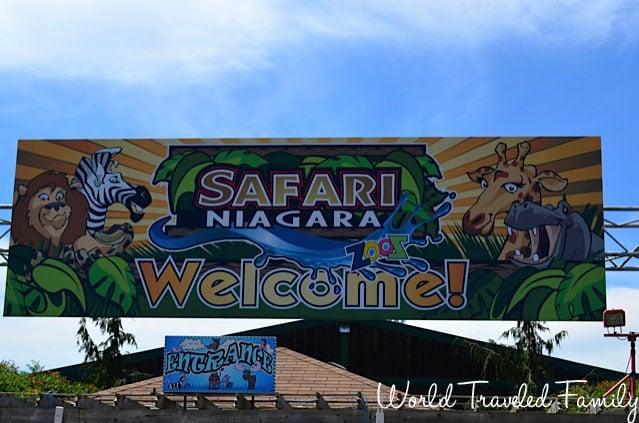 When you enter the park you can chose to walk the park or ride the tram.  Safari Niagara has a gator train that runs the perimeter of the park that allows guests to jump on and jump off.  This is nice for families with little ones, who can't walk far.  My guys are 4 and 7 so we decided to explore.
Safari Niagara has done a great job of spacing their habitats out so that they aren't crowded, but also so your kids don't have to walk a long distance.  Just a short stroll from the entrance we spotted the pink flamingos, and if we had planned it properly we would have been able to take in the Wonders of Flight show right across the way.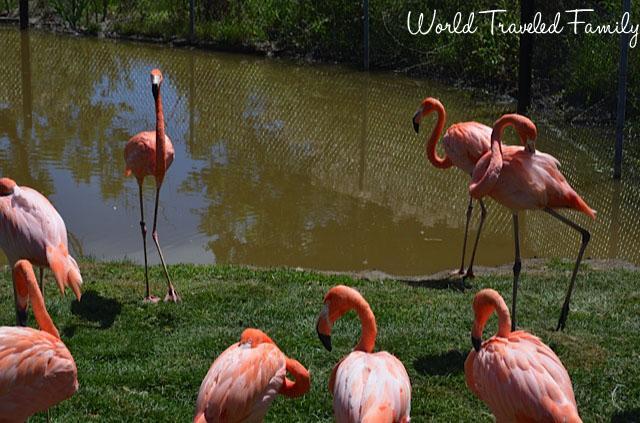 My guys were, however, on a mission.  They wanted to see the big cats.
That plan was quickly put on hold, however, when they spotted the HUGE play area. Safari Niagara has 6 climbers set up to give kids a place to climb and play.   My boys loved the Space center and could have played their all day.
It was hot outside so after some time on the jungle gym, we got changed and cooled down in the water.
Just the right size, the Splash Pad is a great spot for kids of all ages.  It also has a bit of depth to it so kids can wade in between the sprayers.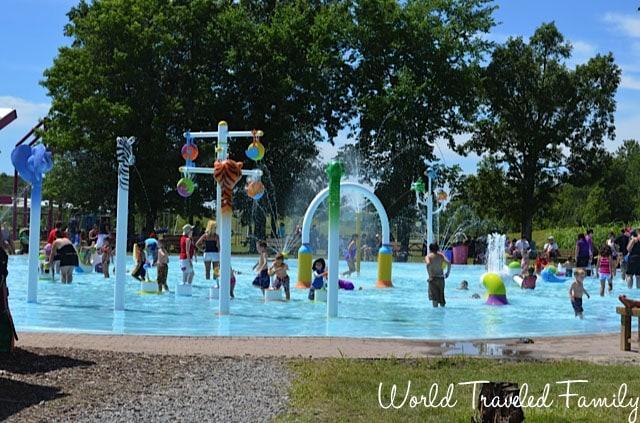 After a quick dip and some lunch, which is located in the same area, we headed off to the quiet forest.
The area that houses the big cats meanders on a path through the forest.  Each enclosure is in its own are area and all of the popular felines are here including the Lynz, Cheetah, Lion, Tiger, Serval and white lions, which are new for 2013.  In between, there are aviary areas that house Kookaburras and red and blue macaws.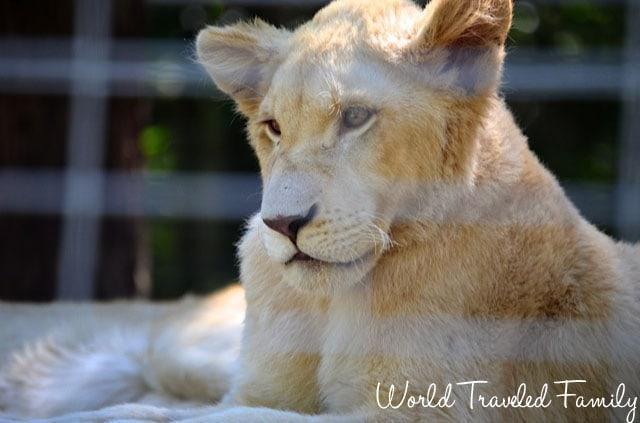 After our visit we walked for a bit and then came up to the giraffes.  As soon as I approached, I swear the female bent down to kiss me.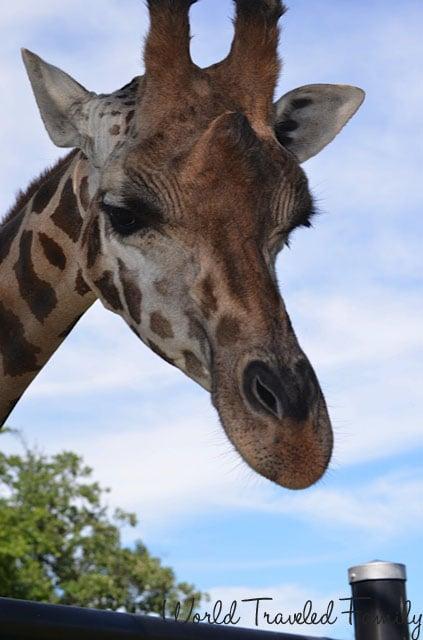 But it turns out she was looking to be fed. So my kids quickly ran off to get some food and came back to get closer to these gentle giants.  LOOK at the size of the male's tongue.  My youngest son went crazy!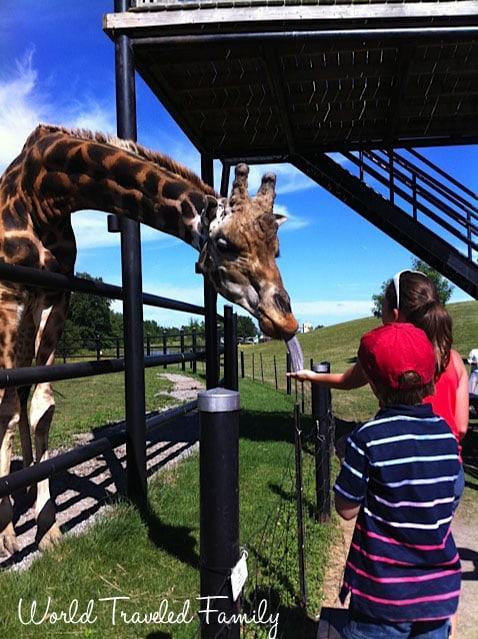 At this point we were tired from walking three quarters of the park so we jumped on the train and enjoyed viewing a few of the enclosures as we drove by.
Not wanting to leave without playing at the playground again, we quickly stopped at the trampolines for a few bounces and flips!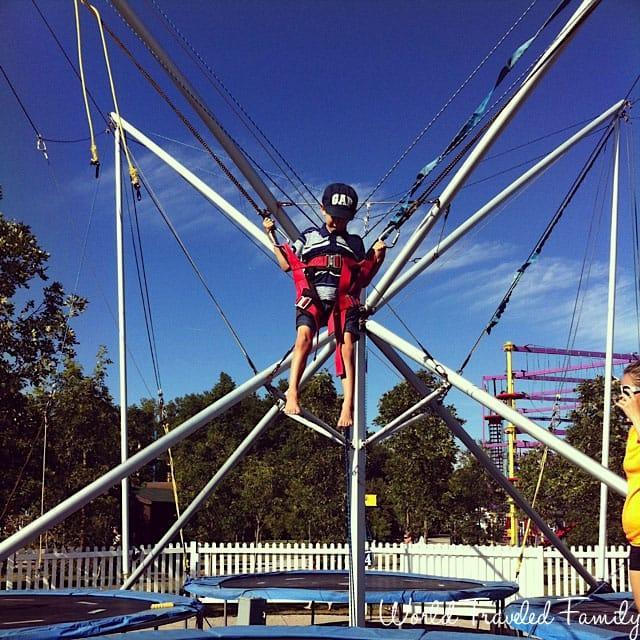 This is when my youngest decided he was ready to do the Sky Quest ropes course.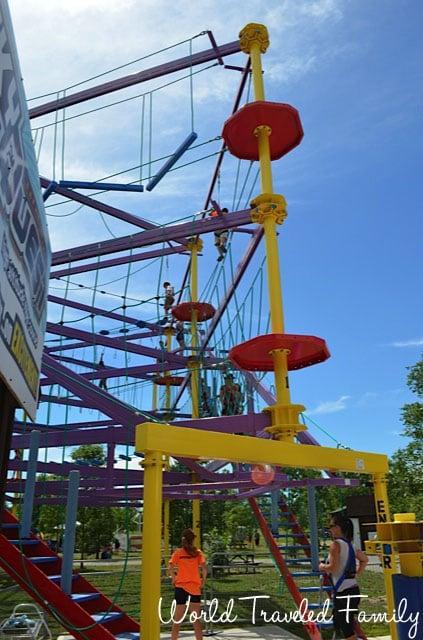 Even though I didn't think he could do the big course, he insisted we try but froze has soon as we hit the first platform.  We came back down and navigated the toddler and pre-schooler course instead, which was a hit.  I highly recommend having your kids get used to this course first before trying the bigger one so that they can get the hang of moving their belt along the track.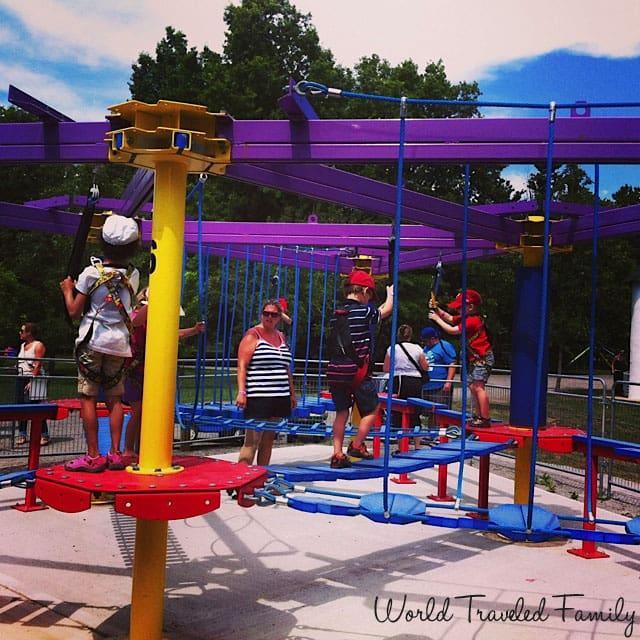 Visiting Safari Niagara is like taking the kids to the park and having everything there but not in a tight cramped space.  Sometimes when I go to amusement parks I find that everything is so packed in, it's overwhelming.
We really enjoyed just going at our own pace and getting to see some many different species up close.  But best of all, I was thankful that the price included every thing.  There was no additional cost for my kids to play on the trampolines or climb the ropes course.  Safari Niagara also has a small lake area with paddleboats, that are complimentary as well.
And while I would like to say we saw a lot, we didn't visit Papa Steve's Farm, the Budgie Exhibit or the Interactive Reptile Presentation.
I guess that means we'll have to return before the Summer is over…
---
What to bring:
Lunch/snacks – there are quite a few picnic areas set up through out the park for families to have a break or quick snack.
Water/drinks – Because much of the park is wide open, you will need cold beverages to keep you hydrated.  Safari Niagara does has beverage machines set up all of the park so don't stress if you don't have enough room in your bag(Water and pop are $2/bottle, Vitamin water is $3/bottle)
Sunscreen/hats – a must have for a day out in the sun
Bug spray – All of the big cats are located in the forest so bring bug spray to avoid getting bitten by mosquitos.
Bathing suits/towels – your kids WILL want to swim when they see the splash pad so come prepared.
For more information on the park, please visit SafariNiagara.com