There are a lot of exciting spectacular things on the horizon for Carnival Cruise Lines! Yesterday the line announced the details of their most innovative ship ever, Carnival Vista, debuting in spring 2016.   The largest ship in the fleet, Carnival Vista will measure 133,500 tons, 1,055 feet long and have a guest capacity of 3,936 (based on two per cabin).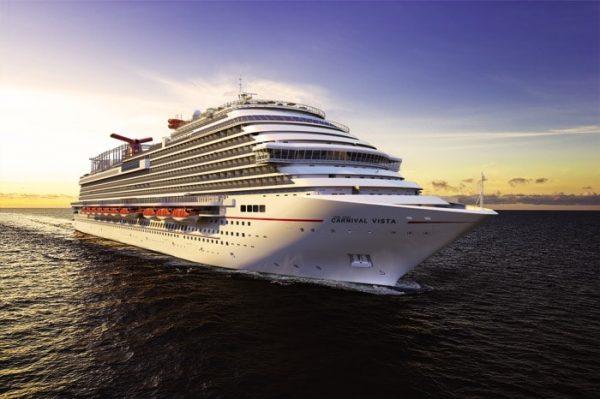 This ship will undoubtedly take cruising to a new level with the introduction of an exciting array of groundbreaking new features including: SkyRide, a breakthrough suspended open-air cycling experience; the world's first IMAX® Theatre on a ship; an expanded water park featuring the colorful Kaleid-O-Slide, the line's first raft-riding water tube slide; Seafood Shack, a delectable New England-inspired eatery; RedFrog Pub, including the line's first onboard brewery, and other enhanced dining, bar and entertainment options; as well as new scenic and family-friendly accommodation types. Additionally, the ship's inaugural Mediterranean itineraries will mark the line's return to Europe.   From the entertainment to the outdoor spaces, this ship is top to bottom different from anything we have seen from Carnival in the past.  As well as all of the details of the new liner, Carnival released more than 50 renderings of the new features and spaces.  Enjoy!
When it comes to outdoor attractions cruise lines tend to play it safe because guests often use most of these when the ship is at sea – and moving!
Carnival, however, will be creating some of the best and highest outdoor vistas ever offered on a cruise ship with the debut of their SkyRide, the cruise industry's first pedal-powered open-air aerial attraction.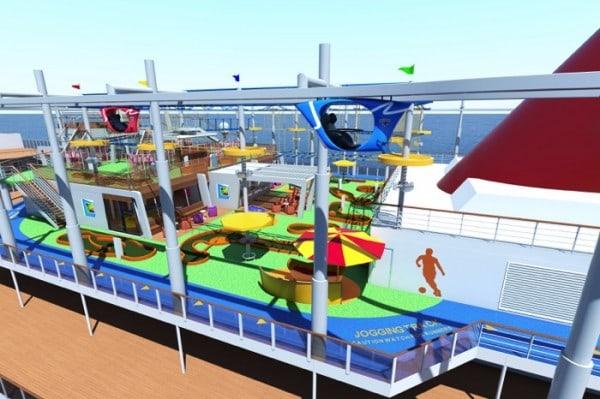 Adventurous riders can climb aboard hanging recumbent-like bikes to cycle their way around the 800-foot suspended track with panoramic views from 150 feet above the sea. Nearby will be SkyCourse, an exhilarating suspended ropes course.  Both are part of the expanded outdoor activity park that also includes a new indoor sports hangout, The Clubhouse at SportSquare¸ featuring mini-bowling, ping-pong, arcade basketball, sports video gaming and more.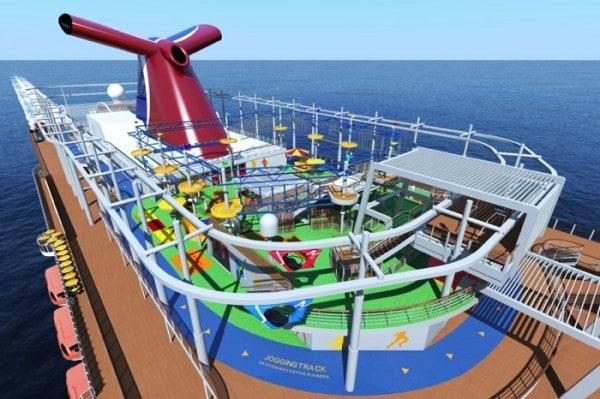 If you are cruising with your kids  The Vista will feature the line's largest WaterWorks water park. Kids and kids at heart will find a thrilling array of splash-tastic fun including Kaleid-O-Slide, the line's first-ever water tube attraction. Riders will hop on inflatable one or two-person rafts taking them on a fun-filled    455-foot adventure of exhilarating twists and turns with stunning kaleidoscopic visual effects.
Carnival will be partnering with entertainment innovator IMAX® to bring the world's most immersive cinematic experience to sea with the first-ever IMAX® Theatre on a ship. Guests will be able to take in the latest Hollywood blockbusters, IMAX classics and IMAX documentary content on a screen that's three decks high. Next door at the Thrill Theater, moviegoers can enjoy a multi-dimensional special effects experience.  Both are part of the Carnival Multiplex, a first at sea for film fans, complete with concession stand offering popcorn and movie snacks. The Warehouse, featuring a variety of video and arcade games, is located adjacent to the Carnival Multiplex.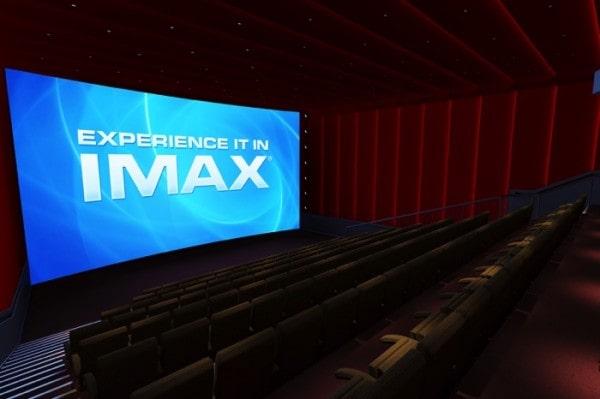 If cruising is about the food for you the Vista definitely has you covered!
Featured on Carnival Vista and a first for the fleet will be the New England-inspired Seafood Shack, a casual indoor/outdoor dining venue near the Lido Marketplace eateries. This seafood-lovers' paradise will feature a menu full of delicious, fresh favorites available for purchase, including lobster rolls, steamed lobster, fried shrimp, crab cakes, fried clams and more.
At the RedFrog Pub, Carnival will brew up great beer for good times in its first ever brewery. During each sailing two giant copper-topped glass kettles will create tasty ales and lagers that can be enjoyed on tap from the bar and through unique tabletop taps that allow guests to pour their own beer. The full bar will also offer an array of Caribbean-inspired cocktails, beers and rums. Indoor/outdoor seating, live music and brewing tours and tastings will also be offered in this fun venue.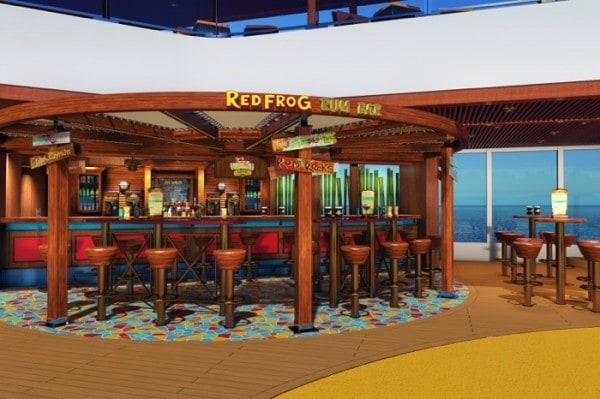 Carnival is expanding the line's popular Latin-infused Havana experience inside and out on Carnival Vista. Celebrating Cuba's gloried past, Havana Bar serves traditional cocktails and bites during the day and transforms into a sizzling Latin dance club at night. The fun also extends outdoors with a new Havana Pool located aft and offering stunning views of the ocean, whirlpools and relaxation area, complete with colorful umbrellas, faux palm trees, thatched patio huts and comfy seating, perfect for soaking up the sun while enjoying a refreshing mojito.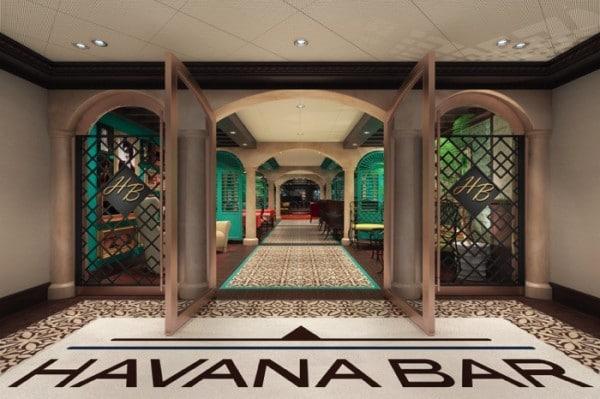 Thanks to an expanded Lanai on Deck 5 guests can stroll or sit and enjoy a beverage at one of the many dining and bar venues that will now feature outdoor areas.  The line will offer its first-ever outdoor seating options at specialty eateries including Fahrenheit 555, a classic American steakhouse, and Japanese-style Bonsai Sushi restaurant where diners will enjoy sea views as delicious as their meals.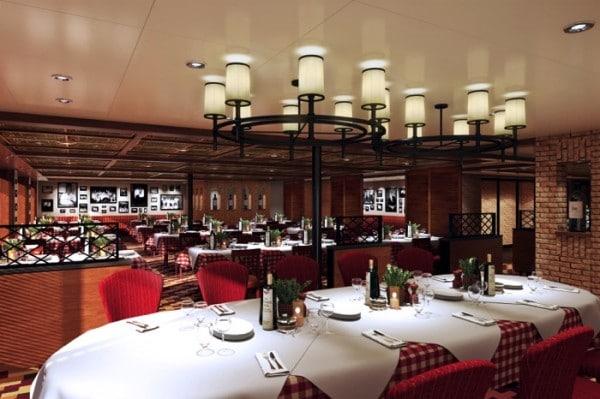 Cherry on Top will be the sweetest spot at sea, with a new premium mixed-to-order custom ice cream creation bar, outdoor seating and more than 80 bulk candy options.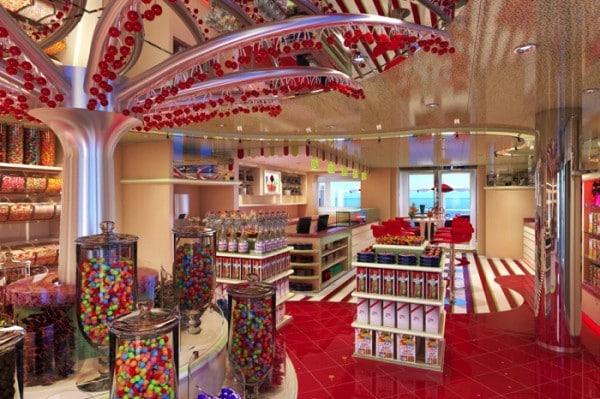 The ship's main dining rooms, Reflections and Horizons, offer a tantalizing array of delicious menu items for guests who want to enjoy a full-service breakfast, lunch or dinner. The striking modern interiors created by award-winning designer BigTime Design Studios offer decidedly different décor than previous Carnival ships. The Horizons dining room will also feature a unique bar that's the perfect spot for meeting friends and enjoying a pre-dinner cocktail or an after-meal aperitif.
The beautiful Vista Atrium will set a festive mood with its giant, multi-deck-high centerpiece that will delight guests with its LED screens and changing visuals to create the right atmosphere. It's the perfect place to welcome guests boarding the ship, meet friends at the bar or enjoy live entertainment and dancing.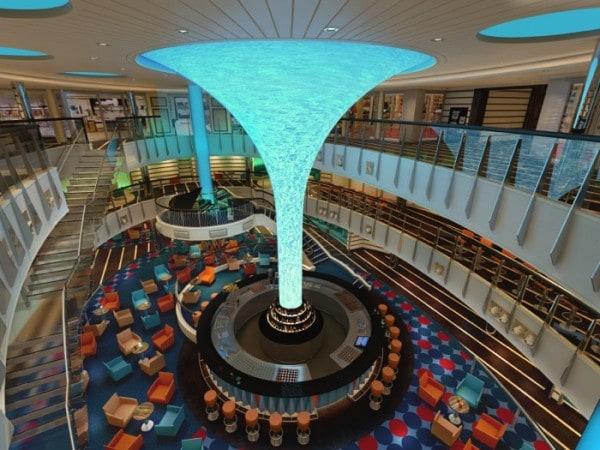 The cabins on the Vista aren't just spacious, but now there will an area of the ship that will be just for families.  Located within a new dedicated family zone on Deck 2, the new Family Harbor accommodations offer an array of deluxe ocean-view, balcony and interior staterooms that accommodate up to five family members. Parents and kids will have even more room to relax at the new, exclusive Family Harbor Lounge, a secluded space designed as the ultimate family hang out with large-screen TVs, games and complimentary breakfast and snacks. A special family concierge desk will be available here to assist families in making this their best vacation ever.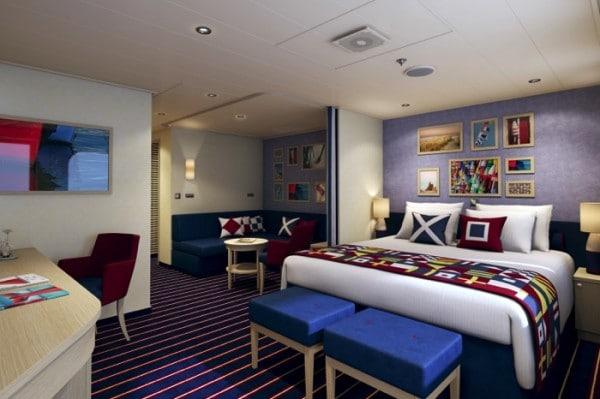 In addition they have created a tropics-inspired level of cabins called Havana Cabanas that will feature accommodations with private outdoor patios – complete with lounge chairs and hammock – that face the expanded Lanai ocean-air outdoor promenade and offer magnificent sea views in addition to easy access to the Havana Bar and Pool.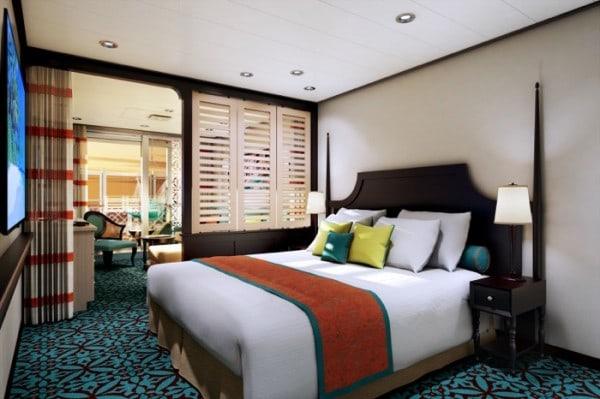 How awesome is that balcony?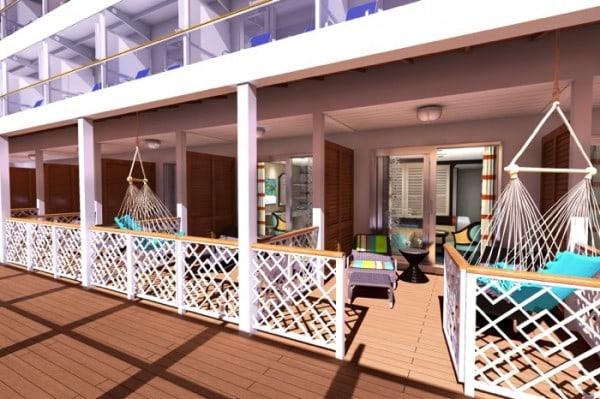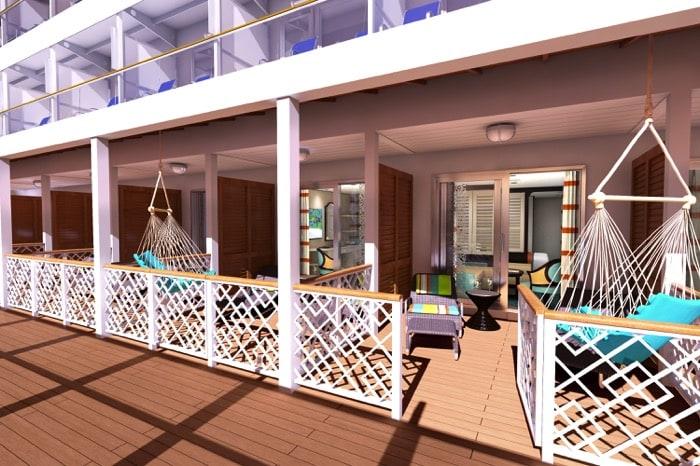 "Carnival Vista celebrates the connection to the oceans on which we sail and gives our guests amazing seascapes around every corner and more ways to enjoy every moment of sun and fun during their cruise vacation," said Mark Tamis, Carnival's senior vice president of guest operations. "From our exhilarating new high-altitude SkyRide to the Kaleid-O-Slide water tube slide to our IMAX anchored Carnival Multiplex to the multitude of dining and bar options, we are thrilled to share the details about our largest and most innovative ship with our guests while providing our valued travel agent partners with an exciting new option to offer to their clients."
Vacations are for relaxing and the Carnival Vista will  come equipped with a luxurious two-level Cloud 9 Spa.  Some of the chill-worthy amenities, include a thalassotherapy pool, four steam chambers, the line's first infrared sauna and hamam, and special "experience showers" that provide a soothing fragrance element, along with a high-tech indoor cycling studio. Guests can get away from it all at the adults-only Serenity retreat, where there's breathtaking views, tranquility and even more lounging options to relax including the line's first outdoor massage huts.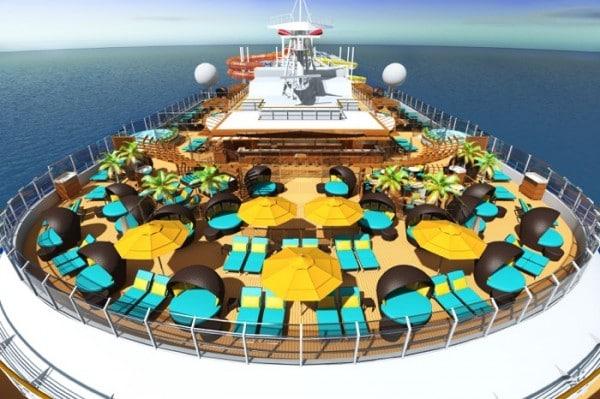 For kids Carnival  will be packing in more fun day and night!   The indoor/outdoor Camp Ocean for children under age 12 is a dedicated undersea-themed play space with more than 200 fun and educational ocean-inspired activities.  Carnival Vista will be the second ship in the fleet to feature Dr. Seuss Bookville, a special reading and play space inspired by the whimsical world of Dr. Seuss. Here kids and their families can read beloved Dr. Seuss books, make arts and crafts and stretch their imagination with toys and games. Also part of the line's Seuss at Sea program, Carnival Vista guests can enjoy Green Eggs and Ham with The Cat in the Hat and Friends character breakfast, the Seuss-a-palooza Story Time and Parade and more.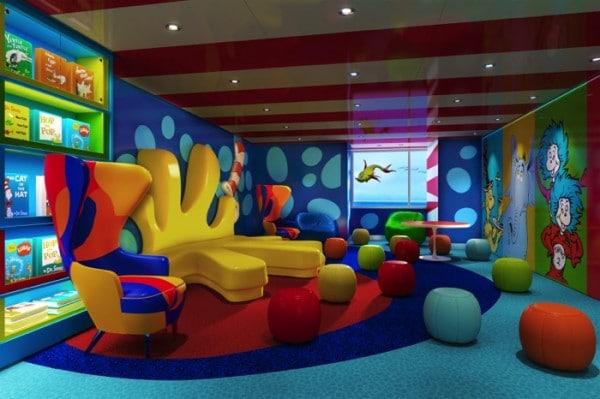 Carnival Vista will also introduce four new games at the family-centric HASBRO the Game Show, as well as special family-friendly comedy performances at Punchliner Comedy Club presented by George Lopez.
The new vessel will debut May 1, 2016, with a 13-day cruise departing from Trieste, Italy — the first European voyage for Carnival in three years. A variety of spectacular Mediterranean itineraries will be offered with port calls throughout Italy, France, Spain, Croatia and Turkey, as well as several new destinations for Carnival such as Crete (Heraklion), and Corfu, Greece; Valletta, Malta; Palermo, Sicily; Cagliari, Sardinia; and Gibraltar. On October 21, 2016, Carnival Vista will embark on a special 13-day transatlantic crossing and arrive in New York November 3, 2016, then operate a series of voyages from the Big Apple. Carnival Vista's European cruises are currently available for reservations.  Additional information on the New York departures will be available next month.