Volcano Bay, Universal Orlando's new innovative water theme park is set to open next Summer.  Spanning 28 acres, it will be Universal Orlando's third theme park, giving guests even more to enjoy on their vacation.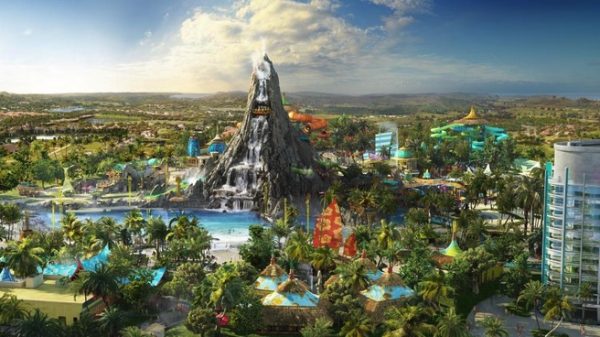 At Volcano Bay, guests will discover a one-of-a-kind park that will combine exhilarating experiences with hassle-free convenience so families can get the most out of their vacation together.
The park will have 18 attractions in 4 themed areas.   Completely unique from any other theme park experience, Universal has said it is redefining the queue experience so guests can focus entirely on having fun and spending time together. If fact, they say guests won't even have to carry their own rafts up the slides.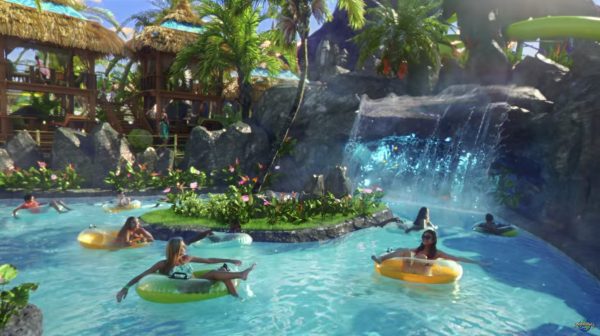 The four themed areas are:
Krakatau:
The 200-foot volcano, Krakatau, will lie at the heart of the park, inviting guests to venture through its hidden caverns and cascading waterfalls.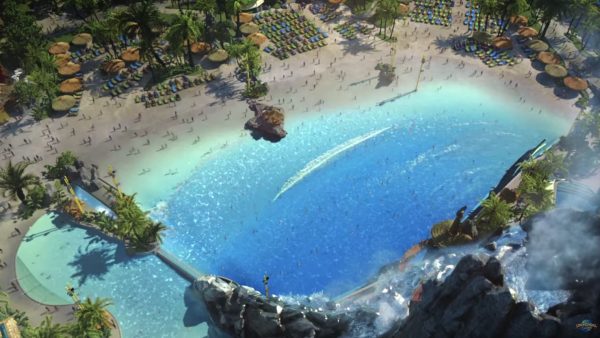 A state-of-the-art marquee attraction found only at Volcano Bay. More details will be announced later.
Three distinctive body slides found at the rear of the volcano, which start off with surprise doors that drop out from beneath guests:

Ko'okiri Body Plunge: A racing, 70-degree drop that will plummet 125-feet through the center of Krakatau. It will be the world's first slide to travel through a pool filled with guests.
Kala and Ta Nui Serpentine Body Slides: Two intertwining slides where guests will fall freely along 124 twisting feet.
Punga Racers: A high-speed race through four different enclosed slides featuring manta-shaped mats.
Wave Village:
Located at the base of Krakatau, Wave Village will be home to:
Waturi Beach: A sparkling, multi-directional wave pool where guests can swim, relax on the sand or indulge in private, one- or two-story cabanas.
The Reef: An adjacent leisure pool will provide guests with calmer waters and exciting views of riders speeding through the Ko'okiri Body Plunge.
River Village:
Named for the peaceful river that snakes through it, River Village will feature unique attractions for the entire family, including: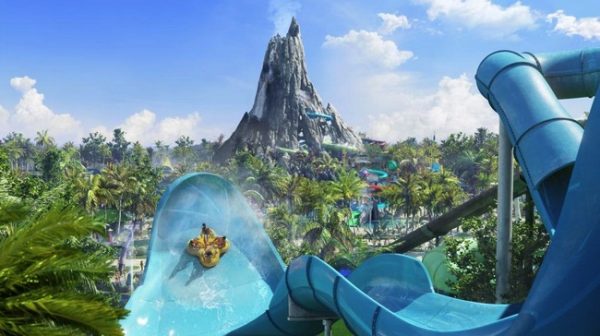 Kopiko Wai Winding River: A gentle, winding river that will pass through the volcano's hidden caves, featuring spontaneous water effects and special nighttime lighting.
Tot Tiki Reef: A whimsical toddler play area with spraying Maori fountains, slides and a kid-size volcano.
Runamukka Reef: A three-story water playground inspired by the coral reef overflowing with twisting slides, sprinklers and more.
Honu: An adventurous, multi-passenger raft ride that will soar across two giant, sloped walls
Ika Moana: A twisting, multi-passenger raft ride that will glide across bubbling geysers.
Rainforest Village:
Exhilarating thrills await guests in Rainforest Village, including:
Maku: North America's first "saucer ride" – sending multi-passenger rafts speeding around three saucer-shaped curves.
Puihi: A breath-taking multi-passenger raft ride that will plunge guests into darkness before bursting into a funnel and launching into a zero-gravity drop.
Ohyah and Ohno Drop Slides: Two twisting, adrenaline-pumping slides that launch guests four- and six-feet above the water at the end.
TeAwa The Fearless River: An action-packed, racing torrent river where guests hang tight in their inner tubes amidst roaring, whitewater rapids.
Taniwha Tubes: Four unique Easter Island-inspired slides with rafts for single or double riders.
Puka Uli Lagoon: A tranquil pool where guests can swim and relax.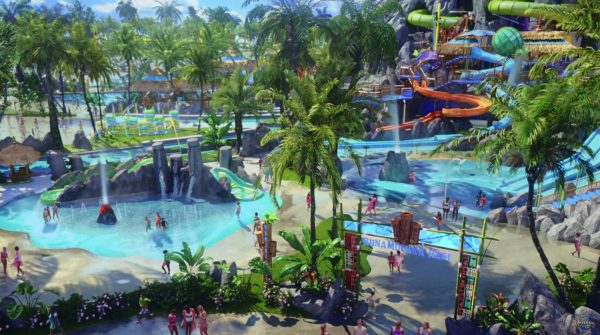 Volcano Bay will be located within Universal Orlando, adjacent to Universal's Cabana Bay Beach Resort. The water theme park is just a short walk or ride away from Universal Orlando's two additional theme parks – Universal Studios Florida and Universal's Islands of Adventure, on-site hotels and Universal CityWalk.
Each area of the park will offer its own easy-to-access, resort-like amenities, such as concierge locations and lockers, so guests won't have to stroll out of their way to get what they need. There will also be highly-themed restaurants and bars located throughout the park offering signature food and beverage options and impressive volcano views. Even more unique features of the park will be announced later.
To make it easier to hop between each park, Universal Orlando will soon introduce a brand-new, 3-Park Explorer ticket for guests where they can plan to experience the highly-anticipated Volcano Bay for travel dates beginning June 1, 2017.