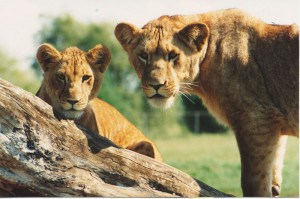 As we head into Summer I have started a list of local parks and attractions that I want to visit with my boys in July and August.  We are lucky enough to live in a section of Ontario that is about 1 hour from most major attractions.  This makes daytripping convenient for us.
Closer, about 30 minutes away, is African Lion's Safari.  Located just off of Hwy 6, South of Guelph, this Wildlife themed park is a great place to visit with kids.  While I wouldn't call it a Zoo, it definitely has a lot to see and experience.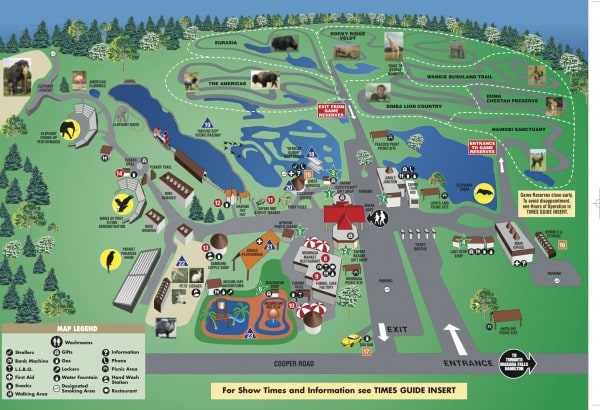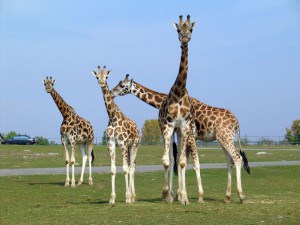 On arrival the first attraction most visitors take in is the Reserve.  Families can experience the reserve either by bus or by driving through in their own vehicle.  The wide open field is home to a number of animals from around the world including Lions, Giraffes, Cheetahs, Zebras, Ostrichs, Buffalo and white rhinos.  The 9 kilometer road drive will take you about 45 minutes to explore as you meander through 7 large Game Reserves.
When you visit the park you will see that a lot of families opt to take the bus(additional cost) because the monkeys in the reserve have a reputation for doing not so nice things to cars as they pass through their section.  We have, however, noticed that they don't seem to be as bad as they were in previous years and only bother with those who attempt to feed them, which you aren't allowed to do.
After you park and are ready to explore, the next closest attraction is the Elephant Swim.  Located just outside the front gates, the Elephant Swim is a MUST see.  It is a nice way for kids to get a close up look at these amazing creatures playing.
Because the Elephants are kept in a facility at the back of the park, rangers must walk them through the parking lot to get them to the swim pond.  We have been lucky enough to see this a couple times and it doesn't get old.  Like a close family, the 7 elephants stroll in single file trunk to tail.  Once at the lake the elephants wade in and cool off before swimming over to the observation area to play for the kids and cameras.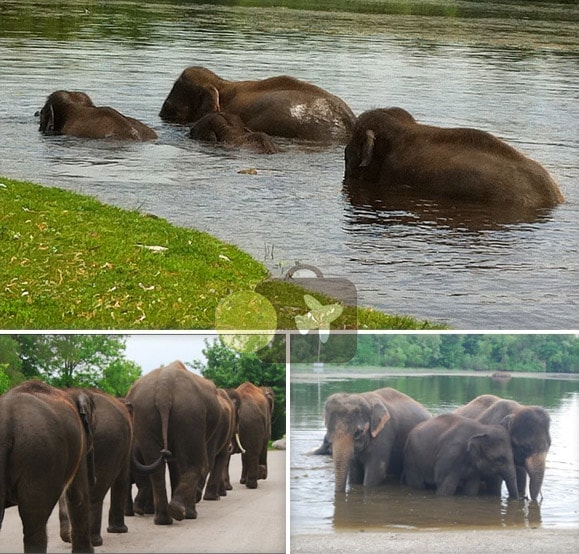 While I wouldn't say that African Lion's Safari is stuffed with things do, there are definitely a few key things that are a hit with my boys.
The Nature Boy Scenic Railway is a relaxing way to see more of the Safari.  This historic train is pulled throughout the 16 hectare reserve by a miniature replica of an 1863 C.P. Huntington Steam engine.  Both of my boys love trains so we decided to ride it with no expectations.  I have to say, while it was not a long ride, my two loved it and were pleasantly surprised when deer and camels were almost right beside the train.  While on the train you will also see painted and snapping turtles, geese, ducks and Reindeer.
The "African Queen" boat is a leisurely way to cruise around Water Safari Lake. The tour, which is approximately 15 minutes in length,  navigates around the islands giving visitors the opportunity to view the Ring-tailed lemur, black and white ruffed lemur and spider monkey.  Bird dwellers include the marabou stork, Australian black swan and the southern ground hornbill.
Africa Lion's Safari has 3 shows that are popular with visitors.
Parrot Paradise Show – Watch and enjoy beautiful parrots and other feathered friends as they showcase their incredible intelligence and natural abilities.
Birds of Prey Flying Demonstration – See hawks, eagles, owls, vultures and falcons soar above your head while learning about their flying styles and their role as predators in nature.
Elephant Round-up – This performance features a working demonstration of the largest living land animal. Watch as Asian elephants display their incredible strength, intelligence and agility.
The shows are conveniently scheduled one right after the other so you can get them out of the way before visiting the other attractions.
A big hit with my kids is the Misumu Bay Wet Play.  This ultra kid friendly water park it divided into 2 areas for older and younger kids.  For toddlers there is a huge splashpad that has lots of sprinklers and 'ponds' for new swimmers.  New this year African Lion Safari has created more areas that are a little deeper so that little ones can wade on hot days.  For older kids 40″ and taller there is a huge water jungle complete with waterslides, bridges and a massive bucket that dumps water over the whole structure every 3 or 4 minutes.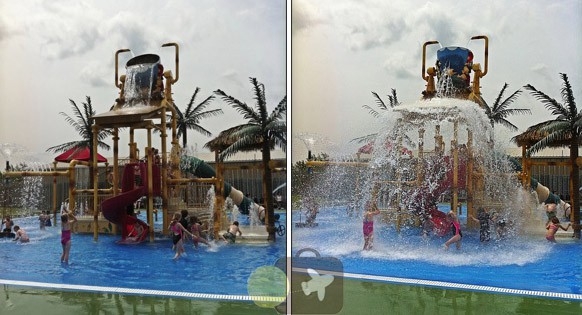 Also popular is the petting zoo.  Families can visit and feed Alpacas and deer from the outside of the cage or those who are more adventurous can go inside the goat cage.  Note: While these guys are harmless they can be little aggressive and may nibble on your shirt or pants.
As you walk through the park you can catch a peek at many birds of prey.  Different species of Vultures, Eagles and Owls line the walkway.
Even though it is on the smaller side, African Lion's Safari is a great place to visit.   It's a nice way for every member of the family to get up close with animals that you wouldn't normally see every day.
What to bring:
A cooler with drinks, snacks or lunch.  African Lion's Safari allows visitors to picnic throughout the park and bringing your own food & beverages is permitted.
Bathing suits.  When your kids see the splash pad they will want to swim.  If you forget their bathing suits the park has a shop set up that sells the basics.  Swimmis are required for babies.
---