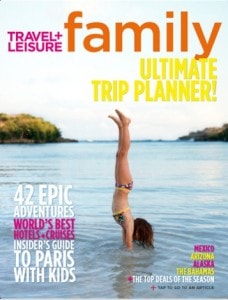 I love magazines, which is a problem because I don't throw them away.  I keep them in a nice pile for future reference – to my husband's dismay.
For this reason I have been thankful that many publishers are now making their publications available for the iPad.  The bonus here is this often, many of these iMags are issues that you can't purchase on newstands.
New for traveling families is Travel +Leisure's  Family Travel App.
This downloadable magazine is a great FREE resource for families who love to travel or those who are planning a trip in the future. Filled with tips, gear suggestions and destination reviews, this iMag  is at the top of my list for resources for travel.
The premier issue lists 9 great family escapes, vacationing at Yosemite Park 3 ways and some useful tips for roadtripping. Plus, in true iPad fashion, the content is interactive as well scrollable from side to side like a book.
As families rely more on digital technology for their information, I like that long standing media publications are stepping up to meet that demand in a creative yet relevant way.
If you have an iPad, I highly recommend this Free Application and I look forward to the next installment!
---