There is exciting news in the world of luxury family travel, specifically as it pertains to accommodation in Disney World. High-end hotel chain Four Seasons has announced that they have secured financing to proceed with building a $360 million dollar resort in Disney's Golden Oaks community.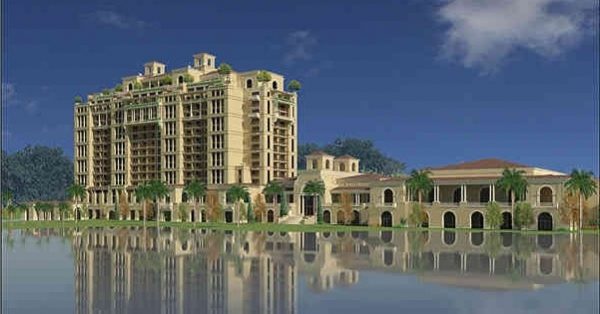 Four Seasons acquired the property in August 2008. They have partnered with Silverstein Properties to design the resort and organise its construction. New York based Dune Real Estate Partners is the majority investor. Grupo Financiero Inbursa, out of Mexico City, has fronted a 190 million dollar construction loan.
The fact that the project has found financial backing in such an inhospitable economic climate, speaks to the excitement being generated by what will be the largest resort under the Four Seasons banner and the most upscale accommodation offered at Disney World. Up to this point, the high end option at Disney World has been the Grand Floridian.
Slated to open in 2014, the new resort will feature 444 luxurious rooms, 40 Four Seasons Residence Club units, and may have as many as 90 private residences. Amenities will include a spa with 18 treatment rooms, several dining options including a rooftop restaurant with spectacular views of Disney, three pools and a "lazy river." The fitness facilities will include tennis and basketball courts, a climbing wall, and recreation centers for children, teens and adults. Four Seasons will also assume management of the Osprey Ridge 18-hole championship golf course, which is scheduled to be renovated.
Exciting times lay ahead. But, can the Disney World market sustain such a high end resort, with nightly rates possibly starting in the $600 range?
Industry analyst Bjorn Hanson, dean of New York University's hospitality school, told USA Today, "It's not just Middle America that goes to Disney. It's a very diverse market."
Stacy Small, president of Elite Travel International sees the demand already. "We will have a lot of clients wanting to stay at Four Seasons Disney. It will be the only true luxury resort option in a family friendly destination that hasn't specifically catered to this market."
The Four Seasons has had quite a ride from their humble beginnings as a single motor motel in an undesirable area of Toronto, to the upper echelons of sophisticated hospitality. This project stands to be the next jewel in their crown. It will be exciting to watch it progress. – Jen R, Staff Writer